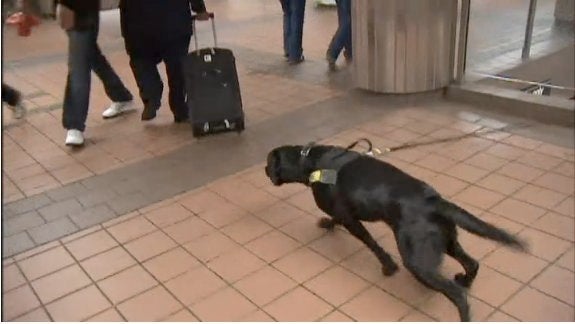 If this dog jumps on you while you're walking to the train, you're in some serious trouble.
Rachel is a "vapor wake" dog, trained to pick up on the moving scent of explosives in a crowd, enabling officers to scan a large amount of people in a short time. The video shows Rachel frantically sniffing around one of New York's biggest and busiest transportation hubs before zeroing in on a woman--who is part of the drill--carrying explosive-like devices in a handbag.
Normal bomb-sniffing dogs can only find explosives that are stationary.
Vapor wake dogs originated at Auburn University's College of Veterinary Medicine, according to ForeignPolicy.com, where scientists genetically bred and specially trained the canines. Training and breeding vapor wake dogs costs $20,000 per animal.
The addition of dogs like Rachel to the NYPD is meant largely to protect the city's vulnerable and crowded subways from a terrorist attack. In 2009, authorities foiled a plot by Al Quaeda and headed by Najibullah Zazi, to blow up some of New York's busiest subways, including Grand Central.
Popular in the Community