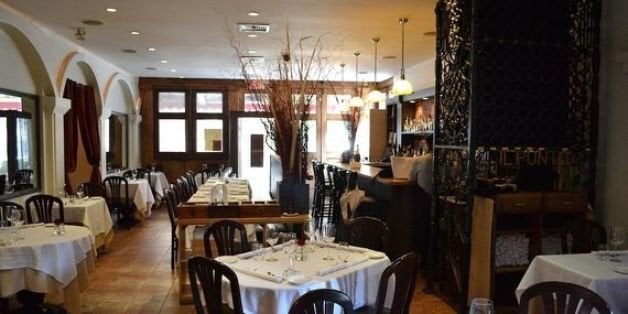 I am not at all unhappy about the number of Italian restaurants that continue to open in New York, these days largely by non-Italian owners or chefs, and I am even happier to find a place that's been around a while that's brand new to me.
Il Punto (507 Ninth Avenue on the corner of 38th Street; 212-244-0088), under
one chef or another, has been in Hell's Kitchen for a dozen years or so, but its newest chef, Antonio Mermolia, has revamped the menu to show how endlessly creative a man of his talents can be while always respecting the regional distinctions of Italian cuisine.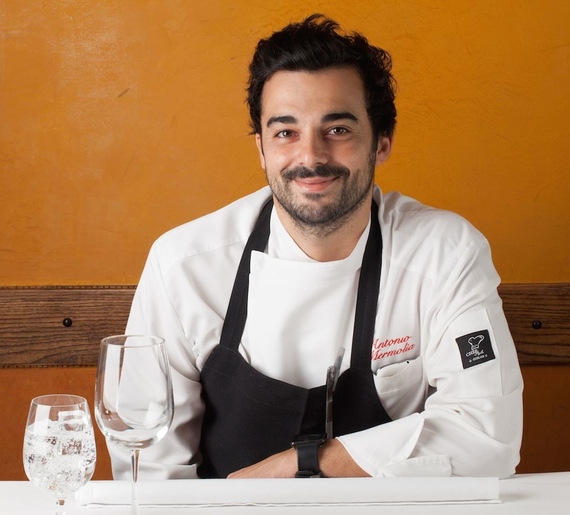 Mermolia's menu is largely Mediterranean, which means it's a bit lighter than Italian food from Rome northward. He was born 30 years ago in Gioia Tauro in Calabria to a family of good cooks (they own the renowned Hotel Villa Calliope) and, at the age of 16, began apprenticing in various top European hotels before opening his own restaurant in Sicily.
Two years ago the managers of Il Punto ate there, loved the food, and asked him to consult at their trattoria. That consultancy led to an infatuation with New York, so Mermolia has stayed on, bringing his style of seemingly simple cuisine to the city with dishes not to be found on any other local menus.
One of these is made with an unusual Calabrian pasta called struncatura, once a poor people's dish made from the remains of wheat and bran after the milling process. At Il Punto Mermolia uses buckwheat, which retains the original's rough, nutty texture, to which he adds the southern flavors of dehydrated olives, mint, tomato, spicy 'nduja chili condiment, and breadcrumbs. It is an absolutely delicious dish and wholly his. So, too, are the ways in which he puts his spin on more traditional dishes like crudi of red shrimp with white beans perfumed with lemon and capers from the island of Pantelleria.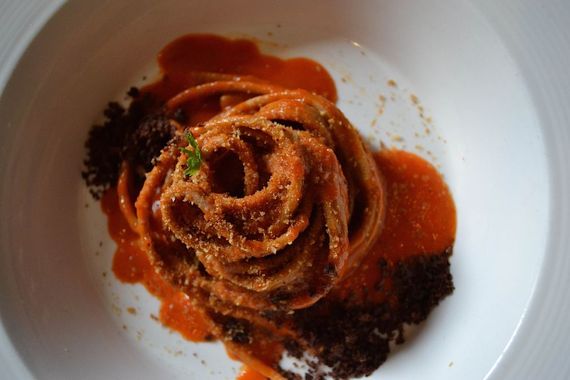 As an appetizer he takes a large, fat calamaro and bakes it till very tender, again with olives and bread crumbs along with truffled potatoes and a sweet-sour balsamic reduction.
Unusual indeed in the early part of the meal was a gelato made from sweet onions, served with shrimps, fennel, summer black berries, Parmigiano and caramelized onions. It's a brilliant stroke on a hot summer's day and prepares the way for the pastas (which run $19-$22 for full portions).
I love how he makes a crispy tortellone--one big one--stuffed with smoked califlower and buffalo mozzarella, splashed with a reduction of peppery mint. His light potato gnocchi are some of the best in the city, lavished with a veal liver ragù and the very southern flavor of figs. So many chefs make pasta with bottled squid ink, but you can taste that Mermolia does it the old-fashioned way, impressing tagliolini with fresh squid ink then propping them up with scallops, shrimps and tomatoes.
For main courses, I was surprised that the meats were more impressive than the seafood that precede them. Veal tenderloin ($35) is breaded in crushed dried mushrooms and served in a Marsala wine sauce, and hefty sweetbreads ($26) come with tender broccoli di rabe and a sweet garlic sauce with orange zest.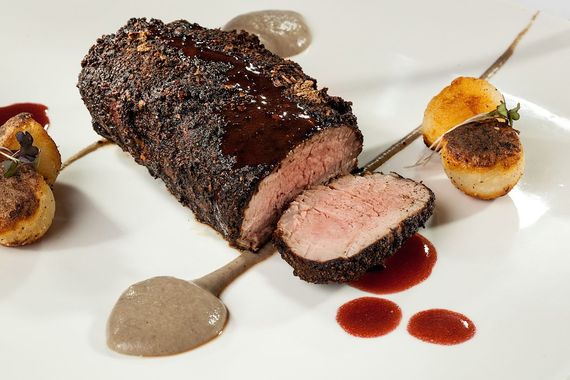 Curious, then, that he carries Chilean sea bass, done with tomato confit, arugula pesto, stuffed zucchini and lemon--a very good dish, but why use Chilean sea bass ($27), which doesn't swim anywhere near the Mediterranean? So, too, why serve salmon, which certainly doesn't leap the waters off the Calabrian coast. (Answer: every chef in American must serve salmon because it is the most asked-for fish.) Mermolia's comes all the way from New Zealand and gains nothing from a treatment of asparagus reduction, beets, and lemon-laced mashed potatoes.
Mermolia returns to fine form with desserts ($9) like his tiramisù with strawberry; a warm, runny center chocolate cake with strawberry sorbet; a superb chocolate panna cotta; a not-too-sweet cannoli; and a wonderful carrot cake with a carrot sorbet and warm carrot juice.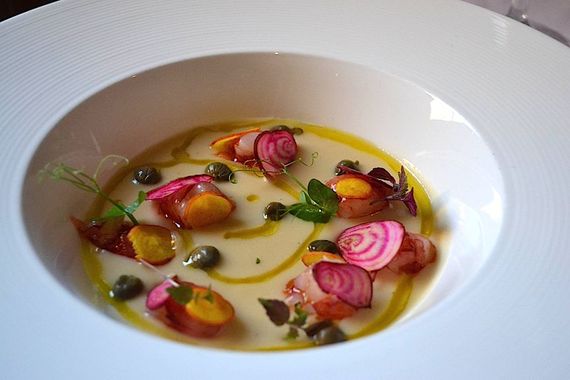 He also does a lavish 11-course tasting menu at $80, paired with wines $130.
The trim room is colorful and just small enough to be intimate. The waitstaff, mostly Eastern European women, are extremely good at their jobs, balancing cordiality with knowledge of what Mermolia is trying to do.
So, if you've never been to Il Punto, I think you'll find it largely innovative in the best sense; if you have in the past, time for a savory update.