Bring To Life. Nuit Blanche NYC 2010. Claire Scoville "Dancer. Jordan" (Photo © Jaime Rojo)
In New York there aren't many venues where both the artists and the public get to mingle and talk directly with each other in an open and unrestricted environment: No VIP rooms, no PR handlers, no spokespeople, no velvet ropes, no admission tickets, no one looking down their nose. The organizers and 60+ projection artists of "Bring to Light" made this possible for one glorious night in Greenpoint, Brooklyn as perhaps 10,000 art lovers got out of their homes to enjoy one evening of free enlightenment without restriction.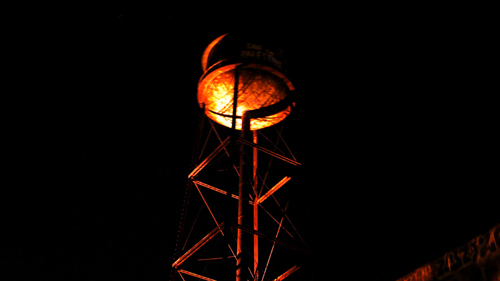 An icon of Brooklyn illuminated at Bring To Light Nuit Blanche NYC 2010. Ryan Uzilievski. "Elemental Harmonics" (Photo © Jaime Rojo)
New York's first Nuit Blanche, a five-hour convulsing light carnival by projectionists, many of whom are well known for avant garde innovation, brought to life this former maritime hub of North Brooklyn that once blustered with lumber yards and rope factories. All manner of projectors blasted on the walls with myriad images, forms, and shapes, some breathtakingly beautiful. Other artists created sculptures and installations that worked as light vessels and amorphous creatures while collaborative dancers entertained groupings of appreciative observers.
The show's organizer, DoTank:Brooklyn, calls itself a public vessel for interdisciplinary exploration. Mostly urban planners, DoTankers are more interested in taking action than talking about it; their collective sense of focused urgency is like refreshing blast of cool October air. Since the collective actually knows how to plan and work with local civic and citizen groups, they were able to pull off the event in less than 3 months on a shoestring budget.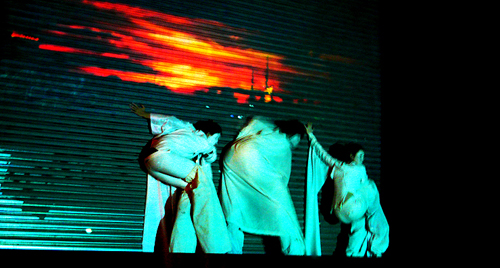 A performance before the rolled-down corrugated steel door of a warehouse by Landscape Invention Society, called "Sticks And Bones" at Bring To Light, Nuit Blanche NYC 2010. (Photo © Jaime Rojo)
The Nuit Blanche ball started rolling when festival producer Ethan Vogt got involved to steer the effort in late July. A Boston native in New York since 2002, Vogt is a filmmaker who makes documentaries for organizations, music videos with found footage, and has produced three feature films with Andrew Bujalski. DoTank had experience organizing participator events in public space and Ethan brought his film production skills and a passion for creating a cinematic experience outside of traditional venues.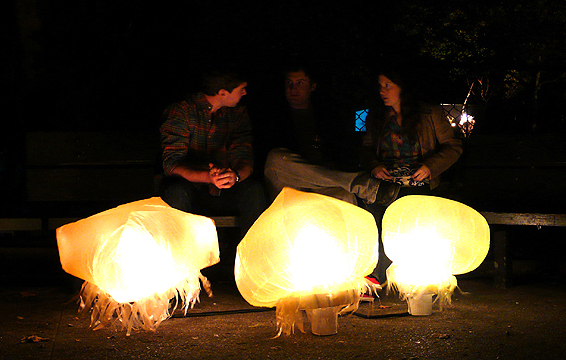 Jellyfish-like creatures floated and pulsated in warm clusters for people to gather close to on park benches and reflect upon at Bring to Light. "Linger Let Me Linger", by Corinne Odermant. Nuit Blanche NYC 2010 (Photo © Jaime Rojo)
Brooklyn Street Art spoke to Vogt and a founding member of DoTank, Ken Farmer, about the success of their first Nuit Blanche in New York.Brooklyn Street Art: How do you feel about the event, now that you are a few days on the other side of it?Ken Farmer: We could not be more excited about how things turned out. Great weather, great crowd, great support from the community and a great response from both people who attended as well as those who have seen post-event coverage.Ethan Vogt: Yeah, we are all just thrilled with how it came together - I've heard nothing but positive things from artists, visitors, and Greenpoint residents. I would say it exceeded our expectations and we were just in awe of what we had "organized" and "produced."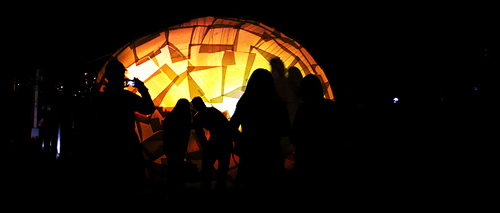 Sarah Nelson Wright at Bring To Light. Nuit Blanche NYC 2010. (Photo © Jaime Rojo)
Brooklyn Street Art: We're always talking about the intersection of Street Art, Urban Art, Public Art, Performance, Projection Art - do you think that there is a growing interest among city dwellers in reclaiming public space for art?Ethan Vogt: Yes, Yes, Yes! - I think this festival really struck a chord and that people looking for an authentic, non-consumer, artistic, participatory, and community experience.Ken Farmer: I think there is a growing interest in authentic, and interactive public art. We are in a beautiful era of D.I.Y. culture. The big, corporate commissioned public art pieces in lifeless lower Manhattan plazas are old news. People want something more relatable and more dynamic. We are seeing a proliferation of low-cost, pop-up elements in public spaces. Some may see it as art, others as amenity, either way...its terrific.Brooklyn Street Art: What role does public art play in the life of a neighborhood or a city?Ken Farmer: It should be a manifestation of its surroundings showcasing the local identity. And it should compel us to appreciate our surroundings--aesthetically, whimsically, critically. But it is frustrating how often it falls short.Ethan Vogt: I'm no expert on this but I think public art should encourage reflection, debate, and connection. New public spaces like the "High Line" in Chelsea are the kind of thing that I believe embodies this and I would love to someday be involved in producing a project like that.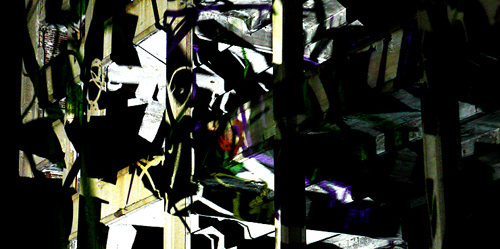 "Digital Graffiti" by artist Jacob Abramson featured a tablet used to draw live on an unfinished building at Bring To Light. Nuit Blanche NYC 2010. (Photo © Jaime Rojo) Brooklyn Street Art: Can you talk about one of your favorite projections or performances from Saturday night?Ken Farmer: We had some pretty well known light artists like Chris Jordan and Ryan Uzilevsky, but the thing that amazed me was the way the art, performers and crowd coalesced into a seamless experience. It wasn't about individuals or feature pieces, it was about the transformed landscape that emerged collectively. This was our curatorial goal, but the reality far exceeded our expectations.
Somebody eyeballing a tricked out light bike at Bring To Life. Nuit Blanche NYC 2010. (Photo © Jaime Rojo)
Brooklyn Street Art: Do you think most people who see the show have any idea the amount of work that goes into it?Ethan Vogt: I'm not sure if they have a sense of the work but I don't care, I'm just glad they came out and had a night to remember. Hopefully they might continue to support us next year.Ken Farmer: Hopefully they don't know how much work goes in. I think the biggest barometer of the event's success was how calm it felt. It was amazing to have that big of a crowd, with that many artists and that much excitement, yet have things seem so orderly.
We are extremely appreciative of how the crowd received the event...Thank You New York!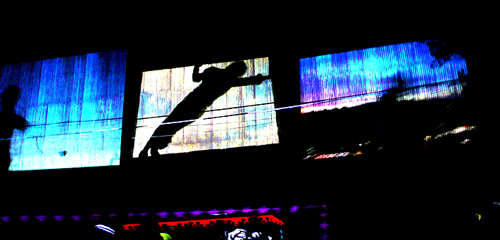 Bring To Life. Nuit Blanche NYC 2010. (Photo © Jaime Rojo)
"Bring to Light" was organized by: Do Tank: Brooklyn Michael Doherty, Ken Farmer, Aurash Khawarzad, Tom Peyton, and Ted UllrichProduced by: Ethan Vogt, Furnace MediaCo-produced by: Pepin Gelardi, Jacquie Jordan, Annie de Mayo, Anna Muessig, Stephen Zacks
Related
Popular in the Community