In fall and winter there is no lovelier place to have dinner in New York than behind the glass wall of The Sea Grill at the Rockefeller Center Skating Rink, which after Thanksgiving takes on its Christmas finery and a huge lighted evergreen; come spring and summer there is no lovelier place to be than at that same spot, when the rink becomes a sea of umbrellas shading the tables of people eating there, all under the gaze of a gilded Prometheus (below).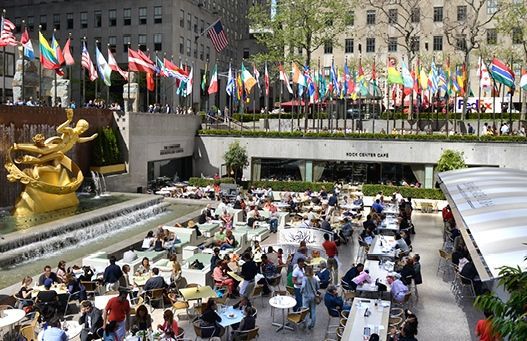 Not unlike the newly restored Tavern on the Green, The Sea Grill has been enchanting New Yorkers and visitors for decades; in the latter's case since 1974. At the time of its opening the restaurant served a style of modern American seafood that challenged all the outworn fish restaurants around town to re-think their way of buying, cooking and preparing fish.
As the years wore on and now under the Patina Group, The Sea Grill only got better, headed for a long tenure by Chef Ed Brown, who gave the menu several signature dishes that other chefs copied, like his Thai red chili mussels, his nonpareil crabcake, and the fabulous chowder.
A new executive chef has come aboard, Japanese-born and Hawaii-raised Yuhi Fujinaga (below), who has introduced a new Sushi and Sashimi Lounge Menu showcasing a variety of rolls, sashimi, and raw bar options like spicy ahi tuna pressed sushi, Long Island fluke ceviche with passion fruit and mango, and marinated and flash-seared Imperial Wagyu nigiri beef rolls with crispy sushi rice and a Korean barbeque glaze. Fujinaga has also had a hand in choosing the appropriate sakes to go his food. The Sea Grill's admirable wine list has always tilted towards global whites, with bottlings in every price category.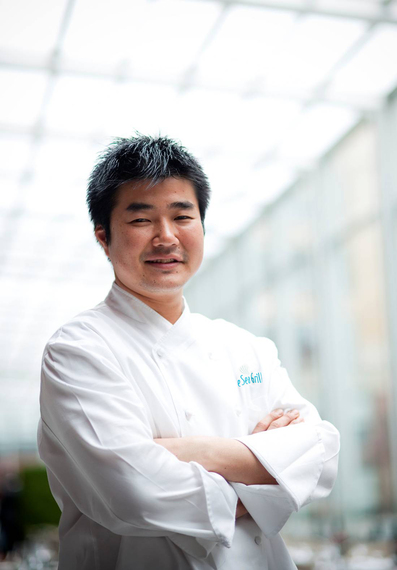 Seafood is brought in daily from Montauk, Long Island, for which Fujinaga has created a special Montauk Seashore Menu, and currently, through July 13, the restaurant is featuring an outdoors World Cup Dinner with the games shown on a huge TV screen.
For years I took my family to The Sea Grill and ice skating at Christmas time. Now, on a recent summer's evening, with the great art déco buildings changing color as twilight came on and the international flags ringing the rink fluttering in a light breeze, there was nowhere I would have been than at The Sea Grill, with its own cool marine colors of sand and aqua blues.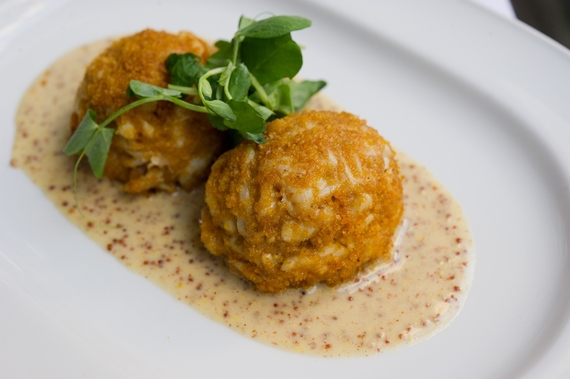 Photo by Daniel Krieger

I wanted to taste again some of my favorite dishes, so I chose the chowder, rich and creamy with lobster, shrimp and clams, with small bits of potato and assertive nubbins of smoky bacon. The soft shells crabs, now in peak season, were big and fat, crusted with herbs and served with grilled hearts of palm, sweet avocado puree, and guinilla pepper relish, the whole a quartet of wonderful textures, sweet and salty flavors.
The Sea Grill roll of spicy tuna with avocado and aïoli was nothing to get over excited about, and while I loved the idea of abundant lobster, poached in butter with peas, carrots and onions, the flakiness of the lidded crust wilted quickly.
A lavish array of sushi (below)--seven pieces and a sushi roll of Fujinaga's selection--revealed yet again why pristine raw fish can make me want to cancel everything else and just keep eating sushi and sushi and more sushi. But then I would have missed the excellent Casco Bay con cooked à la plancha, with an onion puree, tiny carrots, sugar snap peas and a wasabi herb oil that made everything just that more tantalizing.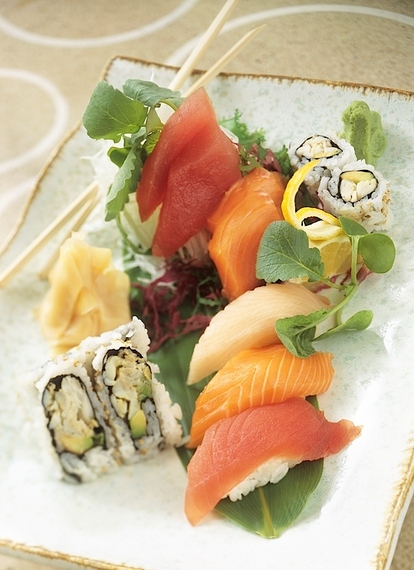 I could hardly miss The Sea Grill's famous crab cakes (below), served with a tangy stone ground mustard sauce and pea sprouts, and they lived up to every memory and expectation of them--very meaty, all lump crab, and, outside of sashimi, as pure a dish as might be wished for. Also very good was a beautifully cooked skate simply grilled, with wilted spinach and a cilantro-tomatillo pesto. And don't miss the hefty side of lobster macaroni and cheese, a dish fit for a princely child or nostalgic adult.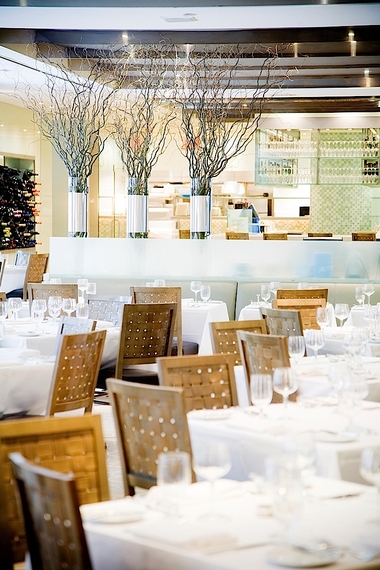 Pastry chef Michael Gabriel crafts his desserts along traditional lines but packs them full of more flavors and complexities than might be expected in an item like his frozen strawberry parfait, cream gelato, and a delightfully tangy rhubarb consommé. His milk chocolate caramel mousse absorbed the scent of cardamom-poached apricots, with a delicate puff of orange blossom meringue; sumptuous and refined were the caramelized figs, hazelnut cream, and raspberry-red wine sorbet. But my overall favorite--which is often the case with steamed puddings--is Gabriel's chocolate rendition with the unexpected bitter edge of an Angostura bitters glaze and fresh cream--brilliant idea.
And so, as blue sky evening turned into a New York night and the lights came on in the tall buildings around us and the loud sounds of the city began to fade, I sat looking out the those huge windows at Prometheus and the elegant shafts of limestone, and realized that wherever I've dined in the world there have been restaurants that imbue and partake of a city's spirit--OXO Tower in London, Jules Verne in the Eiffel Tower in Paris, the Hassler Hotel overlooking the Spanish Steps in Rome. In New York, The Sea Grill imbues the city with as much vitality as the city itself returns.
The Sea Grill is open for lunch Mon.-Fri. and for dinner Mon.-Sat.
Dinner appetizers run $15-$21, main courses $34-$42. Three-course menu at $55.