On Friday, the NYSE Euronext hosted a one-of-a-kind event for veterans -- a Call to Action Forum for HR and Veteran Program Executives. NYSE Euronext, like other corporate partners, is working hard to help transition veterans into their workforce pool. In fact, I was astonished to learn the struggles so many of our nation's veterans face in reentering the workforce after serving their own country despite the abilities and skills they have to contribute to the global economy.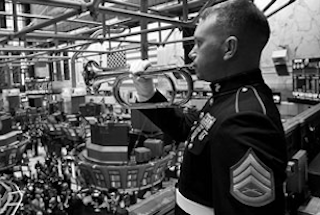 I talked with one of the event keynotes Emily King, who oversees Veteran Transitions at the Buller Group, LLC, a human capital consulting firm. Emily noted in her remarks that organizations have started to invest in proper training for recruiters to accelerate their learning curve and enable them to meet hiring goals. The Certified Veteran Recruiter program (CVR), offered exclusively by The Buller Group, is leading the way and becoming industry standard. She highlighted five of the most commonly cited complaints from recruiters:
We can't find them
Their resumes are terrible
We can't translate their skills and experience
They can't translate their skills and experience
Our hiring managers aren't interested
NYSE Euronext did a tremendous job of leading a conversation as to how corporate HR leaders can overcome these recruiting challenges pretty simply by adjusting their perspectives and approach in looking at the veteran population. Corporate HR executives including Timothy Crow, Executive Vice President, Human Resources of Home Depot who has done a stellar job of employing more than 60,000 veterans since 2004 were in attendance to provide testimonials as to how they have implemented successful recruiting, on-boarding and retention services for veterans company-wide. As an entrepreneur I was inspired by the remarks from leaders -- some of whom are veterans themselves -- at Four Block, JP Morgan Chase & Co., North Shore-LIJ Health System, Save a Warrior and of course NYSE Euronext and Home Depot throughout the program. This prompted me to ask Emily about what the global entrepreneurship community can do to join this effort and conversation, in terms of providing veterans with exposure to entrepreneurship/ entrepreneurship education, etc. She had this to say:

Entrepreneurs have a lot to offer transitioning veterans. Simply inviting a veteran to intern with you for a week or two will give him or her a better sense of how the civilian workplace operates differently from the military, and will give you an enthusiastic and hardworking contributor for a week. You may discover you like each other and end up with a great hire. The point is, veterans as a group tend to lack business acumen because they haven't been working in that context, and learning it on the job in a big company can be daunting and fraught with missteps. You would be amazed at the impact you can have in just one week, by openly sharing your insight and experience, successes and failures in a mentoring context. A clear win-win.
Global entrepreneurs can benefit from the efforts NYSE and corporate leaders have launched to see that the abilities and skills of veterans are no longer overlooked. I challenge you to join this conversation and take action in some way. Learn more about NYSE Euronext's groundbreaking program at http://www.nyx.com/careers/veterans and sign up for more information here.
REAL LIFE. REAL NEWS. REAL VOICES.
Help us tell more of the stories that matter from voices that too often remain unheard.