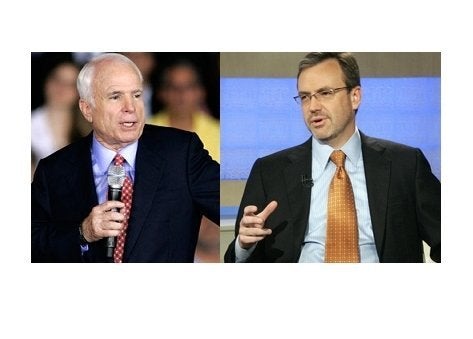 Last night, John McCain's campaign manager Rick Davis sent a strongly-worded letter to NBC News president Steve Capus, complaining about "unsubstantiated, partisan claims" on the network made "in order to undercut John McCain."
The claim in question was made by Andrea Mitchell on yesterday's broadcast of "Meet the Press," while discussing McCain and Obama's respective performances during the Saddlebeck Forum on Faith led by Pastor Rick Warren. The full quote is as follows:
MITCHELL: The Obama people must feel that he didn't do quite as well as they might have wanted to in that context, because that — what they're putting out privately is that McCain may not have been in the cone of silence and may have had some ability to overhear what the questions were to Obama.... He seemed so well-prepared.
In the letter, reprinted by Mike Allen of Politico, Davis claimed that the claim was "completely unsubstantiated" and a "blatant falsehood."
Senator John McCain was not in a "cone of silence" on Saturday night while his rival, Senator Barack Obama, was being interviewed at the Saddleback Church in California... The matter is of interest because Mr. McCain, who followed Mr. Obama's hourlong appearance in the forum, was asked virtually the same questions as Mr. Obama. Mr. McCain's performance was well received, raising speculation among some viewers, especially supporters of Mr. Obama, that he was not as isolated during the Obama interview as Mr. Warren implied.

(snip)

Mr. Warren, the pastor of Saddleback, had assured the audience while he was interviewing Mr. Obama that "we have safely placed Senator McCain in a cone of silence" and that he could not hear the questions... Interviewed Sunday on CNN, Mr. Warren seemed surprised to learn that Mr. McCain was not in the building during the Obama interview.
This corroborates Mitchell's report, which was "McCain may not have been in the cone of silence" (he wasn't, at least not for the duration) and "may have some ability to overhear" the question (unclear, but if the purpose of the 'cone of silence' is to guard against that, then presumably being outside it might have afforded that opportunity.
But even without Seelye, Mitchell was corroborated...by Davis. He wrote, "The fact is that during Senator Obama's segment at Saddleback last night, Senator McCain was in a motorcade to the event and then held in a green room with no broadcast feed." That means that he was not in the cone of silence during the Obama questioning, confirming Mitchell's report.
The issue, of course, isn't whether or not he cheated, but whether he could have cheated. The cone of silence was meant to ensure that the second candidate had no possible advantage over the first. It is a time-honored tradition, from its coinage on TV show Get Smart to a reference on Everybody Loves Raymond to numerous game shows through history.
McCain spokeswoman Nicolle Wallace, told the NYT that McCain had not heard the broadcast while in the motorcade, nor had he any of the questions. That neatly accounts for just one way McCain might have learned the content of the questions; the event was being broadcast live, and presumably his aides have Blackberries. Coaching could have taken place without McCain hearing anything directly from the broadcast at all.
This is not meant to make the claim that McCain received information relating to Warren's questions to Obama, just that he could have done, since the constraints of the cone of silence were not in effect. Those constraints were pointedly put in place by Pastor Warren to provide an excplicit safeguard of fairness, and it was reported to the audience as such. The fact that such a safeguard might not have been universally applied is a relevant fact, one which Mitchell reported dispassionately, citing the source (the Obama campaign), providing caveats ("may have") and providing the context (that McCain had performed very well). Today, Kit Seelye and the NYT back that up.
This, incidentally, is the third letter of complaint Capus has received this year relating to perceived bias by presidential figures. In February, presidential contender Hillary Clinton wrote to Capus complaining about David Shuster's use of the term "pimped out" to describe daughter Chelsea Clinton's campaigning on her behalf. In May, White House Counselor Ed Gillespie took issue with the editing of an interview conducted by Richard Engel, including in his complaint to Capus a suggestion of overall liberal bias at NBC from cable sibling MSNBC. Davis made a similar allegation in his letter, expressing concern that "your News Division is following MSNBC's lead in abandoning non-partisan coverage of the Presidential race" and requesting a meeting to discuss the McCain campaign's "deep concerns about the news standards and level of objectivity at NBC."
This, like the Gillespie letter, may be the real reason for the complaint: Airing the grievance that NBC is being corrupted as a news organization, and tilting liberal under the weight of MSNBC. It's what AP television writer David Bauder called "the soft white underbelly" of NBC News, and it's an easy target for Team McCain, whose base is no fan of the so-called "liberal" media — and more and more, conservative elements have been including NBC in that grouping (cf. Bill O'Reilly).
Whatever motivation McCain and Davis have, they picked a bad battle to fight here, because Mitchell was right: McCain was not in the Cone of Silence for the duration of Obama's questioning.
Related
Popular in the Community