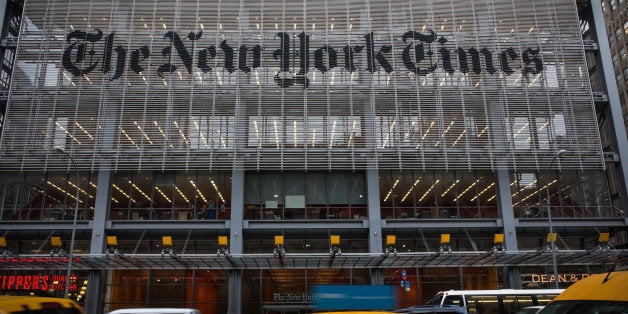 New York Times public editor Margaret Sullivan has listed 17 "hopes and dreams" for the newspaper heading into 2015 in an end of the year article published Wednesday.
Though much of the list deals with editorial goals and ways to round The Times' coverage moving forward, Sullivan also touched on issues of diversity in the paper's newsroom following this year's wave of layoffs and buyouts.
In September, television critic Alessandra Stanley wrote a review of Shonda Rhimes' "How To Get Away with Murder" which some readers felt propped up harmful racial stereotypes, and in December news broke that the cuts had left The Times' culture section devoid of black reporters. Sullivan hopes the newspaper will remedy a few of its diversity issues with "the addition of some black critics to the culture staff; and a more diverse staff in general." Sullivan added that she wishes to see more bylines from female writers on the front page, and more women's voices on the paper's op-ed pages as well.
The article also touched on the departure of labor reporter Steven Greenhouse, who, after accepting a buyout in December, left The Wall Street Journal as the only daily newspaper in the country with a full-time labor writer.
"Writers assigned to cover labor, television and advertising (and many other subjects) who are as good as their recently departed predecessors, who were among more than 100 Times newsroom employees who took buyouts or were laid off this month," Sullivan wrote as her 13th point.
Other issues included more coverage of press-rights stories like Freedom of Information Act legislation, but issues stemming from the staff cuts seemed to loom especially large for Sullivan.
"Please, no 2015 newsroom buyouts or layoffs," she wrote. "Enough cake was cut, enough toasts made, enough tears shed for at least a year."
Related
Popular in the Community