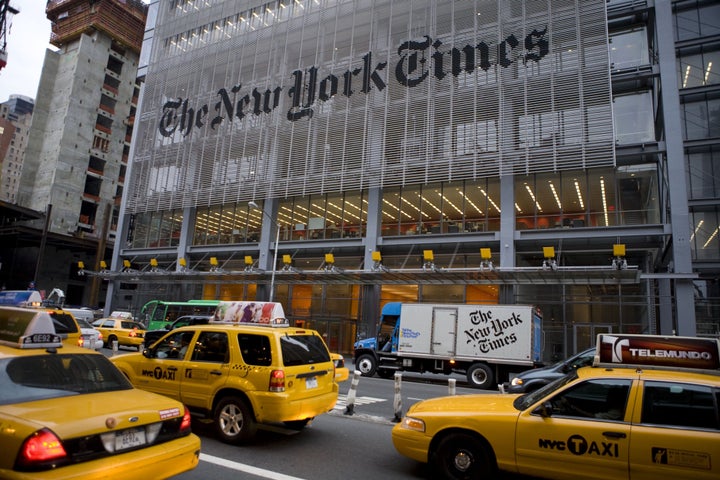 The New York Times announced plans on Tuesday to launch a virtual reality project with Google called NYT VR.
The initiative kicks off in early November, when 1 million Times home subscribers will receive a Google Cardboard viewer, a low-cost cardboard device that holds a smartphone. After downloading a compatible app, users can look through the viewer to immerse themselves in films or games that fill their entire field of vision. A smaller number of Times digital subscribers will receive a redeemable promo code for a viewer.
"Our readers look to The Times for innovative and powerful storytelling and this is The Times at its best," Executive Editor Dean Baquet said in a statement.
Baquet highlighted one of NYT VR's upcoming projects, "The Displaced," a film that follows the journeys of three children who have been uprooted from their homes in South Sudan, Ukraine and Syria. The film, created in collaboration with virtual reality company Vrse, will capture what life is like for children caught up in the global refugee crisis.
"Our Magazine team has created the first critical, serious piece of journalism using virtual reality, to shed light on one of the most dire humanitarian crises of our lifetime," Baquet stated.
New York Times Magazine Editor-In-Chief Jake Silverstein said that the virtual reality project can give readers an unique "empathetic connection" to the individuals featured in their stories.
"In the context of international reporting and conflict reporting, where our readers rely on us to bring them news and stories from remote and inaccessible places, this has huge potential," Silverstein stated. "Through this immersive video experience, we can put our readers at the center of the most important story of our time."
The Times' NYT VR app, which it developed in partnership with virtual reality studio IM360, will become available to Apple and Android users on Nov. 5. The app will operate on iOS 8+ and Android 4.3+ systems.
Watch the NYT Mag VR film "Walking New York" here.
Popular in the Community