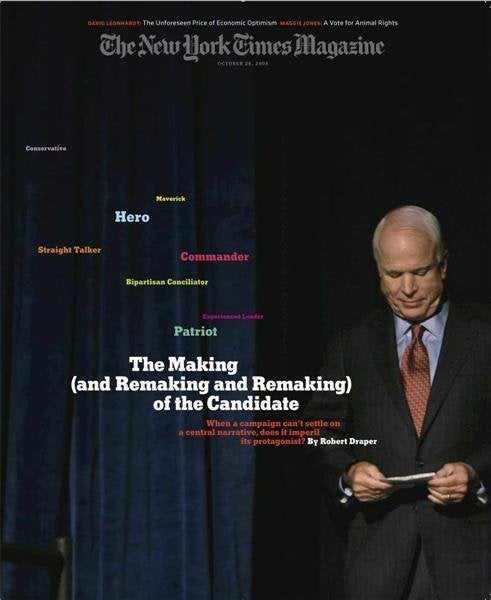 The New York Times Magazine is set to publish an explosive story this Sunday on the inner workings and combative personalities of what has been a wild few months for the McCain campaign.
The piece, written by Robert Draper and titled "The Making (and Remaking and Remaking) of the Candidate," breaks some new reportorial ground, including a growing weariness within a campaign that seems more interested in tactical victories and the next compelling narratives than an overarching strategy. Draper writes:
"By October, the succession of backfiring narratives would compel some to reappraise not only McCain's chances but also the decisions made by [Chief Strategist Steve] Schmidt, who only a short time ago was hailed as the savior who brought discipline and unrepentant toughness to a listing campaign."
Having interviewed several of the Senator's chief aides, Draper details the process by which McCain ultimately chose his running mate (New York City mayor Michael Bloomberg was surprisingly high on the list). And the decision may have been even more impulsive than initially thought. Gov. Sarah Palin, who had never been on the VP shortlist, was advanced at the last minute by Schmidt and Rick Davis, and was picked after a chat with McCain at his ranch in Arizona.
From there, Draper tracks the campaign through Palin's widely praised convention speech, the roaring early campaign events, and then the first glimmer of doubts. There are additional, juicy nuggets that he uncovers earlier and along the way. These include the birth of the Obama-as-celebrity attack line -- the campaign felt it was on the wrong track, its pollster described their situation as "third and nine," and Schmidt "blurted out the epiphany concerning Obama. 'Face it, gentlemen,' he said. 'He's being treated like a celebrity.'"
Then there is Schmidt's -- perhaps fatal -- push for McCain to "go all in," leave the campaign trail and head to Washington to work on the financial bailout package.
"Schmidt evidently saw the financial crisis as a 'true character' moment that would advance his candidate's narrative."
Ultimately, Draper defines the McCain campaign in a series of different narratives: the heroic fighter, the country first deal-maker, team of mavericks, etc. His reporting will undoubtedly spur an early start to the campaign postmortems. Even McCain aides waxed skeptically about their bosses chances.
"Despite their leeriness of being quoted," Draper writes, "McCain's senior advisers remained palpably confident of victory -- at least until very recently."
Calling all HuffPost superfans!
Sign up for membership to become a founding member and help shape HuffPost's next chapter