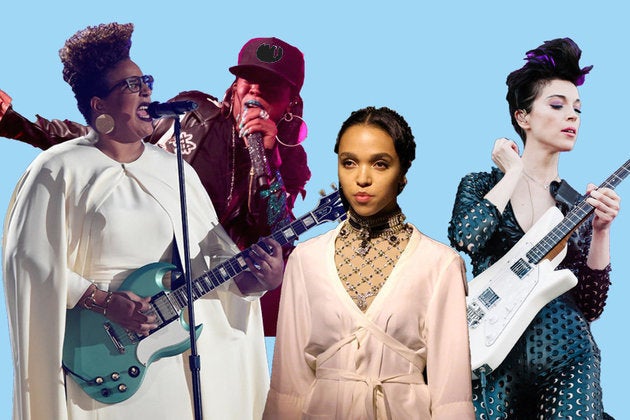 The feature, which includes contributions from fantastic writers such as Marlon James, George Saunders, Jenna Wortham and Jezebel's Jia Tolentino, unscrolls beautifully through an introduction (focused on Beyoncé) and 25 brief articles on individual songs that are shaping the future of music. Snippets of the songs play as you reach the relevant article. It's a delightful multimedia experience.
The writers who contributed are talented and diverse, and the selected songs include many written and performed by people of color -- an extremely important factor, especially given how often black performers and artists have been written out of music history, and still are to this day. The list celebrates Fetty Wap, Kendrick Lamar, Run The Jewels, D'Angelo, Pharrell, Vybz Kartel, Chance The Rapper, Vince Staples and a song from "Hamilton."
But one imbalance remained glaring: Out of 25 artists given the primary credit on the track noted, only four were women. Wortham wrote about Syd tha Kyd and the Internet, a band formed by Sydney Bennett of Odd Future; and then there are blurbs for Rihanna in duet with Sza, classical composer and singer Caroline Shaw, and country singer Margo Price. Should I go on? Oh, I can't -- those are the only female performers whose songs are among the 25. (Beyoncé apparently makes the introduction, but not the list.)
To be sure, there probably simply wasn't room on the list for Beyoncé or other musical women -- the list had to make room for bland pop dude Charlie Puth, bland pop band Twenty One Pilots, bland band Coldplay and Lionel Richie -- whose early-'80s "Hello" is on the list thanks, apparently, to Adele's current hit, "Hello." (Adele is not on the list.) Oh, and Justin Bieber. (He's No. 1.)
The music industry has never been accused of being excessively gentle to women. In the past few months alone, the rampant sexual harassment and assault problem has made headlines, with female artists and music industry workers speaking out about men within the field who have allegedly victimized women with impunity. Pop star Kesha recently lost a court battle to be freed from her contract with producer Dr. Luke, despite her allegations that he had sexually assaulted her.
None of this is remotely in the same category as the NYT Magazine list's far more mundane failure, but the current spotlight on women's struggles in the industry would, one would hope, be a reminder that female musicians face significantly greater obstacles to being viewed as serious artists as opposed to sexual objects and/or dilettantes among serious male professionals. Instead, in the formulation of this list, it seems that serious music cred and stardom is needed to qualify a woman for consideration, while men make the list for all sorts of reasons -- as a particular instance of blandness, of a retro trend, of whatever. 
To be clear, this is probably not the fault of the writers bylined in the piece, who each contributed thoughtful musings on the songs they selected. Most of the songs included are well worth writing about and listening to, and the components of the feature were exceptionally well executed. So who was overseeing the totality of the project, making sure that it came together into something that truly looked like the future of music, not another version of a boys' club? How did this happen?
As a little reminder that women are shaping the future of music as much as men, we've quickly compiled 25 other songs by women we think are showing us what music will look like, and why: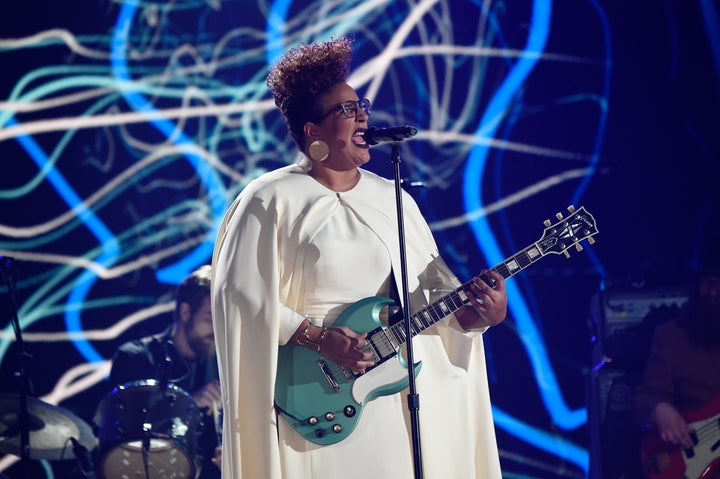 Katy Brooks, Senior Culture Editor:
Courtney Barnett, "Pedestrian at Best": Barnett turns banal observations into rousing, lyrically innovative poetry, pairing her perfectly muttered words with hard guitar lines and pounding drums. In the age of confessional writing, Barnett unabashedly embraces her internal monologue -- showing us that small stories and big music still go hand in hand.


Lizzo, "Batches and Cookies": In a performance of this song at Terminal 5 in New York City last year, Lizzo and her crew took to the stage in aprons and began tossing cookies into the audience. She rapped and belted, all the while dancing in unison with her collaborator Sophia Eris, who previously stood behind a rig emblazoned with the words "BIG GRRRL." In an interview with HuffPost, Lizzo described the performance and her work, stating, "Yes, my new music is super body-positive. I'm going to stand firm in that, and that's something I want to represent." All hail Lizzo.


Alabama Shakes, "Don't Wanna Fight": Brittany Howard blends blues, roots and rock in "Don't Wanna Fight," a song off the band's latest album, "Sound & Color." From the moment she begins singing, she rips her own range apart, swinging from screams to croons with ease. She has, arguably, more presence on stage -- in volume, expression and killer guitar skills -- than any other band front(wo)man today.


Mavis Staples, "Take Us Back": Born in 1939, Staples has been revolutionizing the R&B, folk and activist realms since the 1950s with her deep vocals and gospel roots. She released "Livin' On a High Note" in February of this year, proving that the future of music is not only built on -- but carried forward by -- the successes of women artists who've been performing for decades.


Anohni, "Manta Ray"

: Made in collaboration with J. Ralph, the song was featured in the documentary "Racing Extinction" and subsequently nominated for an Oscar for Best Original Song. (She became the only transgender performer ever to have been nominated for an Academy Award as a result, and wro

te about her decision not to attend the ceremonies after her performance was cut "due to time.") The song itself celebrates Anohni's languid lyricism, that drifts al

ong the delicate sounds of a piano, bemoaning a dramatic oceanic scene. It's a beautiful example of how music can elevate films dedicated to big issues -- like the potential loss of at least half of the world's species.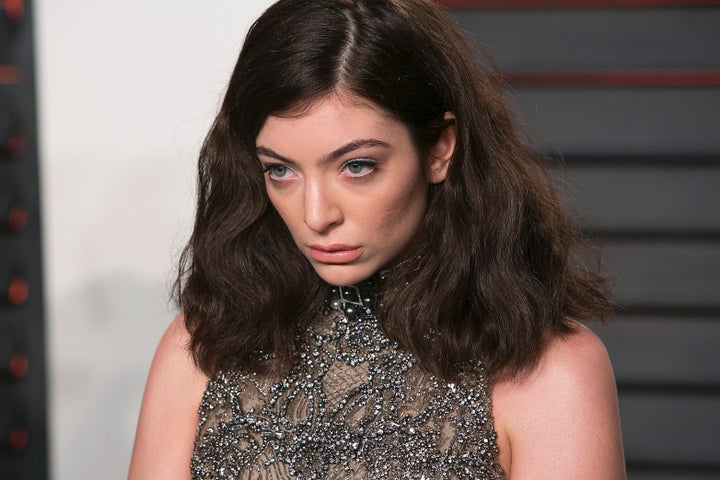 Claire Fallon, Culture Staff Writer
Thao & the Get Down Stay Down, "Meticulous Bird": Thao Nguyen marries folksiness with jangling discordance, and the symbiotic relationship between the two styles shines in this rhythmic, chanting ditty -- interspersed with breathless, belligerent exclamations of "oh my, oh my."


Kesha, "Tik Tok": For reasons you may have heard about, Kesha hasn't been releasing new music recently, but her hits keep going, ahem, right round our heads, with her juddering, sneery vocals and buoyant choruses. If she were able to keep creating new music, we suspect it would be the next generation of great party jams.


Nicki Minaj ft. Beyoncé "Feeling Myself": Everything about this collaboration is a win, especially the swaggering confidence with which Nicki raps about sex, money and fame, while Beyoncé's sultry, self-assured tones remind us that she's "feeling herself." Beyond the old-school girl group, this is a joint project between two bonafide lady superstars, carried out with both genius and verve, and that smacks of the future to us.


CHVRCHES, "Leave a Trace": This is a band, but it's identifiably fronted by singer Lauren Mayberry, whose soaring, crystalline voice forms the centerpiece of its best songs. "Leave a Trace" encapsulates the band's injection of synth-driven, '80s-inflected dance-pop with anthemic, emotional choruses.


Lorde, "Buzzcut Season": The New Zealand wunderkind was inescapable when her first hit "Royals" climbed charts a couple years back, and her whole first album is redolent of the poetic approach that made "Royals" so startling and stripped-down. Language-driven, but more repetitive and simplistic than rap, Lorde's dreamy, haunting melodies capture attention with startling images: "I remember when your head caught flame / It kissed your scalp and caressed your brain / Well you laughed, baby it's okay / It's buzzcut season anyway."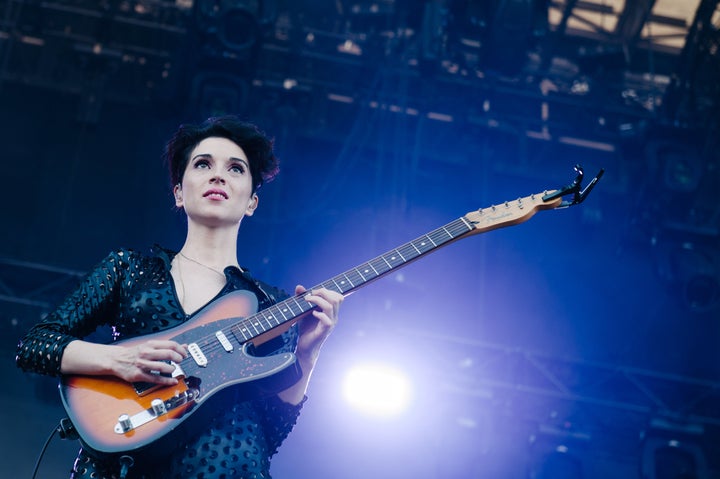 Maddie Crum, Culture Staff Writer
Lana Del Rey, "High By the Beach": When Lana Del Rey first burst on the scene, no one could tell whether or not her whole schtick -- the droning vocals, the juvenile, maudlin lyrics -- was a joke. Was her sadness over her boyfriend's video game-playing negligence sincere, performative, or both? Years later, her slacker girl crooning is as popular as ever, bringing to life the feeling of listless youth.


Beach House, "Space Song": Your favorite ethereal band explores the most ethereal place of all: space! Fluid, dreamy instrumentals create the effect of floating, and Victoria Legrand's rich voice juxtaposes the song's airiness. It's not exactly new ground for Beach House -- putting on one of their albums is an easy way to get lost in repetitive, slowly shifting sounds. The band dares to not experiment, sticking instead with a cohesive body of work.


Taylor Swift, "Bad Blood": The breakup queen veers away from upbeat longing to sing about something totally different: female rivalries. While Swift's choice to pit women against women in the wildly popular music video is off-putting for some, her rally cry is a welcome departure from her usual boy-driven ballads. Plus, it's catchy as hell.


St. Vincent, "Digital Witness": From its first second, this song -- like many of St. Vincent's -- bursts with energy. A funky trumpet welcomes in her voice, immediately recognizable due to its range. The song is part of her latest album, which is heavily critical of our recent reliance on electronic forms of entertainment. "People turn the TV on," the chorus goes.


Mitski, "Townie": Mitski isn't afraid to sing about her pain, an avenue for expression that only became an option for women rockers in the '90s. But she's no Alanis; her raw, dangerous lyrics are sometimes sounded off amid a sweet sheen of echoes and distorted vocals. Even in "Townie," which could squarely be classified as garage rock, she doesn't succumb to the nasally conventions of the genre -- her powerful, feminine voice shines through.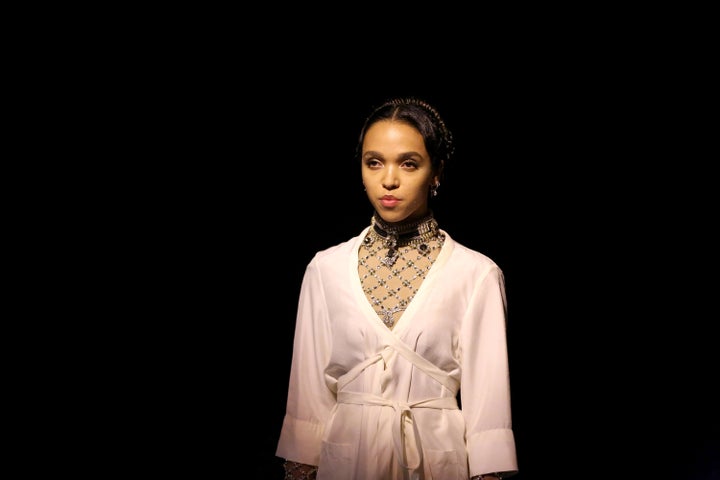 Priscilla Frank, Culture Staff Writer
FKA Twigs, "Glass & Patron": Twigs' ode to voguing is a formidable example of paying tribute to your influences, especially those who don't have the same visibility or scope. Rather than appropriating voguing culture, Twigs identifies herself as a newcomer and shares the stage with those who paved her way, working the homage into a wildly danceable warrior jam that will inspire you to form your own magical-freaky vogue troupe in the woods.
 
Grimes, "Kill vs. Maim": "Cuz I'm only a man, I do what I can," Grimes sings in her demented cheerleader chant, bridging the space between a brutal warrior and a teenage girl. The amped up anthem is part Ace of Base, part K-Pop, part "Bring It On," the perfect mix of girliness and badassery not to be messed with.


Alessia Cara, "Here": The 19-year-old singer got famous posting cover songs on YouTube, and her hit single "Here" shows that sometimes the wisest, oldest souls are those judging you at a high school party. With soulful power, Cara describes the overwhelming lameness of her peers getting stupid hammered at a party she doesn't want to be at in the ultimate rebuke to "get faded in the club" hits. Finally, a party anthem for hermits who like to be in bed by nine.


Tinashe, "All Hands On Deck": "All Hands On Deck" was the first song since probably "I'm A Slave 4 U" that had me dancing like an idiot in front of the music video, trying to learn all the moves. Tinashe is the quintessential contemporary R&B goddess, whose sheer star power (and ungodly abs) have me fangirling like a 13-year-old begging my parents for concert tickets.


Erykah Badu, "U Use To Call Me": Queen Badu responded to Drake's super viral "Hotline Bling" with a mixtape called "But You Caint Use My Phone." The song "U Use To Call Me" even features a Drake imitator rapping over a warped riff on Drake's hip-hopified salsa beat. Combining the hyper-timeliness of the Internet age with classic old school soul influences, Badu's album is a glorious example of the Internet eating itself and busting out something convoluted and gorgeous.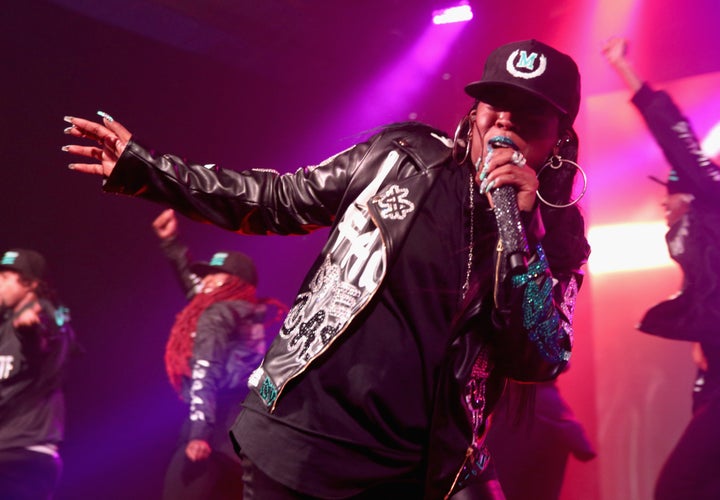 Tricia Tongco, Culture Social Media Editor
Waxahatchee, "Under a Rock": When listening to "Under a Rock," it feels like frontwoman Katie Crutchfield is singing to you in her bedroom. The natural, real intimacy of her lyrics and the song's soaring chorus convey a moment of transition most young adults have felt or are still experiencing. With its familiarity and hybrid sound of folk and punk, the song is accomplished in its own right, sounding like the best of '90s indie rock without feeling forced.


Carly Rae Jepsen, "Warm Blood": "Warm Blood" is a warbling, sensual pop song off of Jepsen's criminally underrated album "Emotion."  Produced by Vampire Weekend's Rostam Batmanglij, the song shows us how a pop star can emulate '80s synth sounds and yet still sound fresh. If her voice sounds grittier than usual, it's because she was vaping too much while recording her album. This dose of pop genius is perfect for tipsy gyrating, obsessive replaying and late night driving.


Savages, "Adore": "Adore" by Savages is a slow release of life-affirming love for life in the face of certain death. Sound intense? Well, their entire album "Adore Life" is a dark, powerful exploration of love in many forms -- from sexual fluidity to sexual power. "Adore" cements the album as a positive one, embracing the choice to live and the sense of gratitude, freedom and urgency that goes along with that.


Ellie Goulding, "On My Mind": "On My Mind" is the epitome of pop music for adults. While still fun, the song is more sophisticated than teen pop and gets major points for realness. Goulding is a talented storyteller with a unique ability to create mature yet dramatic dance music.


Missy Elliott, "WTF": Oh, how we've missed Missy Elliott. Marking Missy's return to music after a decade, "WTF" hit us hard and fast. Her lyrics might sound merely like shaming or throwing shade at tongue-waggling girls, but instead she's bringing up the issue of cultural appropriation (Miley, what's good?). But in true Missy fashion, she also infuses humor into the song, comparing herself to a Big Mac and dismissing competition with "Blah-blah-blah." 
Bonus -- you can check out the latest from any of these women and women-fronted groups to see glimpses of what music is and will be:

Haim
Esperanza Spalding
Cardi B
Sleater Kinney
Adele
Tune-Yards
Angel Haze
Demi Lovato
Sharon Jones
Sharon Van Etten
Holly Herndon
Anna Meredith
Kim Gordon
Florence & the Machine
Purity Ring
Sharon Van Etten
Neko Case
Robyn
Azealia Banks
Janelle Monae
Kehlani
Bjork
Julee Cruise
Angel Olsen
Trina
Ciara
Kelala
Brandy
Lady Gaga
Jenny Lewis
Wet
Add your own favorites -- and listen to the selected songs (at least, the ones available on Spotify) -- to the playlist:
Calling all HuffPost superfans!
Sign up for membership to become a founding member and help shape HuffPost's next chapter
BEFORE YOU GO
PHOTO GALLERY
71 Cover Songs That Are Better Than The Original