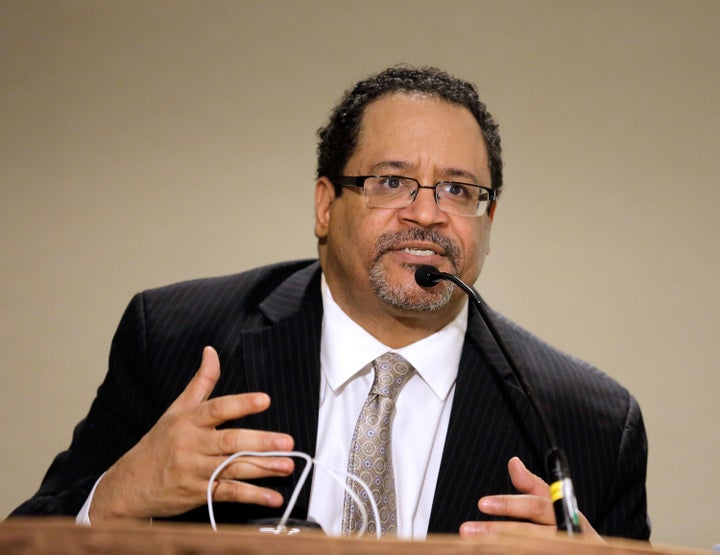 The New York Times published an op-ed last week titled "What White America Fails to See," by the prominent Georgetown University sociologist Michael Eric Dyson. The essay was published online on the evening of July 7 in response to the killings of black men by police in Louisiana and Minnesota. It offered a harsh assessment of the collective culpability and blindness of white Americans, calling the killings part of "an undeclared war against blackness."
After reading Dyson's op-ed, I sat down to write a commentary on it for the website of Commonweal magazine. But when I went to post my piece the next morning, I clicked on the link to Dyson's essay and discovered it had been substantially altered ― "updated to reflect news developments," as the Times website put it. Though the note didn't specify, it obviously referred to what had happened during the night before, soon after Dyson's op-ed first appeared: A black man in Dallas had murdered five police officers, reportedly seeking revenge for the deaths Dyson referenced.
The immediate chore for me was the annoyance of having to change my own commentary to reflect the revision of Dyson's. But the real issue is the revision itself. Clearly made to soften the piece and shield its author, the changes began with the title, now recast as the far more conciliatory "Death in Black and White," and proceeded from there. Here is how Dyson's originally published version opened:
It is clear that you, white America, will never understand us. We are a nation of nearly 40 million black souls inside a nation of more than 320 million people. We don't all think the same, feel the same, love, learn, live or even die the same.

But there's one thing most of us agree on: We don't want the cops to kill us without fear that they will ever face a jury, much less go to jail, even as the world watches our death on a homemade video recording.
And here is the opening of the updated version:
We, black America, are a nation of nearly 40 million souls inside a nation of more than 320 million people. And I fear now that it is clearer than ever that you, white America, will always struggle to understand us.

Like you, we don't all think the same, feel the same, love, learn, live or even die the same.

But there's one thing most of us agree on: We don't want cops to be executed at a peaceful protest. We also don't want cops to kill us without fear that they will ever face a jury, much less go to jail, even as the world watches our death on a homemade video recording. This is a difficult point to make as a racial crisis flares around us.
Do such changes qualify as an "update?" They're hardly minor. Where the original version posited an unbridgeable division between black and white perspectives, and blamed whites for it, the "updated" version puts forth a vision of black and white joined together "as a racial crisis flares around us." The new draft depicts whites as engaged in a "struggle to understand," and argues that all Americans can now agree that neither cops nor black men should be wantonly killed. In short, a piece about Black Lives Matter has become about All Lives Matter ― a notion anathema to the first version.
The "update" also excised this key passage entirely:
You will never understand the helplessness we feel in watching these events unfold, violently, time and again, as shaky images tell a story more sobering than your eyes are willing to believe: that black life can mean so little. That Alton B. Sterling and Philando Castile, black men whose deaths were captured on film this past week, could be gone as we watch, as a police officer fires a gun. That the police are part of an undeclared war against blackness.

You can never admit that this is true. In fact, you deem the idea so preposterous and insulting that you call the black people who believe it racists themselves.
I may happen to prefer the second, more conciliatory version of Dyson's highly engaging essay. But that's not the issue. I'm wondering about the implications for journalistic practice of revising a published op-ed in such a substantial manner ― the title softened, the rhetoric reshaped and the central, damning metaphor of "an undeclared war against blackness" eliminated entirely ― and then calling it an "update."
I can see correcting errors of fact or inserting new information. But this is an opinion piece, not a news story. Do the changes imply that the opinions originally expressed in the piece are no longer valid? That the author no longer stands by them? And did the impetus for these changes come from Dyson, or from the newspaper?
Most important, what about the original piece? As far as I can tell, it has vanished, and if I hadn't cut and pasted it, I wouldn't have been able to quote from it or even see it. I understand that Dyson's ideas may have evolved. But if so, shouldn't readers be able to see and track that evolution? And what about scholars 10 or 30 or 50 years from now, sifting through the traces of 2016's summer of racial strife, looking to construct their narratives out of original documents published at the time?
Are we now to understand "publication" in online journalism to mean an ever-evolving process in which any particular version of a story may exist only temporarily? If so, what does it mean to be a "newspaper of record" like the Times?
I emailed these questions to the Times' new public editor, Elizabeth Spayd, and a few days later she posted an entry titled "Opinion Editors Tone Down Piece on Race, and Some Readers Cry Foul." After quoting from my email, she explained that the revision had been made to reflect highly relevant news ― the Dallas shootings ― and "to adjust the tone so that it wasn't as harsh." She cited the op-ed editor's view that Dyson's essay "'wasn't supposed to be a bitter scolding of white people.'" While finding "nothing inappropriate" in the reasons for the changes, Spayd acknowledges "a concern":
Any reader who saw the original version of this piece would surely recognize a gentler, more nuanced tone in the revised version. Not just the addition of news, but a piece that feels different, reads different and leaves you feeling different.
"There was no crime," she concludes, "just a cover-up ― or at least something that struck many readers as one."
 I reached out to Dyson for comment, and he graciously emailed me back at length, explaining that the revision had been "a joint decision."
"The editors and I were concerned that the essay might ― however unintentionally, since it was penned before Dallas ― increase rather than mitigate the very violence I dissected and opposed," he told me. He described himself as "not insensitive to how my piercing words might be read by the white Americans I was addressing ― how my thoughts might now be heard in earshot of the Dallas killer's deeds." Not acknowledging Dallas would have been "tone deaf," "unnecessarily inflammatory," and "morally contradictory," he said, and moreover he didn't want to be perceived as saying anything that "supported or affirmed the anti-white hatred that apparently fed the Dallas killer's actions."
Despite the changes, Dyson insisted, "the heart of my essay remains the same."
I'm sympathetic to Dyson's reasons for changing his essay; if I had written it, I'd feel like changing it, too. But should I? And should the editors of a newspaper of record let me? That's not nearly as clear. The issue is the mutable and erasable nature of digital texts vis-á-vis the established record. Dyson told me he views his op-ed as "a snapshot in time," and essentially argues that as such, it had to be adjusted in order to take account of subsequent events. The worry is that while it was written before Dallas, a reader encountering it after Dallas will read it in light of Dallas, anachronistically distorting its meaning.
But does that mean it should be changed? Which snapshots get to make the permanent photo album, and which don't? The revamped version of Dyson's essay still bears the original date of July 7, as if it had been published before Dallas. But the essay that was in fact published on that date has been airbrushed out of existence. The effect, accurate or not, is to suggest that the Times editors didn't want to take the heat for what they had published, and so they let the writer walk it back.
Dyson pointed out to me that readers can link to the original version via the public editor's post, and thus that "the very paper accused of destroying access to it also provided access to it." That is true, but only because some attentive readers noticed the changes and complained, prompting Spayd's response. Had they not, the Times would have no pathway to the original piece. And I'm not reassured a Times editor's suggestion to me that even though the newspaper may have abandoned the original, "there are numerous tools on the internet to find cached versions." What are they? Every Google search or link I can find leads to the revision only.  
As for how significant the changes to the piece were, readers who can find their way to the public editor's page can compare. Dyson insists that the heart of the essay is the same. But Spayd's own column quotes him saying, pithily and wittily, "If the first piece sounded more Malcolm and the second more King, that's OK by me."
So King stays, and Malcolm disappears.
The question of what gets altered or erased, by whom, when, and why is of course a huge subject, one that applies to politicians, businesses, companies and private individuals. We live in a digital world where footprints can be expunged, and where professional expungers can be hired to assist the process. But shouldn't a newspaper of record proceed with more caution?
Commentators who wrote about Dyson's original essay ― and linked to it ― were also producing snapshots in time. But their snapshots now include references to a concept and a phrase ― "an undeclared war against blackness" ― that officially no longer exists.
I'm still thinking about those ghost references. Maybe the better operating metaphor for what the totality of digital journalism creates is not a photo album, but an enormous tapestry. You start to pull at one thread, and the whole thing comes apart. 
Calling all HuffPost superfans!
Sign up for membership to become a founding member and help shape HuffPost's next chapter
BEFORE YOU GO
PHOTO GALLERY
29 Inspiring Essays And Illustrations That Explore The State Of Black Future