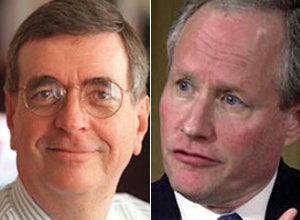 When we broke the news that Bill Kristol would be joining the editorial pages of the New York TImes as a regular contributor, we called it "a move bound to create controversy." After a mistake-laden first effort, now the New York Times public editor Clark Hoyt has delivered his verdict: "[NYT Publisher] Sulzberger and [editorial page editor] Rosenthal made a mistake." Hoyt's reasoning:
On Fox News Sunday on June 25, 2006, Kristol said, "I think the attorney general has an absolute obligation to consider prosecution" of The New York Times for publishing an article that revealed a classified government program to sift the international banking transactions of thousands of Americans in a search for terrorists.

Publication of the article was controversial -- my predecessor as public editor first supported it and then changed his mind -- but Kristol's leap to prosecution smacked of intimidation and disregard for both the First Amendment and the role of a free press in monitoring a government that has a long history of throwing the cloak of national security and classification over its activities. This is not a person I would have rewarded with a regular spot in front of arguably the most elite audience in the nation.
Read Hoyt's entire argument here.
Calling all HuffPost superfans!
Sign up for membership to become a founding member and help shape HuffPost's next chapter