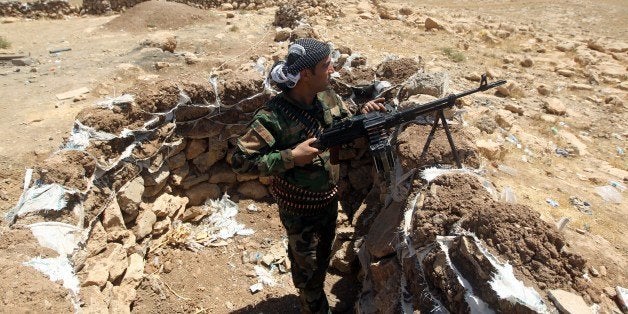 A New York Times reporter was injured in a deadly helicopter crash in Iraq, the paper reported Tuesday.
Alissa Rubin, the Times's Paris bureau chief, was traveling on a Kurdish helicopter carrying aid to some of the thousands of people trapped in the Sinjar mountains when the helicopter crashed. The Times said that the pilot was killed, and that Rubin and others were wounded. "Rubin suffered an apparent concussion and broken wrists but was conscious," the paper wrote. A photographer, Adam Ferguson, was also in the helicopter was but uninjured.
Rubin has a long history of war reporting. She was the bureau chief for the Times in both Baghdad and Kabul before transferring to Paris.
Reporters have found themselves in repeated danger while covering the recent violence in Iraq. On Monday, a Turkish journalist, Leyla Yildizhan, was killed by a mortar shell.
Times editor Dean Baquet issued the following statement about the incident:
"Today Alissa J. Rubin, a correspondent for The New York Times and Adam Ferguson, a freelance photographer on assignment for The Times, were injured when an Iraqi military helicopter carrying aid to stranded refugees crashed in northern Iraq. They have been airlifted out of the region in order to receive medical care. Alissa is a close friend and one of our most esteemed journalists. Our thoughts and prayers are with both Alissa and Adam."
Read the full Times report here.
REAL LIFE. REAL NEWS. REAL VOICES.
Help us tell more of the stories that matter from voices that too often remain unheard.