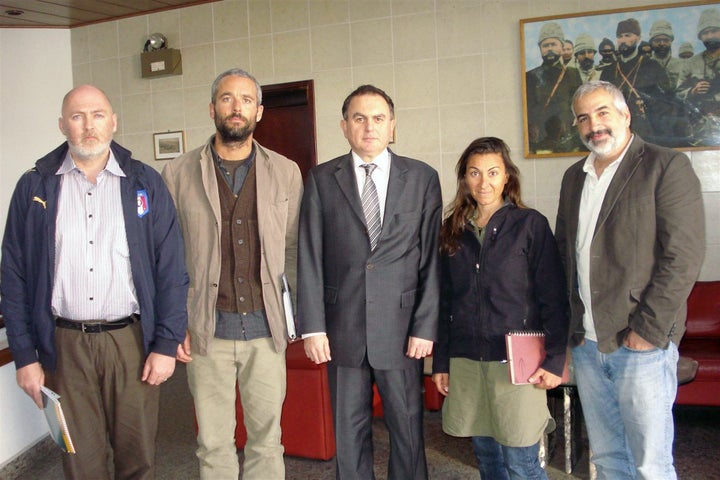 The four New York Times reporters who were kidnapped in Libya spoke out at their first public event on Thursday.
The event, which was held at the Columbia Graduate School of Journalism and streamed online, came ten days after Lynsey Addario, Stephen Farrell, Tyler Hicks and Anthony Shadid were released by the Libyan government after six days of being held in captivity by the military. Since then, the reporters have written an article describing their capture and ordeal, and have also begun making media appearances. (They were on the "Today" show Thursday morning and will appear on Anderson Cooper's show on Thursday night.)
The four were captured outside the eastern city of Ajdabiya by Libyan military forces, and held for two days in several detention centers. During that time, they were physically roughed up, and Addario was groped and harassed. The government then intervened and took the journalists to Tripoli, where they were held for a further four days before their release into the hands of a Turkish delegation.
At the Columbia event, Hicks, a photographer for the Times, described their captors to the packed audience.
"These are real thugs," he said. "They're really people who shoot first and ask questions later." He said it was clear, once they were captured, that "there was so little organization and absolutely no command structure going on...every single person that we were passed onto was just as bad, if not worse, than the previous one."
Farrell said he had seen "three different Libyas" during his time there. In one, just past the eastern border, he said, were the rebel forces, who kept calling for Gaddafi's ouster and were clearly grateful to see journalists. In another were the government forces, who, he said, were "beating and kicking and punching us," and "had their own propaganda."
Finally, he said, "a long drive and a short flight later, we were in Tripoli and you were in these official buildings with beautiful portraits of Arab stallions on the walls and tea and elegant gentlemen quoting W.B. Yeats at you." Shadid said he had last been to Libya in 1995, and that the situation now is "more nuanced and more ambiguous." He said that "the moment for the regime and the government is so precarious right now that it's impossible for them to completely stifle dissent."
For Addario, the situation was vastly different from her last trip to the country in 2004, when she went to photograph Gaddafi for Time magazine. Then, she said, she was "very well taken care of." She also said that her detention was much, much worse than the last time she was held, in Iraq.
"When that happened, the initial 15 minutes very chaotic but once they were able to sort of pull us out of that chaos...they were respectful. No one ever touched me, they certainly didn't push us around." This time, she said, "even when it was very clear we were journalists...it didn't matter to them, and that was a big difference."
Addario has also written and spoken about being harassed and groped by the soldiers. She was asked to respond to readers who wondered why the Times would send a woman to such a dangerous war zone.
"The last time I checked the New York Times didn't own me or decide how I live my life," she said. "...I make my own decisions as a woman. If i want to cover a conflict that's my prerogative. I think it's very important for people who follow what they want to do...people don't understand that you cannot force someone to cover a conflict. It's something very dangerous and very personal and very emotional, and people have to do it of their own volition."
Addario would not say that she had received "worse" treatment than her male colleagues.
"How do you quantify trauma?" she said.
Watch a New York Times video about the four reporters:
Hicks, however, cut in, saying that he thought Addario had received the worst treatment because she was roughed up as much as the other three, along with the sexual harassment she received.
The moderator of the discussion, journalism professor Ann Cooper, asked how the journalists avoided "mission creep," where they took more dangerous decisions than they should have.
"You hope that you're taking these risks because the story wouldn't be told otherwise," Shadid said, adding that he had a "lurking fear" that "something less altruistic" was at play. "We have to deal with the burden that the choices we made, and choices that I in particular made, may have gotten someone killed. That's a tough thing to live with," he said.
Shadid went on to say that he and his colleagues were released because there were still the pretensions of a state in Tripoli," adding, "a state does not execute journalists once they're in captivity." Farrell said that the only way they gleamed any information about what was happening was due to a mishap by their captors in Tripoli.
"They left CNN on in this house," he said. You had these terribly urbane Libyan chaps standing next to us giving us assurances, and then you see your faces on TV [and hear them] saying the Libyan government hasn't confirmed they're in custody."
He said they even had to translate what was being said on television to their captors. After they left the room to call their families and then returned, he said, the cord to the television had been cut with a "very sharp knife."
Addario said that, during their ordeal, the four bonded intensely with each other.
"We were really dependent on each other," she said. "We were really emotional and traumatized and we really wanted to ensure that we stayed together, so every hour, no, every 20 minutes, you'd hear each one of us say, 'are you there? Are you there?' because we were all blindfolded."
After they had gotten to Tripoli and were awaiting release, she said, "we had nothing to do but talk to each other, so we basically recounted our lives to each other for four straight days."
The four were asked by a member of the audience whether they would return to war zones. Shadid, Addario and Hicks all said that they would. Farrell was much more circumspect.
"I'm not going to make any decision quickly," he said. "I've danced very, very close to the devil quite a few times in the last few years."
Popular in the Community