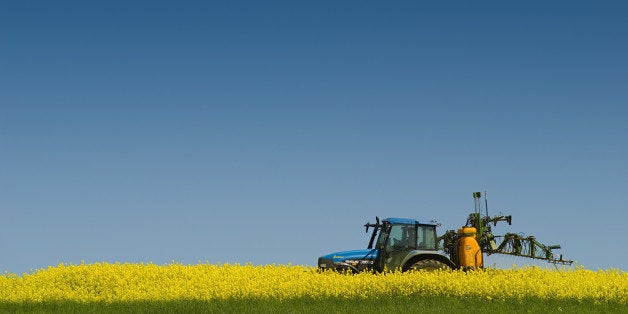 Update/correction from the author (5:45pm EST, 10/22/2014): When this post (originally titled "New York Times Throws Food Party, Forgets to Invite Farmers") was researched, the New York Times Food for Tomorrow website listed 19 speakers. Since that time, it has been updated to reflect that professional farmers will be included as speakers, as well as among the conference's delegates and super delegates.
(Original post from 10/8/2014 continues below.)
On November 11th and 12th, the New York Times will host "Food For Tomorrow," a sold-out event exploring food production in the 21st century. An all-star cast of food celebrities is slated to attend, including world-renown journalists, award-winning chefs, and heralded think tank food advisers. The two day summit aims to shape the future of agriculture, addressing "how to feed a growing population of the world's poor, and how to reverse poor eating habits in the developed world."
Sounds like an amazing event, and as a farmer, I'd love to attend. Perplexingly, however, in their rush to include the most famous names in food, the New York Times appears to have overlooked the most important foodies of all: The farmers themselves. Out of 19 speakers, not a single attendee grows food for a living. Walmart vice president? Check. Investigative reporters? Double check. Politicians? You betcha. But how about a solitary, full-time professional farmer, someone who actually works the land for a living?
(Insert sound of crickets chirping).
Seems like an oversight, doesn't it? Like holding a conference on education and forgetting the teachers, or hosting a book festival without any authors.
Let's give them the benefit of doubt, though. I'm sure that scores of invitations were sent to farmers around the country, but for myriad reasons, not a single one of them could attend. Knowing my fellow farmers as well as I do, here are the top reasons why none of us could make it to New York for the event:
1) Shampooing our rugged, yet lustrous, beards
2) Aboard Virgin Galactic, conducting feasibility studies for Pigs in Space
3) Tweeting Miley Cyrus gossip with other farmers, lost track of time
4) Our personal assistants mistakingly booked tickets to Budapest Food Summit instead (OMG, they are so totally fired!)
5) No one else to milk the chickens
6) Tweaked our glutes doing yoga headstands
7) Herding free-range heritage breed turkeys, on pristine mountaintops bathed in glorious, nourishing sunshine
8) Invitation routed through Boca Raton; subsequently eaten by hungry pelican
9) Had to get bib overalls pressed
10) Too busy growing baby bok choy and organic endive for New York Times food event
Obviously, this is all tongue-in-cheek. But it underscores a serious point. On November 11th and 12th, while the brightest, most celebrated literati are discussing the future of agriculture, you'll find farmers across the country doing what we always do: Waking early for chores, bringing in the last of the fall harvest, changing the oil in the tractor, and replacing old fence posts.
You'll see us going about the serious business of getting our hands dirty, studying the sky for rainy weather, and checking the mailbox for farming bills that must be paid. And more than anything, you'll find we're already thinking of next spring, of seed catalogues and April pastures, of firing up the old tractor once again, and growing food for an always hungry world.
Discussion about food is certainly important. But so is the actual farming, by people who know how to do it. The New York Times missed an opportunity to broaden the food conversation, overlooking the best experts of all.
Checking the calendar, however, there's still a month to go. That's an eternity in agriculture, enough time to till a garden, plant seeds, and witness the first sprouts beginning to grow. Yet, is it enough time for the New York Times invite a farmer or two? I'll be curious to learn the answer.
Related
Popular in the Community