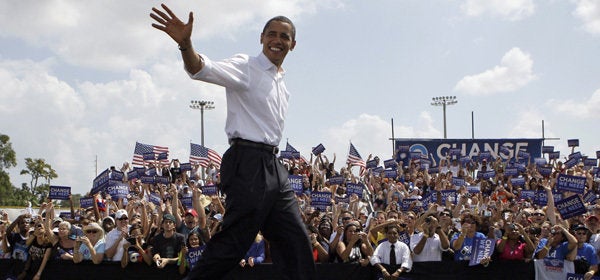 Barack Obama's favorability "is the highest for a presidential candidate running for a first term in the last 28 years" of New York Times/CBS polls.
Meanwhile, the Times reports, Sarah Palin's "negative rating is the highest for a vice-presidential candidate as measured by The Times and CBS News. Even Dan Quayle, with whom Mrs. Palin is often compared because of her age and inexperience on the national scene, was not viewed as negatively in the 1988 campaign."
As voters have gotten to know Senator Barack Obama, they have warmed up to him, with more than half, 53 percent, now saying they have a favorable impression of him and 33 percent saying they have an unfavorable view. But as voters have gotten to know Senator John McCain, they have not warmed, with only 36 percent of voters saying they view him favorably while 45 percent view him unfavorably.

Even voters who are planning to vote for Mr. McCain say their enthusiasm has waned. In New York Times and CBS News polls conducted with the same respondents before the first presidential debate and again after the last debate, Mr. McCain made no progress in appealing to voters on a personal level, and he and his running mate, Gov. Sarah Palin, had alienated some voters.

Personal appeal is an intangible element in voters' decisions. Each voter has a personal reason for connecting with a candidate or not. But the percentage of those who hold a favorable opinion of Mr. Obama is up 10 points since last month. Opinion of Senator Joseph R. Biden Jr., Mr. Obama's running mate, is also up, to 50 percent last weekend from 36 percent in September.

In contrast, favorable opinion of Mr. McCain remained stable, and unfavorable opinion rose to 45 percent now from 35 percent in September. Mrs. Palin's negatives are up, to 41 percent now from 29 percent in September.
Calling all HuffPost superfans!
Sign up for membership to become a founding member and help shape HuffPost's next chapter