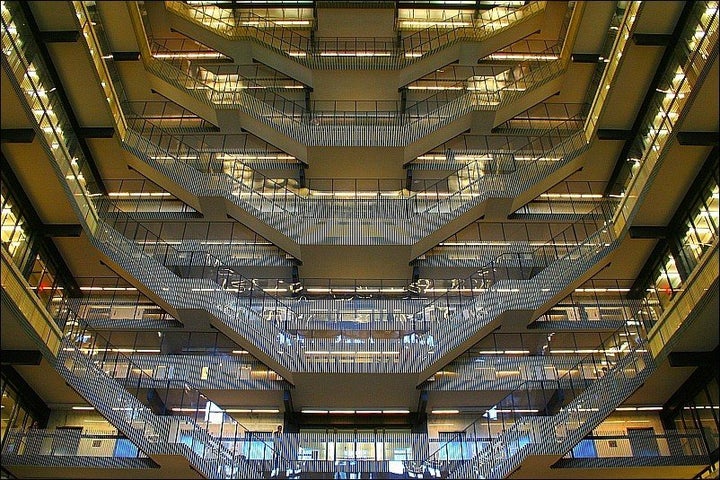 New York University has enclosed the 12-story atrium in its main library with digitally-inspired, perforated aluminum screens in an effort to prevent suicides.
The atrium in NYU's Elmer Holmes Bobst Library was hailed as "one of New York's most spectacular architectural experiences" by Paul Goldberger, then-architecture critic of The New York Times, in 1973, according to The New York Times.
Still, the beauty of this 150-foot-high structure was marred by three horrid tragedies.
On Sept. 12, 2003, junior John Skolnik committed suicide there. His death was followed by the death of Stephen Bohler, a freshman, on Oct. 10.
Suicide in the library seemed to be a trend. "As in many things, adolescents are more imitative in suicide," David Phillips, a sociologist at the University of California at San Diego, told New York Mag in 2004. "Look at hairstyles, slang, clothing styles, and popular music—adolescents are much more preoccupied with copying than older people. Their identity is not yet formed, so they're more concerned with looking like others."
Although NYU installed eight-foot-high polycarbonate barriers along the balconies, Andrew Williamson-Noble, a junior, killed himself there on Nov. 3, 2009.
One step the university took in response to these and other student deaths was to commission Joel Sanders Architect to reimagine the troublesome space in Bobst. Instead of trying to create an inconspicuous barrier, Mr. Sanders and his colleagues have designed randomly perforated aluminum screens that completely enclose the balconies around the perimeter of the atrium and the open staircase connecting them, transforming the space in consequence. University officials expect the renovation to be finished next month.
The golden sheets were designed to look pixelated. Open rectangles facing the north side of the atrium will allow for sunlight to stream through.
NYU is not the only school to change the architecture of ill-fated spaces.
Cornell University plans to install nets on the gorge bridges where three students committed suicide within a month of each other in spring 2010, reported the Ithaca Journal. The newspaper reports that between 1990 and 2010 there have been 27 suicides off the bridges, including 15 Cornell students.
Related
Popular in the Community