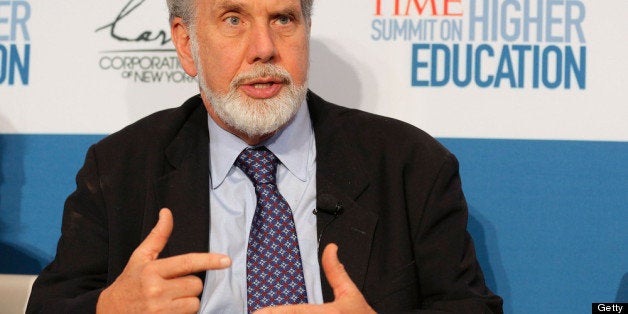 Faculty at New York University said they were upset but not entirely surprised to learn this week that their employer is helping some administrators and professors buy second homes.
NYU and related foundations doled out generous loans over the past two decades to President John Sexton, former law school Dean Richard Revesz, Executive Vice President Martin Dorph and a few medical and law school faculty to purchase properties in Manhattan, vacation hot spots like the Hamptons and Fire Island, and elsewhere, The New York Times reported Tuesday. AlterNet detailed additional lending of millions of dollars to school officials and select faculty by the university and its law school foundation for primary residences and vacation homes.
Jim Uleman, a psychology professor and chair of the faculty senators from the College of Arts and Science, called the perks "fairly outrageous."
"No one goes into academia to get rich," Uleman told The Huffington Post, "at least not initially."
"We send you these articles as faculty concerned about NYU's financial stability, academic excellence and reputation -- and its survival -- under Pres. Sexton's management," the email read.
Andrew Ross, president of the NYU chapter of the American Association of University Professors, told HuffPost the faculty are ultimately worried about the institution's reputation. He also suggested that spending on perks like loans for vacation properties could undermine the university's nonprofit status in the eyes of tax authorities.
"It's hard to imagine how buying vacation homes for senior administrators can be considered part of the core educational mission of the university," Ross said.
NYU spokesman John Beckman could not immediately be reached for comment by HuffPost, but he defended the loans to the Times and AlterNet.
"NYU loan programs are one part of [a] strategy that has transformed New York University over the last several decades from a regional, largely commuter, school to one of the top ranked research universities in the world," Beckman told AlterNet.
Uleman said faculty are "determined not to put up with it," referring to the executive perks, but it's too early to know what specific actions they'll take.
Although The New York Times noted that some professors had also received help buying property, Becker said the issue is not whether professors get their share of the spoils. He pointed to a failure of the shared-governance principle generally followed at higher education institutions, which gives faculty a say in university business.
"When there's not collective participation in decision-making, and there's just a few people on top making those decisions," Becker said, "those few people end up giving themselves raises and end up giving themselves vacation homes."
Becker joked that he recently received his 10-year pin, not nearly as valuable as a low- or no-cost loan for a multimillion-dollar home.
"I've been teaching here for years. I probably will spend many more years at NYU," Becker said. "I want to see it prosper, but with some of these public revelations -- I don't think it'd be terrible for the institution to receive a public spanking, a minor downturn to get us on the right track."
Popular in the Community