From hand to hand, organizers passed a hefty box full of cards signed by a clear majority of NYU's estimated 1800-plus bargaining unit, then delivered it to an NLRB officer. The union's majority was certified by the American Arbitration Association last week.
With the move, the Graduate Student Organizing Committee (GSOC/UAW 2110) hopes to become the first union of its kind at a private university since graduate employees were stripped of federal labor law protections by Bush appointees to the NLRB in 2004. The ruling held that these employees' relationship with their employer was "primarily educational."
That decision was condemned by the UN's International Labor Organization as a violation of the internationally recognized right to organize. Dissenting board members called it "woefully out of touch with contemporary academic reality."
Today's petition to the federal government comes on the heels of President Obama's March 27th recess appointments, which elevated labor lawyers Craig Becker and Mark Pearce to the labor board and thus circumvented an unprecedented Republican-led filibuster.
The filing of the petition also follows a spirited union rally at NYU's Bobst Library last Monday, where GSOC members, armed with balloons and chanting "respect our majority," were joined by Congressman Jerrold Nadler, New York City Council Speaker Christine Quinn, and labor leaders from the United Auto Workers.
In a statement, GSOC outlined its demands:
We are demanding voluntary recognition from NYU in order to correct an injustice that has gone on for too many years. Over the past decade, the majority of NYU graduate employees have consistently chosen GSOC/UAW for union representation. Time and again, the university has blatantly ignored our preferences and denied our rights. Like any other workers, we want a union so that we can bargain collectively around wage, benefit and workplace issues, and achieve security and stability in the workplace.

NYU's administration promptly rejected the call for voluntary recognition. Spokesman John Beckman said the university was "puzzled," and that NYU "has always believed that [these] are students, not workers." President John Sexton has waged a longtime open battle against union efforts.
NYU's graduate employees won their first NLRB election in 2000, followed by university recognition and a first contract in 2001-2. The contract, the first ever to be won at a private university in the US, brought with it a 40% salary increase, fully paid healthcare, sick leave, and workplace protections.
But after the Bush NLRB ruling, NYU withdrew its recognition and refused to negotiate a second contract. A bitter strike erupted, and from '05 to '06, brought the university to the brink. University officials launched a counter-offensive, first penalizing the strikers and then upping financial aid to many graduate employees, while leaving their elected representatives out of the process.
Organizers say a new ruling by the NLRB would change all that. And they say they have come a long way to see this day.
Joanna Holzman of the English Department told me, "As someone who worked as a teaching assistant under the union protection of NYU's [first] contract, and as someone who has seen graduate assistants consistently and democratically ask to be represented by a union for the valuable work they do for the university, it's really thrilling to file again today for an election, so that the voices of the graduate employees at NYU can once again be heard, despite NYU's attempt to squash them."
Zach Schwartz-Weinstein of the American Studies Department added, "That we're here today is a testament to the hundreds of people who knocked on lab doors and walked picket lines. The 2004 Brown Decision left thousands of ballots uncounted and set back much needed changes...After these years of struggle and hardship, it's exciting to see the graduate employee labor movement moving forward to ensure a real voice on the job for the folks who do the teaching and research that sustains the university."
Meanwhile, GSOC members and other grad employees around the country are looking to a new NLRB to see if it will overturn the Bush era ruling. If successful, GSOC would join the ranks of other grad unions on public campuses like the University of California and the University of Michigan, where unions have long been recognized. It would also lay the groundwork for future organizing drives on other private campuses.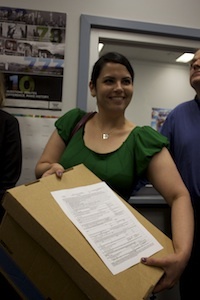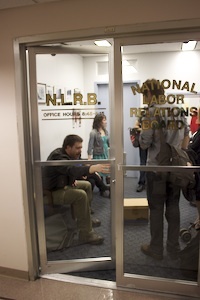 Note: The author is a member of the Graduate Student Organizing Committee (GSOC/UAW 2110). This is public information. He apologizes for the omission of this fact from the initial edition of this post.
Support HuffPost
The Stakes Have Never Been Higher
Related
Popular in the Community