Bonfires...swimming in the lake...early-morning yoga on the docks...intensive script work...classes with world-class writers and producers...and a special daily menu inspired by the works of Meryl Streep. Summer camp for movie nerds? Perhaps. These were some of the features of The Writers Lab for women over 40. And make no mistake - amidst the fun and camaraderie, serious work was being done.
New York Women in Film & Television (NYWIFT) and IRIS, a collective of women dedicated to championing the female voice in narrative film, established The Writers Lab, a weekend-long screenwriting retreat open exclusively to women over 40. Applications were submitted in the Spring of 2015 - an incredible 3,500 were sent in from around the country, and, with additional support from the Writers Guild of America, East, 12 participants were selected to work with established industry professionals to revise and refine their work with an eye toward production. It took place at Wiawaka on Lake George September 18-20. The project was funded by Academy Award-winning actress Meryl Streep.
NYWIFT and IRIS designed the Lab specifically to hear from this largely underrepresented yet hugely important demographic. It is one important instance of women helping other women succeed.
"The more women we have in powerful positions the more likely we are to see women get opportunities," said Peres Owino, a Kenyan-born writer, actor and director who attended the Lab with her screenplay The Basket Weaver. "We need to keep supporting, rooting for and building up one another - that is an immediate need."
Getting those women into powerful positions can be tricky. "Men talk about a meritocracy it the film business all the time," participant Jan Kimbrough said. "But women can't participate in that if they don't get in the door. We can't earn merit if we aren't even considered. This is a way of getting a step up on the merit ladder."
Chosen solely on the merit of their work, the selected participants came from a variety of backgrounds and experience levels - some have had screenplays produced, others write for TV, others are novelists. Each has struggled in her own way, and all have faced sexism - and ageism - as women over 40. "You always face more challenges. You're inherently not in the boys club," said participant Kellen Hertz, a reality and true crime series writer who is currently writing books for American Girl. "Overall there are a lot of deals that get made, people working together because they shared a beer. [But what if] you have a kid or you're not out drinking? Even at 26 I wasn't interested in that. I was interested in writing."
The participants had the chance to work closely with a group of women who have managed to "make it," in one way or another, in studio and independent film. The mentors included Caroline Kaplan (Boyhood, Time Out of Mind), Kirsten Smith (Legally Blonde, Ten Things I Hate About You), Jessica Bendinger (Bring It On, Aquamarine), Mary Jane Skalski (Win Win, The Station Agent), Gina Prince-Bythewood (Secret Life of Bees, Beyond the Lights), Lydia Dean-Pilcher (The Lunchbox, The Reluctant Fundamentalist), Meg LeFauve (Inside Out, The Dangerous Lives of Altar Boys) and Darnell Martin (Cadillac Records, I Like It Like That).
Participant Sarah Bird, a novelist, attended the Lab with her script Daughter of a Daughter of a Queen and worked one-on-one with Martin and Bendinger. "They each bowled me over with the amount of time and serious work they put into critiquing Daughter," she said. "It was like getting an X-ray of my work that showed exactly which bones were out of alignment."
Owino left the Lab with "encouragement, inspiration and great notes" from mentors Pilcher and Prince-Bythewood. "I also left with a deeper understanding of why I wrote this story in the first place," she said.
Participant Lyralen Kaye's script, about "an Episcopal priest whose newly out gay daughter brings home the most radical lesbian partner you could find," changed significantly after she worked with Kaplan and Skalski. "They entered into the deeper parts of my vision for the screenplay and the things that I had wanted to say about the intimate nature of mother-daughter relationships and hadn't been able to say because I was talking about the politics," she said. "They didn't tell me to write a screenplay I wasn't writing. They told me to write a better screenplay."
Kaye, a poet, writer, and queer activist who ran her own theatre company for nine years, called it "one of the best weekends of my life."
The participants included Sarah Bird (Daughter of a Daughter of a Queen), Vanessa Carmichael (The American), Tracy Charlton (Raised Up), Hertz (Ashburn), Anna Hozian (Anchor Baby), Lyralen Kaye (St. John the Divine in Iowa), Kimbrough (The Glastonbury Cow Party), Billie Mason (The Cargo), Owino, Gretchen Somerfeld (Face Value), Janet Stilson (Jaguar Trail), and Kim Turner (It Goes Like This).
The nature of the all-woman environment set The Writers Lab apart from other programs of its kind. "People felt comfortable and they weren't on the defensive. They were able to show their vulnerabilities and tell their stories in a different way," NYWIFT Executive Director Terry Lawler said. "The women talked about how their lives interfered with their careers. People say 'if you haven't made it by this age what's wrong with you?'" This can be especially hard for women, who often take on caregiving roles. "You don't have to apologize for your life or your age," Lawler said. "By the end of the weekend, they were not apologetic."
Working exclusively with women gave Kimbrough fresh insight into her script. "It was so great to have my work filtered through women's perceptions. That doesn't happen ever," she said. "[Even female script readers] read with an eye toward what their male boss wants."
Bird said that there was a real sense of fun, too. "It was like going to camp with your smartest, funniest, kindest, most interesting friends." And of course that Streep-inspired menu, prepared by the Wiawaka chef, contributed to the glee - think Bridges of Madison County Southern comfort food.
In addition to the one-on-one script work, writers attended three panels taught by mentors, explained IRIS co-founder Nitza Wilon. Topics included how to create a strong opening that establishes tone, style and character while drawing in the viewer; using or not using formulas and how structure varies depending on genre and target audience; and producing - how to get your story from the script to the screen. That final panel "addressed questions about securing meetings, promoting your scripts and getting them read, and working with different types of talent, production companies, and representation," Wilon said. NYWIFT Board President Alexis Alexanian, who is President of Production for Locomotive, led several group discussions about the challenges writers face in navigating the film world.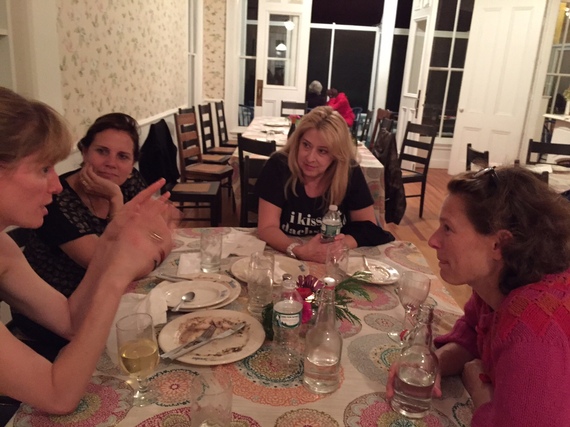 From left: Jessica Bendinger (mentor), Lydia Dean Pilcher (mentor), Billie Jo Mason (participant), and Elizabeth Kaiden (IRIS co-founder) in the dining room at Wiawaka (Photo by Kim Turner)
So what is next for the participants? "I'm deep into re-writes. It's for all intents and purposes a completely new screenplay which I am deeply grateful about," said Kaye.
"The writers are all revising their work and communicating with each other," said IRIS co-founder Elizabeth Kaiden. "They will use the feedback, resources, references, and friendships they took away from the Lab to further develop their scripts and their opportunities."
Many spoke of the bond they feel with one another. "We've already established a Facebook group where we're chatting back and forth, chatting in group emails," Kimbrough said.
While all the participants hope to see their work on the silver screen, they know this is the first step of many and success is certainly not a given. But The Writers Lab, if anything, has given them the confidence to take the plunge. "My back burner is producing it myself if I can't get a producer," said Kaye. "If you want to see something happening and you're banging on a door to a house that people won't open, go build another house."
NYWIFT and IRIS look forward to running another Writers Lab next year for a new set of women over 40. Stay tuned to www.nywift.org for more information, and follow us on Facebook and Twitter @nywift.

- Katie Chambers is the Community Engagement Coordinator for New York Women in Film & Television.
Calling all HuffPost superfans!
Sign up for membership to become a founding member and help shape HuffPost's next chapter