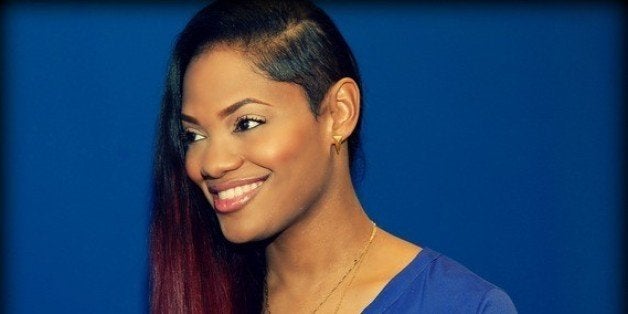 Nzingha Stewart is on the brink of becoming a household name. The music video director turned filmmaker and producer For Colored Girls (2010) is making her mark in the television world Pretty Little Liars, The Game, and The Fosters. This weekend, With This Ring debuts on Lifetime television network. Based on the novel The Vow, written by Denene Millner, Angela Burt-Murray and Mitzi Miller, the movie explores relationships between four African-American women who vow to get married within a year of attending a friend's wedding.
Stewart, who wrote the screen adaptation and directed the film, says the movie is about more than their friendships. It's about women waiting for the next big thing in their lives to happen in order to be happy. Executive produced by Gabrielle Union, Tracey Edmonds and Sheila Ducksworth, the bond of the women in the film is reflected in the closeness of the women working on and off-screen to get this movie made.
I caught up with Stewart, who was in Chicago conducting research for her next project, which is being co-produced by Grammy award-winner John Legend and Harpo Studios, to discuss her hopes for the film and black women's happiness.
NB: What was it about The Vow that made you want to make this novel into a film?

NS: When I read the novel, I thought how much I loved the friendship between the four women. There weren't many films that had that. It's like once every 10 years we get Waiting to Exhale or something where you can see black women being there for each other but this story was different. More than the romantic comedy aspect of it or more than just exploring male/female relationships, I like this group of women and I like to see women kind of hold the fort for each other.
NB: Your background is primarily in music video and film. Recently, you've been working in television on Pretty Little Liars and The Fosters. What made you decide to do this film as a television movie?

NS: We actually started out thinking of it as a TV movie. We decided to try and get this on TV because it's so, so hard to get black movies made otherwise. We had to consider, do we want to be on this merry-go-round of ten years and a whole bunch of crazy notes and all of the things that make it so hard to get a black movie made when networks want and need this type of story in the TV space? We decided to go for television. I'm just as happy for people to watch movies in their homes as I am for them to watch it on the big screen. As long as they see it, I'm happy.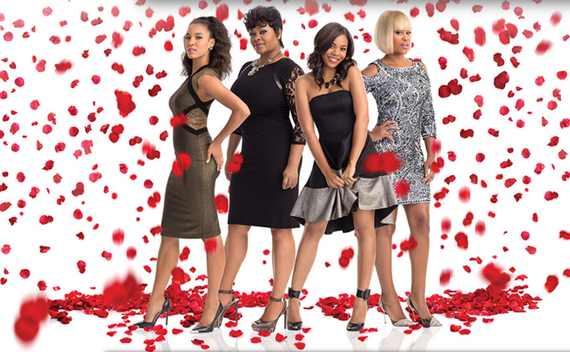 NB: What is about this story that speaks to audiences?
NS: There are two audiences for this film -- women waiting for something to happen in their personal lives and women waiting for something to happen in their careers. I never like those movies where it feels like women's lives are incomplete unless they're in a relationship, but so many women feel that their lives are incomplete unless they're in a relationship. I call this way of thinking on the carpet in this movie and examine this idea in the film. How happy are you? If this is the end goal and one out of however many black women aren't going to have that, then are you just going to be unhappy? Is that what we're going to agree to? What if whatever "it" is happens in 10 years? Are you going to wait 10 years to be happy? Is that a good idea?
A lot of the same things come up at work for the character played by Regina Hall. She's not quite where she wants to be and she's getting in trouble at work. There are some women where the career is the thing keeping them from happiness -- they're not where they want to be or not making enough money. It's like until I achieve this benchmark, I'm not going to be happy.
It's not something we really talk about in this way in movies. Sometimes, it's not what we talk about with our friends in real life, but so many people just in general are waiting for that thing that's going to change their lives before they allow themselves to just be happy in the moment and that's really what the movie is about. I feel like everybody has had that thing they're waiting on that's over their head that's like until this happens, I'm going to ride this thing out and not fully invest in this life.
NB: You mentioned Regina Hall. Tell me what the casting was like. Did you see the cast as you were writing or was there more of a traditional casting process?
NS: We always saw Jill Scott as Vivian going into it. We originally thought about Gabrielle in the lead role as Trista, but once Mary Jane (Being Mary Jane) got started and the shooting schedule came out, both projects were literally shooting on the same days. Gabrielle was amazing and said it was a blessing to get this movie made and that it's an opportunity to give another black actress some work, so lets go with Regina, who she's really good friends with. I love Regina Hall, so, it was kind of a no-brainer. Lifetime brought us the idea of Eve. I love Eve and I've shot her music videos. She's amazing. She's a hard worker. She loves women. She's awesome. Brooklyn Sudano auditioned and as soon as Brooklyn walked out, we said, so we're done there. It was kind of easy. It just sort of came together perfectly.
NB: What are your hopes for this movie?
NS: My hope for this movie is that women see it and might examine where in their life they're sort of holding out for happiness and realize, 'I don't want to do that anymore'. I'll be really fulfilled if I get this promotion, or I'll be really fulfilled if my career is recognized in this kind of way or I'll be really fulfilled when I have a partner, or I'll be really fulfilled when I buy a house -- I really hope that women who are waiting to exhale realize that they have one life and need to get busy living it. I love women and I don't want to see us doing that to ourselves anymore.
NB: What was it like working with so many dynamic women?
NS: I really love this group of women. Going into the process, you don't know what to expect when it's five women together, all of the time, everyday for two months. It really became the kind of thing where almost every morning, there's a group text that goes out to somebody encouraging the women to have a great day or saying you look so pretty or how's the baby? Almost every single morning, it was such an awesome group of women that were so supportive. They had great chemistry. They never separated and went to their trailers until the next scene because they just liked each other, so they hung out all of the time. They would stay on set, talking, and taking pictures. It was a great group of women and an amazing experience.
With this Ring premieres tonight (January 24) at 8 p.m. EST. Check local listings for channel information. #WithThisRing
This story was written by Nsenga K. Burton, Ph.D., founder and editor-in-chief of the award-winning news site The Burton Wire. Follow her on Twitter @Ntellectual.
Popular in the Community