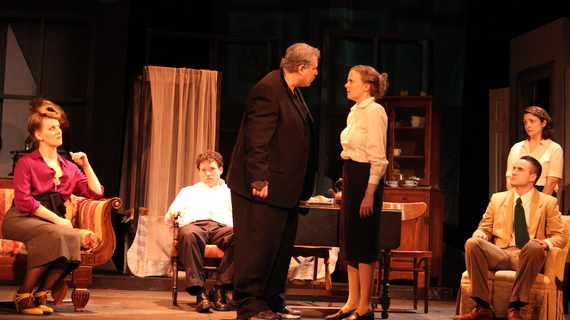 From Left to Right: Angelique Bouiffiou (Mrs. Madigan) Kevin Rodden (Johnny Boyle), Ethan Lipkin (Captain Jack Boyle), Kirsten Quinn (Juno Boyle), Dexter Anderson (Charles Bentham), Gina Martino (Mary Boyle)

After highly successful productions of Brian Friel's Philadelphia, Here I Come, A Night with Lady G and last Spring's The Shadow of a Gunman, The Irish Heritage Theatre is turning its attention to Sean O'Casey's second play in his Dublin Trilogy, Juno and the Paycock
Originally produced in 1924 at the Abbey Theatre, O'Casey continues his anti-war message in Juno by exploring the effects that the war has on Juno's family.
"It's a classic play and the cast, we're fun to watch. We all have good chemistry," Ethan Lipkins, who plays main character Captain Jack Boyle, said.
Boyle is the husband of main protagonist, Juno. Lipkins described him as an "interesting guy" who he could not help but feel attracted to portray.
"As an actor you want to play psychological dense people," Lipkin said. "The more I looked into him and seeing how he ticks, the more I asked why is he this way? He does whatever he can to avoid work and get by."
Juno and the Paycock is set in the Dublin tenements during the Irish Civil War. Juno is mother to Johnny, a traumatized, disabled veteran and Mary, a flirty, naïve and rebellious girl.
As the only working member of the family, Juno struggles to put food on the table and keep her family in one piece while Capt. Jack traverses town with his drinking buddy Joxer.
In the spring, the Irish Heritage Theatre will finish the Dublin Trilogy with O'Casey's most controversial work, The Plough and the Stars, commemorating the 100th anniversary of the Easter Uprising.
Performances are Wednesdays through Saturdays at 7pm and Sundays at 2pm. Tickets are $25, general admission; $20 for seniors; and $15 for students.
REAL LIFE. REAL NEWS. REAL VOICES.
Help us tell more of the stories that matter from voices that too often remain unheard.