So, that happened: In 2016, voters really have a choice in presidents. But do they know the full extent of their choices? Yes, the media has made everyone aware of the fact that numerous humans are running to serve as commander in chief. But the media has raised just as much awareness of how imperfect all of them are, forcing everyone to have to accept something less than ideal.
But what if there was a candidate who promised to end all of that? As it happens, there is: the Sweet Meteor Of Death. On this week's edition of "So That Happened," we reached into the depth of space to secure an interview with the Sweet Meteor, who maintains both a trajectory that will collide with the planet Earth and a Twitter account.
As the Sweet Meteor is the first celestial body to run for president, it offers up a lot of genuinely outside-the-box ideas about the future of America, such as swiftly killing everyone who ever used the term "outside the box" or, indeed, had any sort of interaction with a box at all. With the Sweet Meteor, there are no facts to check, no policies to evaluate, and no worries about whether it's being influenced by outside money or a corporate agenda. Just a bold and unbreakable promise, as it says, "to offer a better alternative in the form of the end of human civilization." (Of course, a meteor is nothing more than a fragment from an astroid or meteoroid that enters Earth's atmosphere. Pieces that strike the ground are meteorites.)
You can listen to our interview with the Sweet Meteor of Death by clicking below. (Interview begins at the 41:00 mark) Learn all about the Sweet Meteor of Death's path to victory (unrelenting, through space) and its plans for its first 100 days in office (there won't be 100 days).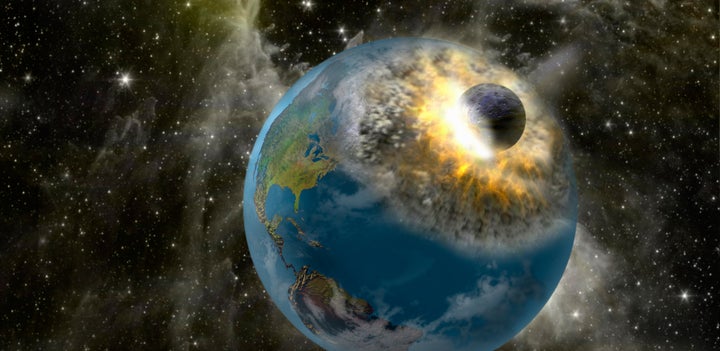 Elsewhere on this week's edition of "So, That Happened": With the election winding down, Donald Trump is running out of creative ways to spend Republican money on himself. But the wily old grifter has still got it, and now people who thought they were donating to a presidential campaign have actually bought copies of The Art Of The Deal. We'll take a look at Trump's ability to rook gullible Republican donors.
Meanwhile, the 2016 election cycle has been a real boon for the fact-checking industry. Interest in fact-checking among readers is seemingly at an all-time high. And thanks to Donald Trump, there is a never-ending supply of material. And yet, it doesn't seem that it makes much of a difference. Joining us to talk about how fact-checking is still losing the battle of confirmation bias is New York Times columnist Emma Roller, who wrote about this conundrum this week.
Finally, the media has been having a debate about Trump's voter base. On one side you have people who believe it's entirely driven by racial resentment. On the other, you have those who insist it's all rooted in economic anxiety. But what if the real problem is that we've all just taken sides in a dumb debate? Joining us to travel to a middle ground is University of Connecticut history professor James Kwak.
"So, That Happened" is hosted by Jason Linkins, Zach Carter and Arthur Delaney. Joining them this week: University of Connecticut history Professor James Kwak, New York Times columnist Emma Roller, presidential candidate and pending extinction-level event the Sweet Meteor Of Death, as well as HuffPost reporters Zach Carter and SV Date.
This podcast was produced, edited and engineered by Christine Conetta.
To listen to this podcast later, download our show on iTunes. While you're there, please subscribe to, rate and review our show. You can check out other HuffPost podcasts here.

Popular in the Community