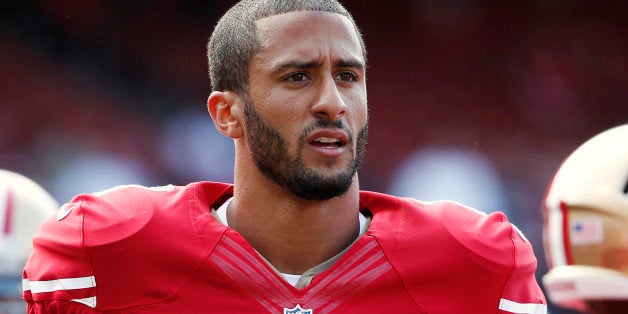 Rather than discussing the "whys" of the protest, individuals such as ESPN's Trent Dilfer, model/actress Kate Upton, former baseball player Tony La Russa, Quarterback Drew Brees, former NFL player and commentator Rodney Harrison, Jerry Rice and many others were quick to criticize Kaepernick and other athletes for kneeling during the national anthem as they protested police brutality and inequality in the United States. The action has been described by some as disrespectful to the country, to the flag, the military, law enforcement and first responders.
This week, the criticisms hurled at Kaepernick have escalated to death threats.
I ask, where are the voices of those critics of his protest in response to those threats, or any of the following incidents:
The murder of Terrence Crutcher by a police officer in Tulsa Oklahoma after his car broke down and he walked along a road with his hands in the air. Helicopter video of the incident captured conversations in the cockpit that describe the father of four and community college student as a "big bad dude."
Daniel Harris, an unarmed deaf man who was using sign language was shot and killed outside of his home in Charlotte, N.C. by a state trooper when he did not pull over for a traffic stop until he arrived outside his home.
Tuesday yet again in Charlotte police fatally shot a Black man who they claim was armed as they searched for someone else, sparking violent protests that injured more than 12 officers. Witnesses said Keith Lamont Scott, who was disabled, was unarmed.
"Such an individual, when approached by the police, might just as easily be motivated by the desire to avoid the recurring indignity of being racially profiled as by the desire to hide criminal activity," the Massachusetts Supreme Judicial Court wrote in an opinion made public Tuesday. "Rather, the finding that black males in Boston are disproportionately and repeatedly targeted...suggests a reason for flight totally unrelated to consciousness of guilt."
It seems the list of things you cannot do safely in as a Black or Brown person in America grows daily. One seemingly cannot go to Bible study in one's church, or sit in the car at a gas station and listen to music, or have a disability, or work with those who have a diagnosed medical condition such as autism with out fear losing one's life.
On a daily basis, we see that if you are Black in America it seems that you are damned if you do, and damned if you don't. If you protest and speak out as actor and activist Jesse Williams and Colin Kaepernick have so eloquently done, then you are vilified in the press as well as on social media. If you take to the streets in protest - as happened in Charlotte this week - that understandably turn heated with pent up emotions then you are blamed for causing a riot and civil unrest.
Addressing the controversy surrounding his peaceful protest, and recent death threats against him, Kaepernick told reporters:
"There's a lot of racism disguised as patriotism in this country. And people don't like to address that. And they don't like to address what the root of this protest is."
In the end the silence from those who would blame Colin Kaepernick for raising questions about inclusion and justice in this nation is as telling as it is deafening.
Calling all HuffPost superfans!
Sign up for membership to become a founding member and help shape HuffPost's next chapter