OAK CREEK, Wis. — On a tragic day at the Sikh Temple of Wisconsin five years ago, the doors were unlocked, as they often were. Today, visitors and congregants must buzz to get inside.
Still, all are welcome and encouraged to set up a visit to the temple, including people who aren't Sikh. There's a box of head coverings ― square cloths in a variety of colors and designs, including the Stars and Stripes ― for visitors to wear.
Delicious and freshly cooked food is offered immediately. On a recent July afternoon, it was a cauliflower and potato curry with paratha and rice.
In the large prayer room, 46-year-old Justse Khalsa, a longtime member, demonstrates how to bow your head to the Guru Granth Sahib, the prayer book. He then walks to a single bullet hole in the door frame leading to the prayer room, and his eyes well up with tears as he recounts the massacre here and the friends he lost that day.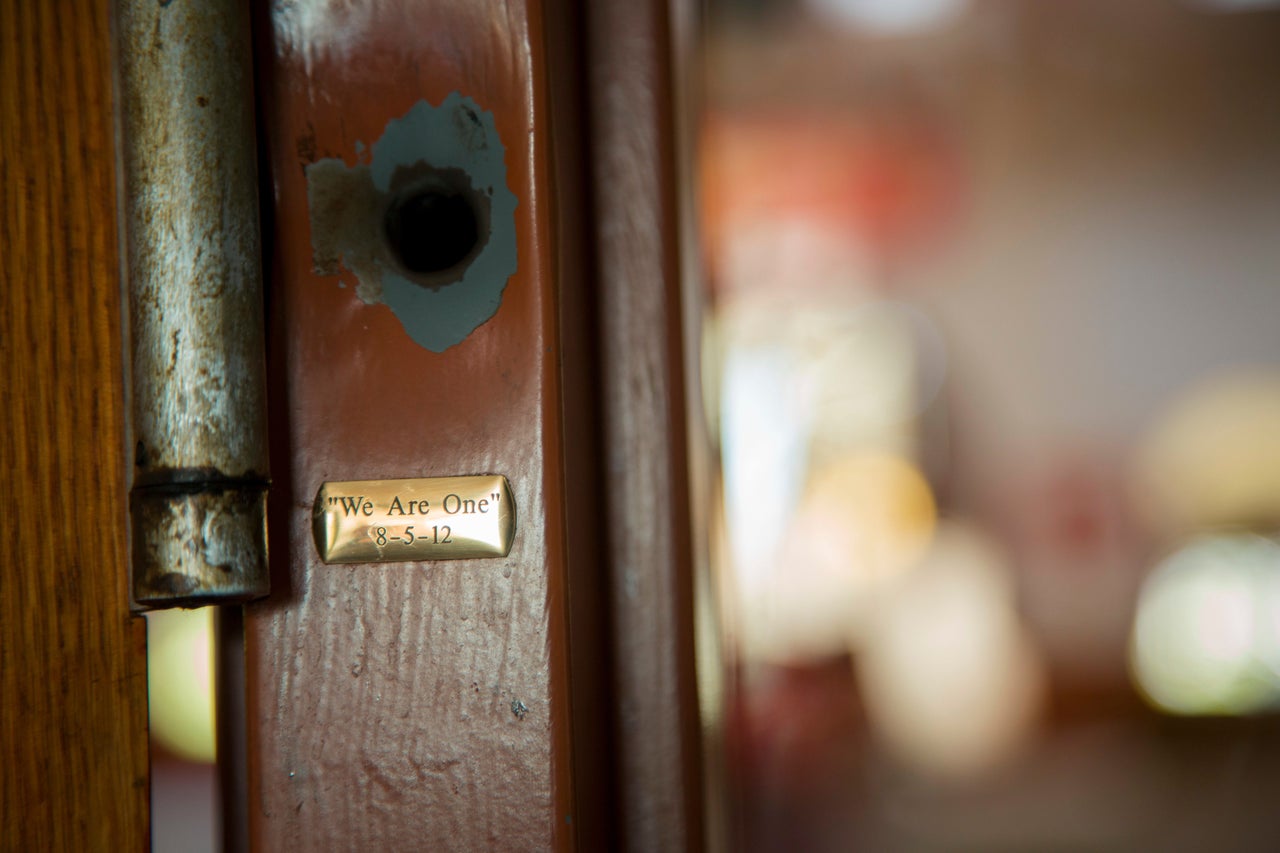 Members of the temple, or gurdwara, patched up the other bullet holes from the attack, but kept this one so they never forget, Khalsa explains. Affixed to the door frame is a small golden plaque. "We Are One," it says. "8-5-12."
On Sunday, Aug. 5, 2012, an avowed white supremacist named Wade Michael Page approached the gurdwara with a 9-millimeter semiautomatic handgun. He killed six people and injured four others before taking his own life.
Suveg Singh Khattra, 84, Satwant Singh Kaleka, 65, Ranjit Singh, 49, Sita Singh, 41, Paramjit Kaur, 41, and Prakash Singh, 39, all died in the shooting. It was one of the deadliest hate crimes in U.S. history.
Saturday marks the five-year anniversary of the Oak Creek massacre, and if Page's intent that day was to somehow sow more hatred in this small Milwaukee suburb on the coast of Lake Michigan, then his plan has backfired spectacularly.
Oak Creek has come together in remarkable ways over the last five years, and in a time of rising hate across America, the town's stories offer some hope.
Finding Answers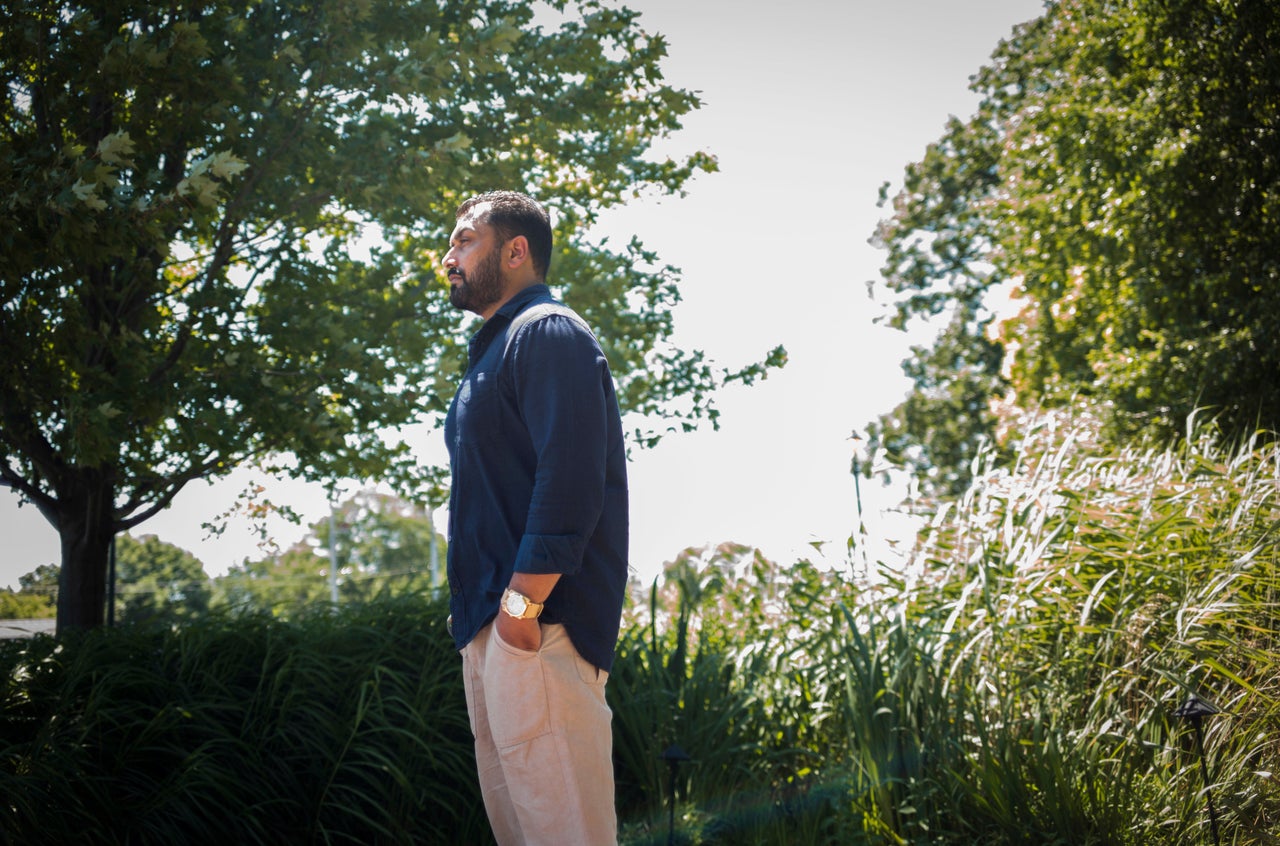 Pardeep Kaleka lost his father, Satwant, in the shooting. He said it wasn't until two months afterward that the pain really settled in ― when he realized his kids would never really know their grandfather.
"What was even harder was not having a lot of answers," Kaleka, a broad-shouldered 41-year-old former cop who now works as a trauma therapist, told HuffPost at his Milwaukee office recently.
The shooter, after all, is dead; there is no way to ask him why.
So Kaleka wrote an email to Arno Michaelis. The well-known former neo-Nazi had been one of the founders of the Northern Hammerskins ― the same violent white supremacist group to which Page had belonged ― before leaving it in the mid-1990s.
The two met at a Thai restaurant and talked for hours. The restaurant staff, knowing the significance of this meeting, stayed late for them.
"We talked for almost five hours just without batting an eye, and as we talked, we found out that we had so much more in common than anyone could imagine and just being so different on paper," Michaelis, 46, recalled.
"If we don't believe in change, what good are we?"
Kaleka said that before the dinner, he was skeptical of whether a white supremacist could ever really change. But, he said, "As we went through our process of trusting, I found myself saying, 'You know what, if we don't believe in change, what good are we?'"
The pair agreed to work together, and later founded a group called Serve2Unite. They tour the country teaching students about the dangers of hate.
"There's few people in the world that I'm closer to," Michaelis says of Kaleka, someone Michaelis might have harassed or even attacked in his younger days because of the color of his skin.
For Kaleka, becoming friends with Michaelis is part of his radical way of forgiving Page for the pain the man inflicted on Kaleka and his community. "To me now, I understand that forgiveness is sort of a process," he said. "It is a process of vengeance. It's a process of control. This person tried to take control from me, so I'm going to be vengeful and I'm going to take it back."
This kind of forgiveness from Kaleka, Michaelis told HuffPost, is exactly how hate is defeated. "You're never going to hate white supremacy out of existence," he said. "Ever."
Fighting Invisibility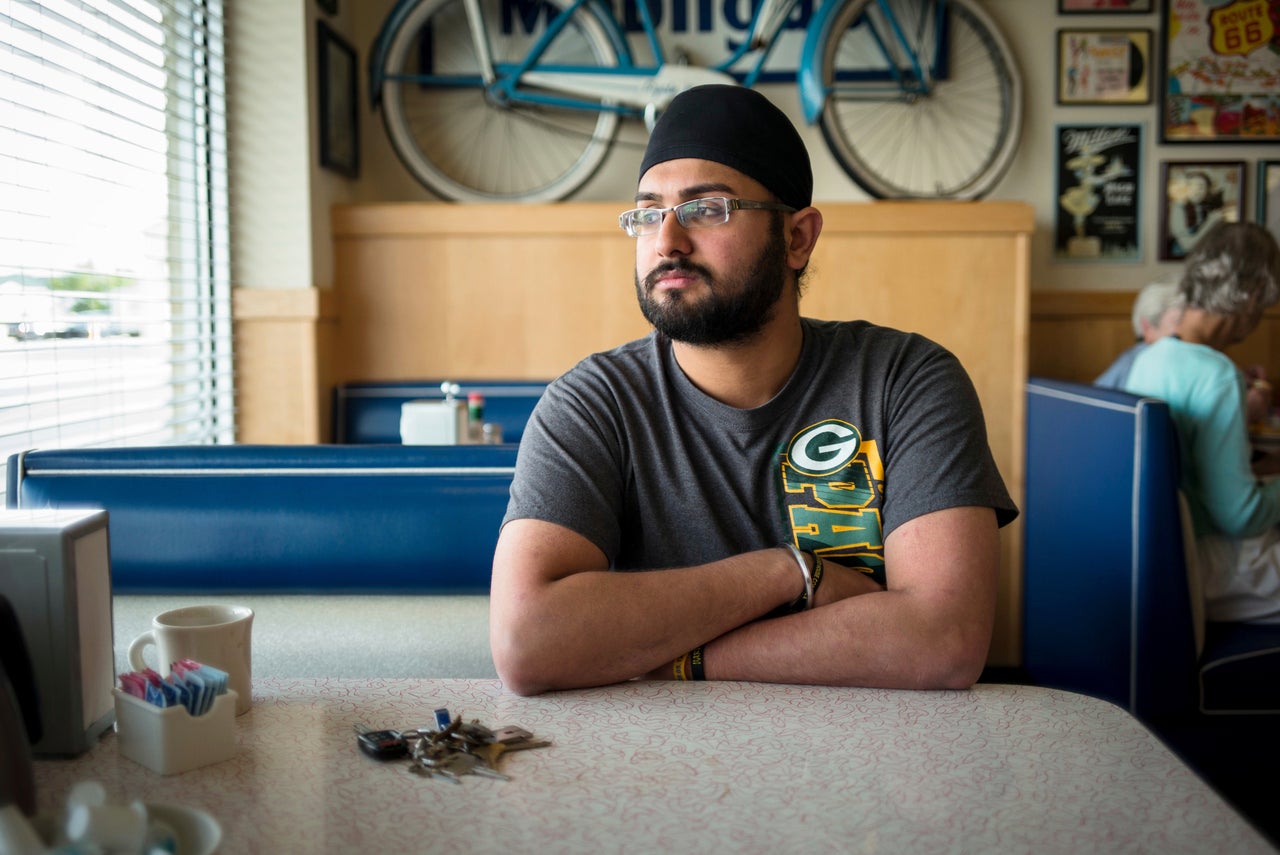 Harpreet Singh Saini lost his mother, Paramjit Kaur, in the massacre. He now works at a gas station seven days a week in Racine, a town near Oak Creek.
Saini was a mama's boy, he told HuffPost over breakfast at a diner in Racine. The soft-spoken 23-year-old, wearing a Packers T-shirt and a black head-covering, said he still struggles with losing her, but also found a silver lining to the tragedy.
At least now, he said, "thousands of people know about the community, Sikh people, what the Sikh religion is about, what the whole agenda is."
Sikhism is the world's fifth-largest religion. It's separate and distinct from Islam, yet since the Sept. 11, 2001 terror attacks, Sikhs — who often wear turbans or other visible articles of faith — have been frequent targets of anti-Muslim hate. The first hate crime murder victim after 9/11 wasn't Muslim. He was Sikh.
Saini recalls being called "towelhead" and "bin Laden" in high school. But he also remembers the vigil in Oak Creek after the shooting, and looking out across a crowd of thousands of Sikhs and non-Sikhs, standing together in silence with lit candles, everyone wearing head-coverings, in a scene broadcast on TVs across America.
Months later, Saini was invited to Washington, D.C., to testify before the U.S. Senate. At just 18 years old, he was the first Sikh to ever do so. He urged senators at the hearing to require the FBI to track anti-Sikh hate crimes. His mother and the other victims "deserve the dignity of being a statistic," he said.
The Senate listened, and in 2015, the FBI started to track anti-Sikh hate crimes.
Practicing 'Relentless Hope'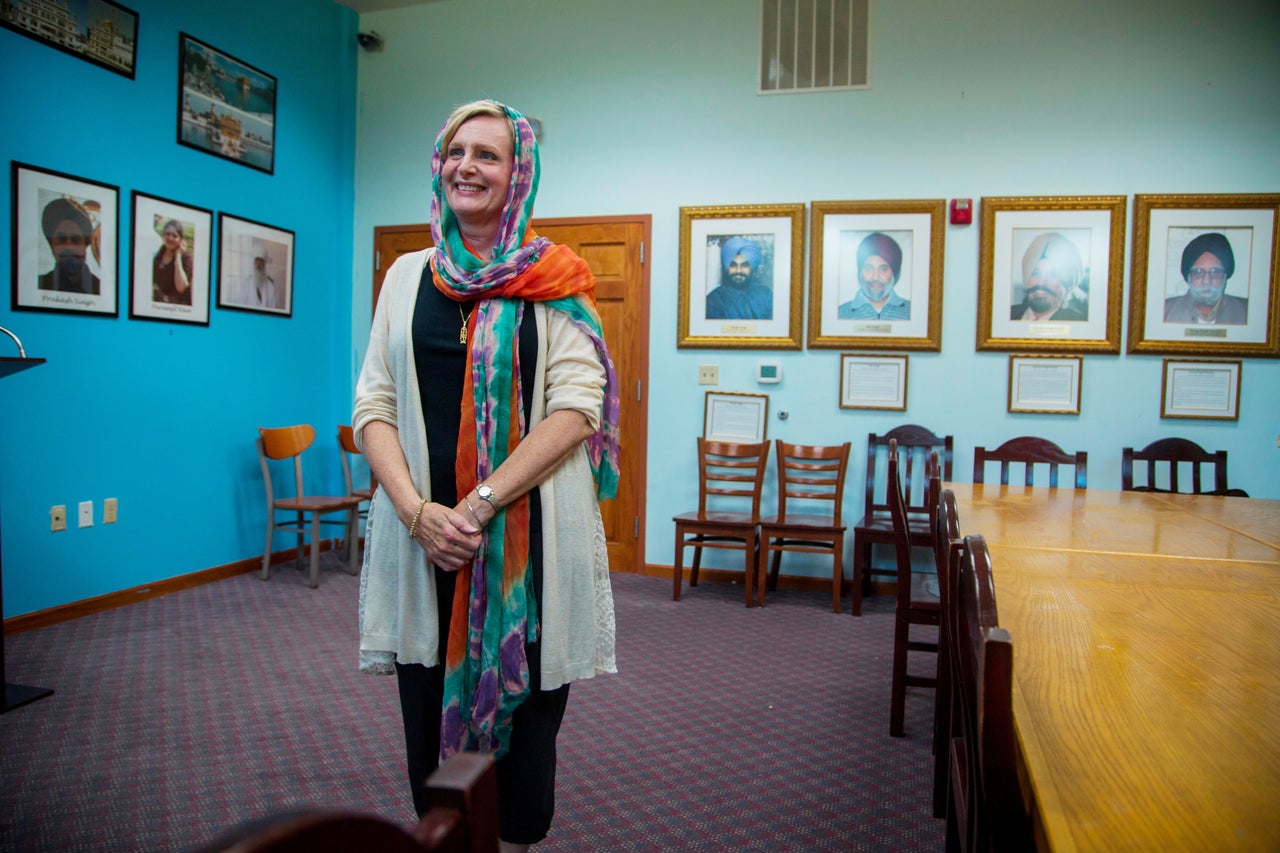 Baba Punjab Singh, 69, was known across the Sikh world for his sermons ― until one of Page's bullets left him paralyzed from the neck down. Today, he lies in a bed in the Milwaukee area and communicates with blinks: one blink for "no," two for "yes."
For over a year, speech therapist Holly Sennett tried to help him speak. In the process, and in talking continually with Singh's family, Sennett says she found herself drawn to Sikhism. It was the "grace" of the family that did it, she said. "They radiate love."
Sennett is Catholic, but she's since grown especially fond of one Sikh concept called "Chardi Kala," which, she explained, "is to be in a state of relentless hope and optimism, regardless of the circumstances that you find yourself in."
Last month, Sennett says she visited Singh at his assisted-living facility. "Are you living in Chardi Kala?" she asked. Singh blinked twice.
Bridging Divides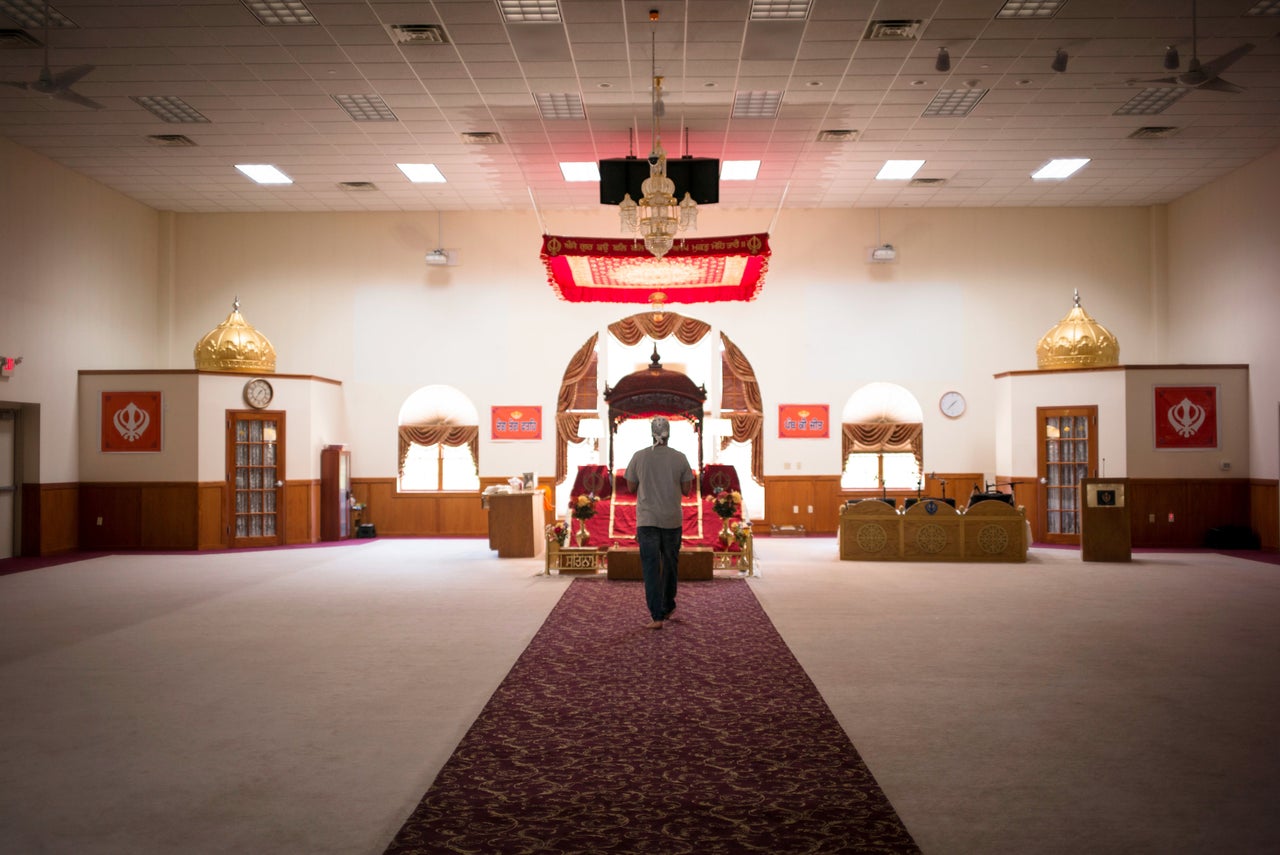 Steve Scaffidi, who was Oak Creek's mayor during the massacre ― a part-time job paying $16,000 a year ― said the day changed his life forever. Like many other non-Sikhs in Oak Creek, he didn't really know the Sikh community before that fateful day in August, he said. But that divide has come crashing down over the past five years.
He visits the gurdwara regularly these days, and keeps in touch with the victims' family members. He wishes Sikhs and non-Sikhs in every town in America could be as close as they are in Oak Creek.
"Don't wait for a tragedy to get to know people that look differently, pray differently, speak differently than you do," he said. "Don't wait for that moment."
America does not do a good job of tracking incidents of hate and bias. We need your help to create a database of such incidents across the country, so we all know what's going on. Tell us your story.
To hear more about the Oak Creek massacre, listen to Episode 4 of HuffPost's podcast I'm Still Here, below:
I'm Still Here is a HuffPost Podcast hosted by Zeba Blay and produced by Nick Offenberg and Jessica Samakow. Send us an email at stillhere@huffpost.com.
Popular in the Community