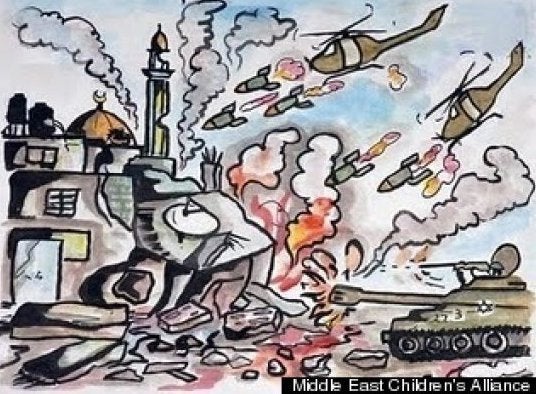 SAN FRANCISCO -- Bowing to pressure from the Bay Area's Jewish community, Oakland's Museum of Children's Art has decided to cancel its planned exhibition of drawings by Palestinian children documenting their experiences during the 2008-2009 Israeli invasion of the Gaza Strip.
Organized by the Middle East Children's Alliance, "A Child's View of Gaza" was supposed to run from September 24th through mid-November; however, the public reaction against displaying the pictures convinced the museum's board of directors to halt its plan.
It had become a distraction to the main objective of bringing arts education to all children, said museum board member Randolph Bell.

"We were getting calls from constituents that were concerned about the situation," Bell said. "We don't have any political stake in this thing. It just became apparent that we needed to rethink this."
"We understand all too well the enormous pressure that the museum came under. But who wins?" asked Middle East Children's Alliance president Barbara Lubin in a press release. "The museum doesn't win. MECA doesn't win. The people of the Bay Area don't win. Our basic constitutional freedom of speech loses. The children in Gaza lose."
Pictures from the exhibit, which were culled from art therapy sessions at a number of Gaza children's centers, show images like a bomb painted with American and Israeli flags crashing into a street filled with dead bodies, helicopters destroying a city and a boot decorated with a Star of David stomping on a Palestinian flag.
Susan Johnson, who discovered the pictures during a tour of Gaza last year and has since worked to bring them to the United States, says she was "shocked" upon hearing of the cancellation.
Many of the drawings have been exhibited in galleries, libraries and churches across the East Coast and Midwest. Johnson said that some people had told her that the more graphic images of war were too difficult to view. But this is the first time a venue has pulled out of exhibiting the art. "It's very unusual for a museum or a place that encourages free speech and free expression," she said about MOCHA's decision to call off the exhibit.
The museum has twice shown war though the lens of children's art—a 2007 exhibit featured drawings of WWII by children in the Kaiser shipyard and a 2004 exhibit showed art done by Iraqi children immediately following the American invasion.
MECA is currently searching for a new venue to host the exhibition.
Take a look at a selection of pictures from the exhibit: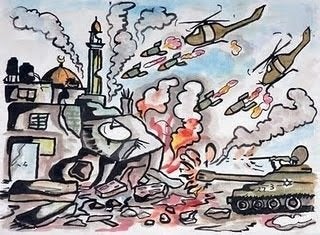 Popular in the Community