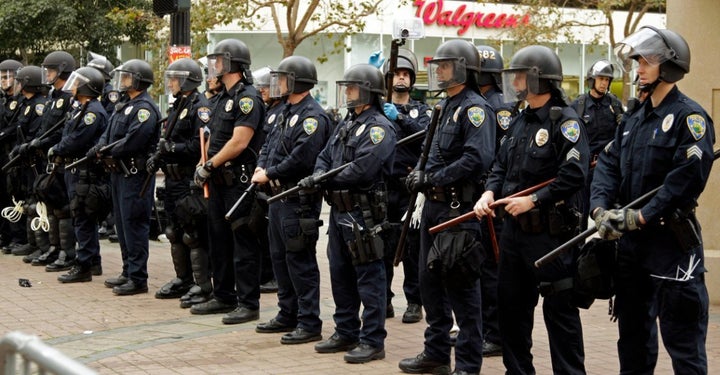 Nearly a decade after the city of Oakland was first threatened with losing control of its police force, Judge Thelton Henderson has severely curtailed the independence of the Oakland Police Department, saying that it could placed under federal receivership as soon as this March.
In 2000, a group rogue of Oakland police officers, calling themselves the "Rough Riders," were found to have planted evidence, used excessive force and falsified police reports. As part of a negotiated settlement three years later, the city was ordered to take 51 specific steps toward reform or else lose operational control of the department. Despite numerous deadline extensions, Oakland has failed to make significant progress on said reforms.
"The court remains in disbelief that Defendants have yet--nine years later--to achieve what they themselves agreed was doable in no more than five years," Henderson wrote in his decision earlier this week.
Henderson's order prevents both department brass as well as embattled Oakland Mayor Jean Quan from making any significant changes--such as granting promotions--without first getting approval from independent monitor Robert Warshaw. Warshaw, a former Drug Enforcement Agency official, has been overseeing the OPD for years; however, his role had solely been in an advisory and reporting capacity.
Henderson gave the department a March deadline to adequately comply with the terms of the settlement or else be forced to completely surrender operational control of the department.
Even though this would be the first time the police department of a major American city was placed under federal receivership, Henderson seems likely to follow through on his threat--he was the one who moved California's prison health care system under federal administration in 2005.
"We believe that the expertise of the monitor, coupled with the new leadership in the Police Department and the city administrator's [office] and my commitment to further incorporate the requirements of the negotiated settlement agreement into OPD's culture, will move Oakland into compliance as quickly as possible," Quan said in a statement to the Associated Press.
This ultimatum comes in response to a report issued by Warshaw last week sharply criticizing the department for its handling of the Occupy Oakland protests. "We were, in some instances, satisfied with the performance of the department; yet in others, we were thoroughly dismayed by what we observed," he wrote. "I cannot overstate our concern that although progress on compliance has been slow, even those advancements may have been put in doubt in the face of these events."
Civil rights attorney John Burris, who negotiated the settlement between the city and the approximately 100 plaintiffs in the Rough Riders case, blames the department's inability to effectively reform itself largely on what he called, "a lack of consistent leadership." In the past decade, Burris told the Huffington Post, there have been a handful a chiefs, none of whom were able to serve long enough to significantly address the department's myriad issues.
While rare, federal monitors have previously been used by courts to observe how a police department implements changes stemming from a lawsuit. Monitors have been called in to observe police departments in Los Angeles, New Orleans and other cities in recent years, according to the Justice Department. But no local police agency has ever been placed in federal receivership, the Justice Department said.

Many major cities, including San Francisco and New York, have an independent oversight body to monitor for police misconduct and recommend penalties for wayward officers. But in some instances, the oversight organizations are limited in scope and power. Oakland has had a police review board since 1980.
Related
Popular in the Community