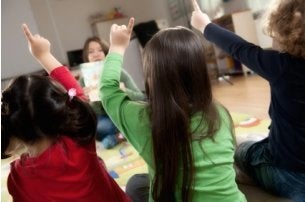 The parents of a 6-year-old Oakland Unified School District student are claiming that poor supervision in a preschool class resulted in their daughter being molested by a classmate.
In a lawsuit filed on behalf of the girl in Alameda County Superior Court late last month, a lawyer for the family wrote that the girl was "sexually battered and molested" while attending an early childhood program at Brookfield Village Elementary School in East Oakland. California Watch is withholding the family's name because the student is a minor and an alleged victim of sexual abuse.
The girl's mother, Alejandra, blames the school for failing to supervise the preschoolers and says the incident has traumatized her daughter, who now sees a therapist to cope with anxiety attacks and outbursts of anger.
"She's not the happy girl she used to be," she said in an interview. "I was really upset because I trusted the school with my kids."
The family's allegations are not the first time reports have surfaced at Oakland schools of sexual behavior by young children going unnoticed by teachers.
In February, Oakland police said they believed accounts of two second-graders engaging in oral sex in a Markham Elementary School classroom. They found no evidence adults had been involved and did not press charges.
District spokesman Troy Flint said an internal investigation into the Markham Elementary incident determined there was an adult in the room, though it was likely a substitute teacher and officials were unable to determine which one.
Flint said reports of such incidents have increased in the last several years, usually occurring in bathrooms or on playgrounds, away from the watchful eye of teachers.
"Sometimes, it's a supervisory issue, but it's more common than people realize or would like to contemplate," he said.
Across the country, reports of student-to-student sexual abuse are not uncommon. Lawsuits over such issues are almost always settled out of court.
For example, in 2002, Portland Public Schools in Oregon settled for an undisclosed amount with a mother who claimed officials did nothing to stop her 7-year-old daughter from being repeatedly molested by a second-grader. In another case in 2009, a private Texas school settled midtrial with a group of parents who claimed officials had covered up reports that a 5-year-old had molested their children, as the local paper The Monitor reported.
Cases involving young children can be tricky for investigators and emotional for parents trying to understand exactly what happened. Children often don't tell their parents of the alleged encounters right away and can be reluctant to relay details, or confused themselves about what took place.
Alejandra, the Oakland girl's mother, said she noticed changes in her daughter's behavior near the end of the 2009-10 school year, but the child, then 5 years old, wouldn't say what was wrong. "She started acting weird," Alejandra said. "She would wet herself; she started having anxiety."
Eventually, the girl told an aunt that two boys from her class had followed her into the small one-person bathroom attached to their classroom.
"My daughter had disclosed that a boy in her class ... had touched her in the bathroom," Alejandra wrote in a June 2010 letter to Early Childhood Education Director Lynne Rodezno. "When I asked her where he had touched her, she said in her vagina. She said that she did not want to go to school because she was being bothered."
Alejandra isn't sure exactly how many encounters her daughter had with the boy who she says touched her inappropriately. "Sometimes, she'll remember something else and she'll tell us," Alejandra said.
Other times, according to the girl's aunt, Edith Rodriguez, the 6-year-old refuses to talk about it or denies it happened at all. Rodriguez, an Alameda County social worker, said that's common among child victims of sexual abuse. "She thinks it's her fault," Rodriguez said.
School records show a social services investigation prompted by the allegation could not determine whether the molestation had taken place but did find that district staff were not adequately supervising the preschoolers.
Stephen Sugarman, who teaches tort law at the UC Berkeley School of Law, said the case, which otherwise relies on the account of a young girl, is strengthened by the social services finding of inadequate supervision. "It would not be conclusive evidence, but it's substantial evidence in their favor," he said.
"It would be tough evidence for (the district) to overcome," he added.
But Sugarman also cautioned that the teacher's failure to supervise the kids does not necessarily mean the alleged molestation was his fault. There are other factors, Sugarman said, including whether the young boy accused of touching Alejandra's daughter had a history of behavioral problems - and whether the teacher was aware of the risk of not supervising him.
"They're basically saying, 'You took a risk that my kid would be molested,' " Sugarman said of the family's lawsuit. "It may be irresponsible not to supervise, but the question is: What is the risk you take by doing that?"
Rodriguez said she occasionally accompanied her niece to school and often was frustrated by the chaotic atmosphere of the classroom. "It was really just baby-sitting," she said. "There was no structure."
The teacher ignored rambunctious boys swearing and throwing pencils, Rodriguez said, and became irritated when she told his aide that they needed to better discipline the roughly 15-student class.
In a July 11, 2010, response to Alejandra's letter, Rodezno said the teacher, Tony Williams, had been "informed of district expectations pertaining to this matter." Rodezno declined to give specifics "due to employee confidentiality."
Oakland Unified spokesman Flint said Williams was laid off during budget cuts at the end of the 2009-10 school year. Several attempts to reach Williams, also a defendant in the suit, were unsuccessful. State records show he initially was issued a preschool teaching credential sometime between 1979 and 1986. A 2005 bankruptcy filing shows he had taught at Oakland Unified for 27 years at that point.
Berkeley professor Sugarman said Williams has "no practical legal exposure" personally, because the district would be liable for any actions he took "in the normal course of employment."
Following the family's allegations, Flint said the school has installed a viewing pane in the classroom's bathroom door, removed the lock and "reviewed the importance of visual supervision at all times" with staff - steps Rodezno also detailed in her letter to Alejandra.
Alejandra feels the changes are too little, too late. Despite ongoing therapy, she says her daughter has become clingy and withdrawn and fears going to school.
"She used to sing; she used to be a totally different person," Alejandra said. "Hopefully, nothing like this will happen to another kid."
Stephanie Rice is an investigative reporter for California Watch, a project of the non-profit Center for Investigative Reporting. Find more California Watch stories here.
Calling all HuffPost superfans!
Sign up for membership to become a founding member and help shape HuffPost's next chapter