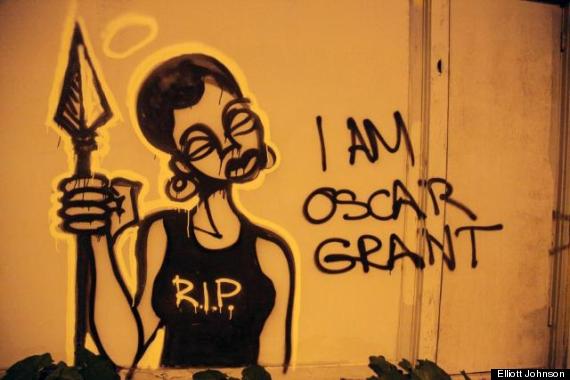 I am Oscar Grant by artist Eesuu Orundide, photo by Elliott Johnson
This past weekend, after numerous sold-out screenings of the newly released film Fruitvale Station, about the life and tragic shooting death of unarmed Oaklander Oscar Grant by a transit policeman in 2009, emotions are running high in this rapidly changing Bay Area port city. Opening weekend, the film attracted sellout crowds at the Grand Lake Theater, where many locals remembered Grant or other characters in the film. Even Mayor Jean Quan recalled Grant as an amiable meat department clerk at her local market, a job he took to support his young family after renouncing the drug trade that led to a brief stint at San Quentin prison.
The film's quiet, realistic portrayal of life in Oakland for an "ordinary brother" (as he was described by a young filmgoer) made its conclusion -- Grant's quick, senseless death -- even more chilling. It could happen at any time; you could be shot down even when you did nothing wrong, just trying to get home from New Year's Eve fireworks on BART.
Opening night Friday, the audience of ordinary Oakland brothers and sisters of all ages and various ethnicities was pin-drop quiet; some sobbed upon exiting, the rest were stone-faced. Several expressed pride in award-winning director Ryan Coogler, the young East Bay native who used his gifts and access to express the story of Oscar Grant -- and the story of the real Oakland -- to the world. They were stunned by just how good this movie was and by how real it was.
Outside, representatives of various groups distributed flyers to folks who stood in line on Grand Avenue. Some leafleters and moviegoers wore hoodies -- but that's practically a uniform in Oakland. There were organizers for a prisoner hunger strike against California's penal system and solitary confinement policies, for an organization pushing to form an Oakland Peace Commission, for attention to the case of Alan Bluford (and other young black men killed by police) and one seeking attention for the scores of young people murdered in Oakland each year. Moviegoers politely accepted the flyers with interest, but without much discussion. But there was a riveted crowd on the corner surrounding a young woman with flyers featuring the familiar "hoodied" image of Trayvon Martin. "When the verdict comes in, we are asking everyone to meet at..." she was heard to say.
No one there expected the verdict to be announced in less than 24 hours.
So it came as a shock to many locals on Saturday, when they learned of a Florida jury's acquittal of George Zimmerman for the shooting of unarmed teen Trayvon Martin. The Zimmerman verdict was like salt poured in the painful emotional wounds, freshly reopened by fervent discussions of the Oscar Grant movie in restaurants, on street corners and in social media. Many Oaklanders have joined peaceful protests and are pondering possible solutions -- or ways to somehow make things right. Some have expressed anger that there seems to be no justice and no peace for young people of color. They cursed Zimmerman, the prosecutors, the defense, the jury, President Obama, the Koch brothers and the entire judicial and political system. The coincidence of the film premiere and the verdict was a perfect storm, a spark to the combustible, raw emotions of many. Mothers were especially touched; many had seen or heard about Fruitvale Station and had empathized with the character of Oscar Grant's mother, UPS worker Wanda Johnson, gracefully portrayed by Oscar-winning The Help star Octavia Spencer. People asked one another, "Have you seen the movie yet? This is just like Oscar Grant."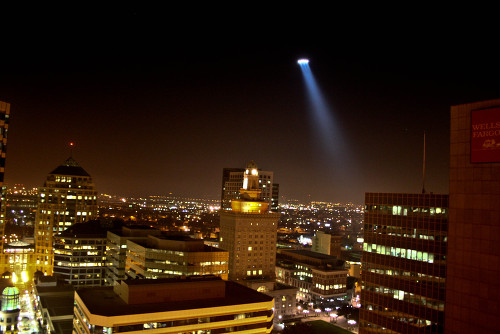 Helicopter over Oakland, Photo by Thomas Hawk, 2009
Since that time, most Oaklanders, after several sleepless nights waking to the ominous, incessant drone of news and police helicopters, then seeing the nightly damage inflicted on their workplaces, are livid -- and exhausted. They are embarrassed by one more round of bad publicity. Despite being sympathetic with the protesters' sincere concerns about the legal system that freed George Zimmerman for the killing of Trayvon Martin, they are fed up with violent, out-of-town protester-tourists, even those from the greater Bay Area. A gang of 10, wearing black masks, brazenly attacked a waiter at Flora with a hammer to his head, then escaped into the darkness. That was the last straw. On Monday, after days of OPD's "hands off" approach, the arrests finally began. The tally? Nine arrests, three with Oakland addresses, six from out of town. Two-thirds were protester-tourists. Three had felony warrants; one had been carrying a BB gun. The mask-wearing, petty vandal element of the protester-tourists had re-emerged from the "black bloc" days of Occupy Oakland. They are telling their young followers that these merchants deserve attacks because they belong to a Business Improvement District that is in collusion to raise rents. Why would struggling small businesses and social-good nonprofits suicidally pay into an organization designed to raise their own rents, thereby jeopardizing their own survival? How could intelligent young people believe this, or somehow imagine that breaking windows would honor the memory of Trayvon or Oscar? Or save the lives of our youth?
Of course, @occupyoakland and its supporters had another viewpoint, expressed on Twitter: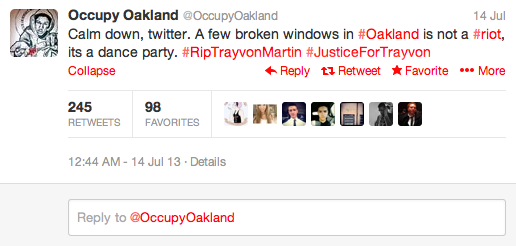 Business continued as usual every morning, as glass company trucks sped through the streets from job to job, electrical workers continued to upgrade underground electric lines, and construction crews continued renovation projects for new restaurants and office buildings as part of Oakland's revitalized economic development downtown, uptown and elsewhere. Residents are making a stand -- using social networks, they immediately made plans to continue to patronize Flora, the Awaken Cafe, Oaklandish and the other vandalized businesses. Locals have circulated a fundraising appeal for Youth Radio. The community has begun to rally.
Cultural events and venues continue programming to packed and enthusiastic audiences. Two members of the downtown arts community who are located in the path of destruction, Betti Ono Gallery and Solespace, responded immediately Sunday morning; they provided safe, creative space for community expression, where emotional people produced poetry, drawings and messages which can be found taped to their windows for everyone to see. Our creative spirit can help to express our emotions.
Mayor Jean Quan expressed the general feeling in the Oakland Tribune (its own windows smashed by protesters):
People in the city are pretty tired. We're pretty weary of people coming and doing this and particularly giving us a bad image. ... It's a city that's very sad and very mad.
Social media reports indicate that protesters plan to resume demonstrations Friday night. People are beginning to prepare themselves for another protracted "occupation" of our city. Life will go on; people will just have to adjust -- to having gangs of violent, masked thugs roaming the streets once again. Or should we?
The mayor is right; this is a city that is sad and mad. We feel exhausted and bad. Until our youth are no longer filling mortuary pews with mourners every week, we will never know peace. Until the Oakland Police Department is fully functioning "to protect and serve" all Oaklanders, they will never gain the trust of the people. Until the media stops sending helicopters to await disturbances and uprisings before they happen, vandals will continue to find a rapt audience and many protesters will engage in inflammatory behavior for the cameras' sake.
Until Oakland ceases to be known as a cool place to visit when it's time to break and burn stuff, there can be no end to the problem of outside agitators. Until young people, taught to question authority, begin to also question the authority and logic of anonymous sources, they will continue to be coaxed into actions that will hurt rather than help the causes and ideals they represent. Until legitimate, organized, strategic protesters can effectively distance themselves from -- perhaps even ostracize -- the petty thugs and vandals planted amongst them, even sympathetic citizens will be slow to warm to their cause. Until the curse -- and the blessings -- of rapid gentrification can become an engine of economic growth for all Oaklanders, especially our young people, outsiders can continue to fan the flames of class warfare until they ignite like the numerous American flags that have been burned in protest over the last few days.
Zimmerman Verdict Protest-Flag Burning Oakland Video by Pamela Mays McDonald, 2013
Oaklanders are a fiery, spunky, courageous lot, and we love our city with a burning, heartfelt patriotism. Outsiders don't understand that fact. Regardless of our ethnicity, income or age, we are a smart, tolerant people who are quite comfortable in an environment with a diversity of opinions, we are creative and we love to party, we love our sports and our families, we are accustomed to disruptions and disappointments, accustomed to making the most of what we have, accustomed to being unfairly ridiculed and we are regrettably familiar with struggle. This constant struggle to feel safe, to be seen for who we are and to express ourselves in our own voices, has only worsened with the current situation, where outsiders have hijacked our legitimate sorrow and anger to further their own, non-Oaklandish ambitions.
They are hijacking our streets, wearing masks like bandits in the night, right under our noses. And we feel powerless to stop them. They have hijacked our message, blocking our ability to choose our own mode of expression. We can't let this happen. We've got to light the flame of our creative consciousness. We've got to take off our masks and show our faces. Show everyone what Oakland stands for. We've got to take back our city -- before it's no longer ours to take. All the beauty and creativity of the place we call home will be taken away from us if we can't unite, take time to grieve our murdered youth and use our diverse, creative minds to plan a strategy to change things for the better -- for all of us.
There will be more Oscar Grants and Alan Blufords and Trayvon Martins and more young men struck by bullets until we take action to stop the root causes. We can create real change if we can focus our actions. By igniting the spark of our imaginations, we can create innovative solutions to our struggles. Breaking windows, spraying graffiti and setting fires to garbage cans isn't original; it hasn't worked in the past and it isn't working now to alleviate our sorrow. Living amidst nightly violence weakens our unity. Our righteous anger at the Zimmerman verdict and the Oscar Grant tragedy is being expended on petty property damage and we are left burnt out, sad and mad.
When Fruitvale Station opens nationwide next week, the world will share our struggle, through the exemplary efforts of local-boy director Ryan Coogler, one of our creative and artistic youth who got the chance to go to Hollywood and tell one chapter of our story.
Meanwhile in East Oakland, an 8-year-old girl attending a sleepover was shot dead Wednesday night while the mother and two other children were wounded by gunfire. Another day passed, another child of Oakland gone. We are very sad -- and very mad. The slideshow below contains photos from downtown Oakland's protests. (All photos by Pamela Mays McDonald, 2013)
PHOTO GALLERY
Downtown Oakland After a Weekend of Protests Against the Not Guilty Verdict in the Martin-Zimmerman Trial in Florida
Calling all HuffPost superfans!
Sign up for membership to become a founding member and help shape HuffPost's next chapter