 When protests in Oakland, Calif., took a violent turn Saturday night, it was nothing the city hadn't seen before.
More than a hundred demonstrators gathered downtown to march against the verdict in the George Zimmerman trial, which allowed a man who shot and killed an unarmed black teenager to walk free. But while other events that materialized across the country remained mostly peaceful, Oakland's were marred by window-smashing, flag burning and other forms of vandalism, including aggressive graffiti declaring "Kill Zimmerman" and "F*ck the Police."
Though Saturday's activity was relatively tame compared to past instances -- nobody was arrested or visibly harmed -- it's a story that unfolds time and again in the small port city on the San Francisco Bay.
"You can't go six months without something getting smashed," longtime Oakland resident Max Allstadt, who attended the protests, told The Huffington Post. "The people doing it have various ideological justifications, but outside the Twitter echo chamber they've created for themselves, there's not a lot of support."
Twitter lit up with commenters both encouraging and denouncing the destruction. "Do you know why some groups feel the need to march and break windows in #Oakland? Because nobody is listening to their demands for fairness," tweeted Steven Tavares, a reporter for the East Bay Citizen. "Not sure why Oakland business are suffering because of Florida's sh*tty laws, if you care to explain," responded @JulioD. Occupy Oakland attempted to settle the matter with the widely re-tweeted, "Calm down, twitter. A few broken windows in #Oakland is not a #riot, its a dance party."
In recent years in Oakland, events that have often started as peaceful marches have quickly turned aggressive. During an Occupy rally on May Day last year, authorities used tear gas to disperse rioters. In the months that preceded the May confrontation, the city had become a national symbol of violent clashes between protesters and police.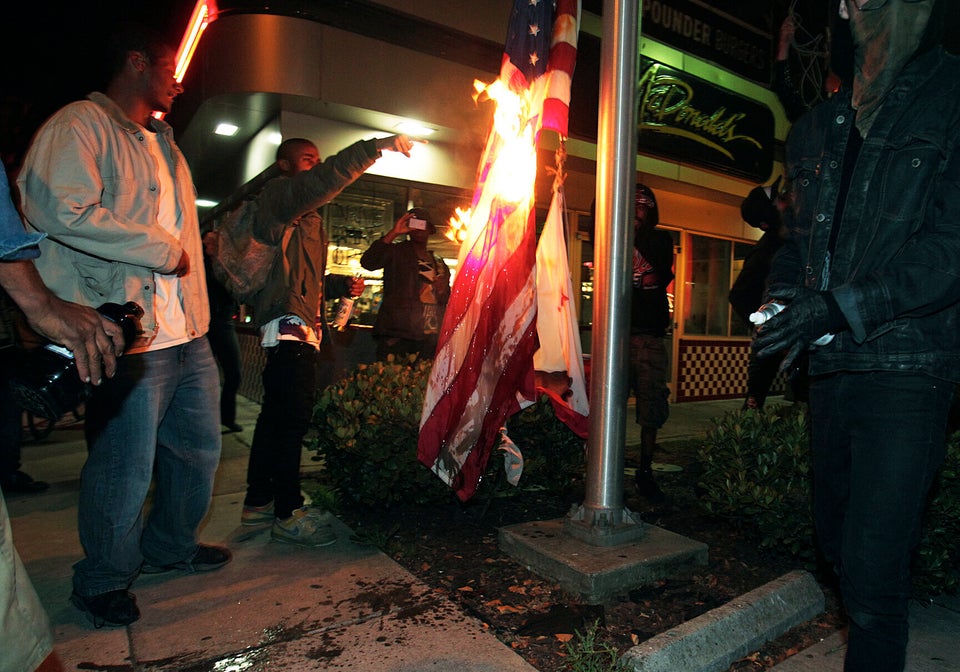 Trayvon Martin Protests In Oakland, Calif.
According to Allstadt, the majority of Saturday's demonstrators weren't engaging in violent behavior, but they weren't trying to stop it, either. "It was a few small groups of people smashing stuff within a larger crowd," he said. "Some people were supportive, a few were absolutely condemning, but the biggest group was the one that doesn't smash but believes they shouldn't tell others to stop."
That Oakland residents would protest the killing of 17-year-old Trayvon Martin, who died at the hand of a neighborhood watchman while returning from the store with little more than a bag of Skittles in his possession, comes as no surprise. The same weekend the jury handed George Zimmerman his not guilty verdict, the movie "Fruitvale Station" opened in theaters, telling the story of another unarmed black man killed by a gun-wielding authority figure -- but in Oakland.
"It's a given that most of Oakland is mad about the Trayvon Martin verdict," Allstadt explained. "Nobody is cheering on George Zimmerman."
Oakland has a long history of racially-charged cases that involve shootings by officers, including those of Alan Blueford and Raheim Brown, black teenagers killed by police in 2012 and 2010, respectively.
"The thing about Oakland is that we've got nine, 10 names like [Trayvon's] that people know," Allstadt said. "We have a list of martyrs in this town, and everyone's talking about all of them right now."
Beyond the pockets of unrest, local civil rights activists are finding nonviolent ways to continue the conversation. Shoe store SoleSpace, located in Oakland's Uptown neighborhood, is inviting residents, especially children, to participate in an "Art Wall 4 Justice" that will decorate its storefront.
And Richard Raya, executive director of Oakland-based nonprofit Youth Radio, is planning a series of public forums in which community members are encouraged to discuss Trayvon Martin, Oscar Grant and wider social justice issues. "Oakland is a special place," Raya told HuffPost. "It's a place where people pay attention to what's happening locally and nationally, and people act. It's who we are."
More protests are expected Sunday night and into the week. Still, Allstadt points out that the potential for violent activity, though perhaps isolated, is worth paying attention to. "I would agree that breaking things is a distraction," he said, "but it's happening in more places, and it's happening more intensely. It's a good barometer of just how mad people are."