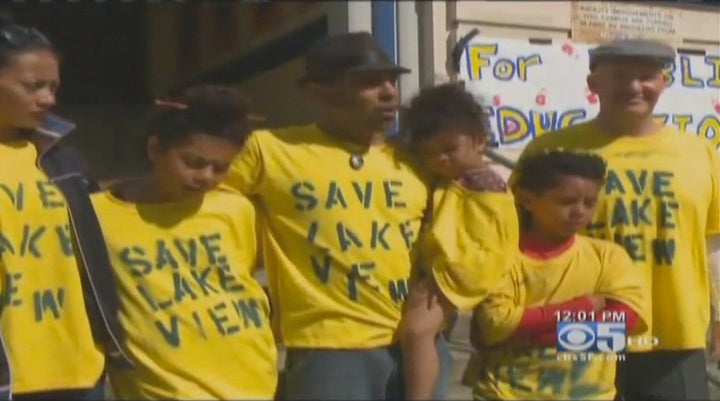 Dozens of protesters have been camped outside Oakland's Lakeview Elementary School since Friday in an effort to rally against its planned closure.
The Oakland school district police force ordered demonstrators to disperse Monday morning, but many refuse to budge. According to the Mercury News, some even entered the closed building, causing the alarm to sound.
"We're trying to stand up for other families, not just in Oakland but our nation," one protester told CBS News. "There are hundreds of thousands of families who have been affected by school closures in our nation."
Oakland officials decided to close Lakeview along with four other elementary schools -- Lazear, Maxwell, Marshall and Santa Fe -- in an effort to save the district money. But advocates argue that the funds saved would not be worth the disruption and lost jobs.
Over the weekend, local businesses and organizations provided support. Members of Occupy Oakland joined the encampment and offered advice, and the marquee at the Grand View Theater across the street proclaimed, "Why is Oakland closing schools while squandering millions on consultants / Support the sit in at Lakeview school."
The same group of protesters plans to open "The People's School for Public Education" on Lakeview's campus this summer, at which a group of volunteers will teach courses ranging from art and gardening to social justice and activism.
"This is going to be the hub in Oakland, the place for public education," Joel Velasquez, whose son attended Lakeview, told Oakland North. "We are going to take back our public education system—it belongs to us."
The Oakland School Board hopes to convert Lakeview's building into administrative offices.
Related
Popular in the Community