Imagine sharing a 29-foot rowboat with three other athletes for three to four weeks. Round the clock, you're alternating two-hour rowing shifts with two hours of sleep in the small, cramped cabin. At all moments, your crew must be on the alert for storms, ships, logs, and killer whales.
It's not the most relaxing way to spend your spring break, but it's just the right kind of adventure for four intrepid rowers looking to circumnavigate Canada's Vancouver Island this month. On April 11, the team behind the nonprofit OAR Northwest launched their boat from Vancouver, British Columbia. They plan a course heading northwest around the northern tip of Vancouver Island, down the western side, and then back to Vancouver in early May. They've dubbed the trip "the Canadian Wildlife Federation Salish Sea Expedition" after their title sponsor.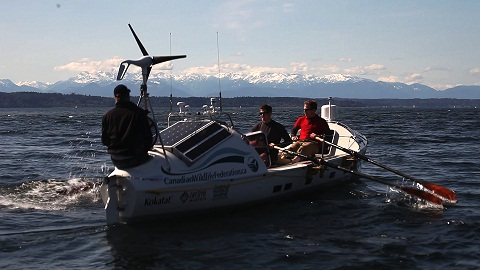 Above photo courtesy of OAR Northwest


The crew includes rowers Greg Spooner, Jordan Hanssen, Richard Tarbill, and Adam Kreek, all of whom live in the Pacific Northwest. Kreek won an Olympic gold medal as part of the Canadian men's eight in the 2008 Beijing Games. Spooner and Hanssen are both founding members of OAR Northwest and completed a row across the Atlantic Ocean in 2006, along with two other teammates. During that journey, they rowed from New York City to England in 78 days.
Following their successful ocean row, Hanssen and Spooner talked about going for an ocean speed record from the Canary Islands to the Caribbean. Instead, they shifted gears, transforming OAR Northwest into an educational nonprofit.
"We have the vehicle to provide life lessons and contribute to the greater community," Spooner said.
The OAR Northwest crew now design educational curriculum to enable classrooms to track their journeys. In addition, they'll use the expeditions to collect data on atmospheric conditions, sea life, and their own physical states. Students will be able to follow those results as well.
One of the experiments the rowers will conduct involves the stress of a round-the-clock expedition on sleep patterns and mental acuity. They've teamed up with the University of Calgary's Center for Sleep and Human Performance to track physical and mental changes. They'll wear electrodes on their chests and wrist monitors to track breathing, heart rate, and sleep patterns. Every 12 hours, they'll fill out a questionnaire that asks them to rate their sleep and answer arithmetic and logic questions. According to Spooner, sleep is the easiest thing to do on an ocean rowboat.
"On the last expedition, we were always tired," Spooner said. "None of us had issues with falling asleep."
A trip around Vancouver Island sounds less ambitious than crossing an ocean, but the route provides its own challenges. Boaters on Canada's Inside Passage must navigate significant currents and tidal shifts. Since the water flow can run as high as 13 knots, the OAR Northwest crew will have to simply drop anchor at times to wait it out. Rowing would prove futile, as they wouldn't be able to generate enough force to steer in currents that strong. In addition, the rowers will need to keep a constant look out for rocks, buoys, and other coastal hazards, which can be hard to spot during the night.
"Local mariners understand the danger of circumnavigating Vancouver Island," Spooner said.
The Pacific side of Vancouver Island is no laughing matter either, as the sometimes rough waters and rocky coastline have caused many a shipwreck. To avoid the reverberation of ocean waves against the rocky shore, the OAR Northwest boat will purposefully remain miles away from the edge. For safety, they'll all wear personal locator beacons and inflatable life jackets. The rowers will be tethered to the boat on leashes that are so long, they could wrap around the boat a full time so they wouldn't be trapped under if it flipped. The boat will also contain a life raft and handheld radio in case of an extreme emergency.
Thankfully, the OAR Northwest crew didn't need to employ their safety devices during their last major journey across the Atlantic. Their most harrowing moments came early in the trip, when Tropical Storm Alberto hit when they were just five days out of New York City. The crew faced hurricane-force winds and seas of up to 45 feet. The four of them rode out the storm for 14 hours in the tiny cabin, with three people lying shoulder to shoulder and a fourth squeezed in lying the opposite direction.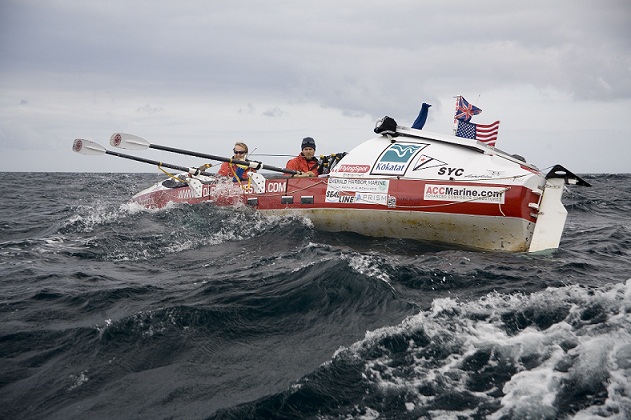 Above photo courtesy of OAR Northwest


The crew also dealt with real hunger on the Atlantic crossing. Due to a miscalculation of necessary rations, their food supply wasn't sufficient for the 72-day ordeal. They ended up limiting calorie intake to 2,200 a day. This time around, they'll be taking in between 6,800 to 7,200 calories a day, including oats, grains, fruits, vegetables, and vitamins.
Anyone interested in OAR Northwest's current journey can track their progress on their website. I'll be checking in on how the four rowers are faring, and feel quite content to watch the adventure from the comfort of my home. Could long distance rowing ever be in my future? "We've got to get you out there sometime," Spooner said at the close of our phone conversation.
"Maybe a weekend trip," I responded. "No ocean crossings for me!"
Popular in the Community