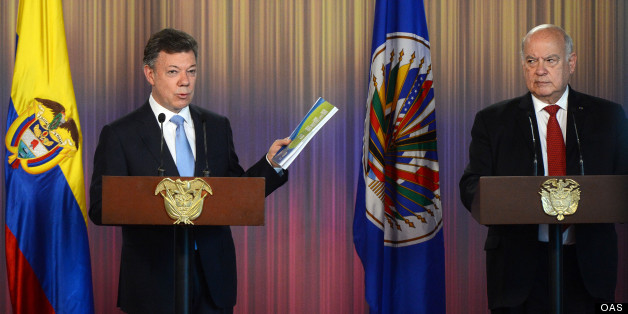 NEW YORK -- The Organization of American States on Friday released a report laying out a future in which more countries in the Western Hemisphere legalize marijuana.
Although marijuana decriminalization and legalization was only one "scenario" outlined in the report, drug policy reform advocates praised it as a sign of an increasingly open conversation about alternatives to the war on drugs. The OAS delivered the report to Colombia's president, Juan Manuel Santos. It commissioned the report at last year's Americas summit in Cartagena, Colombia.
Trying "alternative legal and regulatory regimes, starting with cannabis," the report found, could lead to "reallocation of resources from controlling drugs and drug users to preventing and treating problematic use (and) shrinkage of some criminal markets and profits through regulation."
Santos' country has received billions of dollars in U.S. aid meant to go toward drug eradication, but he has previously stated he is open to some form of legalization. He is one of a growing number of Latin American leaders on record calling for a new approach to drugs.
"Let it be clear that no one here is defending any position, neither legalization, nor regulation, nor war at any cost. What we have to do is use serious and well-considered studies," Santos said in a statement. The report, he added, "will be the basis for a long postponed discussion."
That discussion may continue in a June assembly the OAS will hold in Guatemala. There is far from a consensus within the organization about how to handle changes to drug policy, but reformers say they are encouraged that it is no longer taboo for prominent leaders to discuss legalization.
"It's the first report, as far as I know, by any multilateral organization anywhere, that actually includes the options of decriminalization, legalization on an equal footing with the status quo policies," said Ethan Nadelmann, executive director of the Drug Policy Alliance.
The OAS report mentions legalization efforts in Colorado and Washington State as a potential touchstone for countries in South America, like Uruguay, considering similar moves. In an opinion article in Colombia's largest daily published Thursday, however, U.S. drug czar Gil Kerlikowske argued that legalization is "not a viable option." At the Cartagena summit last year, President Barack Obama said discussing changes to drug laws was "legitimate" but rejected legalization.
"The U.S. government has spent so much energy, for so many years and decades, trying to suppress, to censor, to delegitimize any kind of fair and open discussion of alternatives to the prohibitionist regime," said Nadelmann. The fact that the report candidly discusses legalization, he said, "even if just in the form of scenario options, really represents a major breakthrough."
Calling all HuffPost superfans!
Sign up for membership to become a founding member and help shape HuffPost's next chapter
BEFORE YOU GO
PHOTO GALLERY
Legal Marijuana Across The U.S.