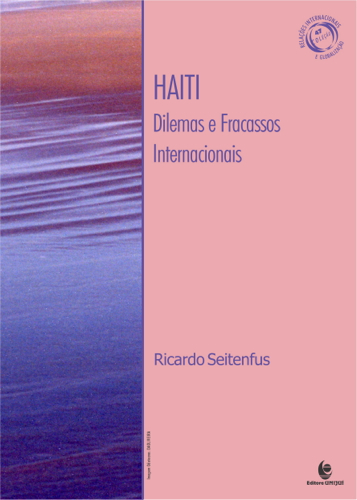 In a new book, International Crossroads and Failures in Haiti, Brazilian professor Ricardo Seitenfus, former Organization of American States (OAS) Ambassador to Haiti, details international meddling in Haiti's 2010 elections, discussions by a "core group" of a coup to force then-President René Préval from office, and ballot box tinkering that guaranteed candidate Jude Celestin would not advance to the runoff election. Michel Martelly won the March 2011 runoff with less than 17 percent of eligible voters participating, defeating conservative former first lady Mirlande Manigat.
Seitenfus' knowledge of international collusion runs deep and he is not afraid to name names as he describes covert meetings among then Special Representative of the Secretary-General of the United Nations and MINUSTAH chief Edmond Mulet, then U.S Ambassador Kenneth Merten, and then-Prime Minister Jean-Max Bellerive. He goes on to outline a "maléfique ou perverse" (evil or perverse) relationship between the government of Haiti and corrupt NGOs, and confirms that there was a cover-up of the fact that the United Nations was responsible for the introduction of cholera into Haiti.
On the secretive discussion of a coup by the core group, Seitenfus writes that the UN's Mulet wanted René Préval removed from office. In intimate detail, Seitenfus describes a meeting on election day, November 28, 2010, when Mulet tried to remove the president of Haiti René Préval from power and send him into exile. Quoting Mulet:
I just finished talking on the phone with Préval informing him that an airplane would be at his disposal to leave the country. In 48 hours, at the latest - that is, until Tuesday, the 30th - Prevál will have to leave the presidency and abandon Haiti.
When Bellerive arrived at the meeting, his first question was, "I would like to know whether President Prevál's mandate is on the negotiation table? Yes or no?"
Seitenfus chronicles an air of silence and "cowardice" permeating the room. OAS Assistant Secretary General Albert Ramdin's presence in the meeting "tied my hands and silenced my voice." Yet something had to be done to avoid a repeat of the 2004 crisis when Haiti's democratically-elected president Jean-Bertrand Aristide was forcibly flown out of Haiti on a United States plane.
Seitenfus realized that someone had to speak up.
A democratic conscience and the respect for the Haitian institutions guided my attitude. It was not going to be the OAS representative in Haiti who would speak. It would be the Brazilian and the university professor.
Seitenfus asked the Brazilian ambassador, Igor Kipman, what his position was. Kipman and Argentina's Union of South American Nations (UNASUR) representative Rodolfo Matarollo joined forces with Seitenfus against the coup.
Seitenfus reports then U.S. Ambassador to Haiti Kenneth Merten "was shaking his head." Seitenfus took this as a signal of Merten's dissatisfaction with how the meeting was unfolding. "When he broke his silence it was to recognize that the coup by the Core Group against Préval would fail and he said, "We're not going to talk about this anymore."
The U.S. Embassy in Port-au-Prince published a press release at 9 p.m. the same day dismissing the voting results and forcing another election.
What followed was the sabotage of Jude Célestin's candidacy. Mulet accused him, as Préval's son-in-law, of being a puppet. Seitenfus quotes Mulet saying, with no evidence, that ministers supporting Célestin would travel to the countryside with "suitcases full of money to buy votes."
A Machiavellian OAS "recount mission" ensured that no candidate could have more than 225 votes, even when the average number of registered voters was 460 in each polling station.
The Mission applied this innovative method to the candidate Jude Célestin, dismissing ex officio those ballot boxes in which he obtained 225 or more votes. To maintain a good appearance, they decided, nonetheless, to eliminate some of the votes for Mirlande Manigat and Michel Martelly. Thus, 13,830 votes were eliminated from the former and 7,150 from the latter, while Jude Célestin saw 38,541 votes disappear, or 60% of all the votes that were eliminated.
In the end, pop musician Michel "Sweet Micky" Martelly was selected to compete in the runoff instead of the governing party's candidate Jude Célestin. Martelly is the current president of Haiti.
Seitenfus says that the United Nations, "especially Edmond Mulet and Ban Ki-moon," denied the UN's "direct and scientifically-verified responsibility for the introduction of the Vibrio cholera into Haiti." As of February 9, 2014, 699,244 people contracted cholera and 8,549 have died.
Seitenfus slams the international community for supporting The UN's "lie" and turning it into strategy. He blames the so-called "Group of Friends of Haiti": Argentina, the Bahamas, Belize, Canada, Chile, the United States, Guatemala, Mexico, the Dominican Republic and Venezuela, as well as Germany, France, Spain and Norway, in their roles as Permanent Observers in the OAS as complicit in a "genocide by negligence."
Writing about the corruption of NGOs, Seitenfus accuses the international community of bypassing Haitian institutions and giving preference to Transnational Non-Governmental Organizations (TNGOs). He describes it as an "invasion," that reached staggering levels after the earthquake. U.S.
He charges that the governments of donor states used both private donations and public resources to cover the costs of military interventions in Haiti: "As such, for example, more than $200 million U.S. in private donations from U.S. citizens served to finance the transportation and stay of U.S. soldiers in Haiti soon after the earthquake."
While packed with political intrigue and malfeasance by international players, HAITI: Dilemas e Fracassos Internacionais ("International Crossroads and Failures in Haiti," published in Brazil by the Editora Unijui (Universite de Ijui) dans la Serie Globalisation et Relations Internationales) is also a tribute to Haiti written by a professor of Latin American studies.
This book details Seitenfus's dependence upon his own moral compass as he was forced to take a stand against powerful international players, including the United States, as the potential coup was put in motion.
Seemingly an existentialist at heart, Seitenfus opens his book with a quote from philosopher Albert Camus' The Fall. All of humanity is responsible for every tragedy or atrocity. Even if we do not personally cause the event, we are duty bound to stop it. Haitians have been "prisoners on their own island" since the slave rebellion of 1804. Foreign might has exacted a heavy penalty for what Seitenfus terms "a crime of lèse-majesté."
With this extensive memoir and historical document, the professor with the responsibilities of a diplomat succeeds in assuming his duty as a moral compass in the troubled world of international "diplomacy" in Haiti.
Support HuffPost
The Stakes Have Never Been Higher
Related
Popular in the Community