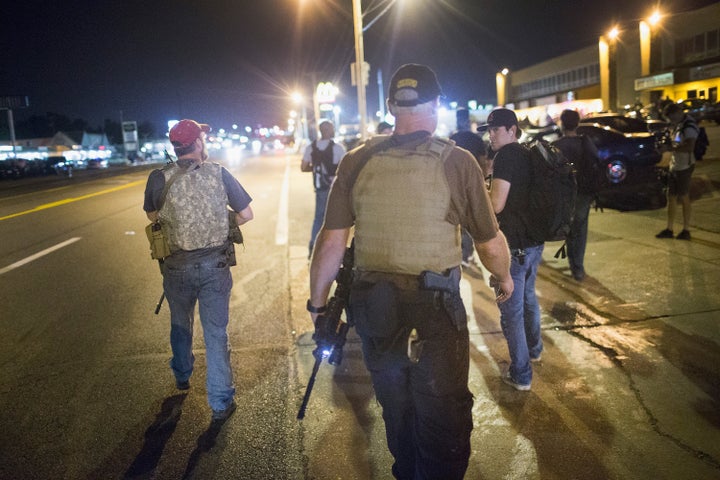 In the wake of the deadly school shooting in Parkland, Florida, a far-right armed militia group called the Oath Keepers is urging its members to station themselves outside of schools to provide protection, HuffPost has learned.
The Oath Keepers, a group of thousands of former and current police officers, first responders and military service people, is "one of the largest radical antigovernment groups in the U.S. today," according to the Southern Poverty Law Center.
The Oath Keepers website says the group's goal is to defend the Constitution at all costs, and that members pledge not to "obey orders to disarm the American people."
In Indiana, at least one member of the group, Mark Cowan, stationed himself outside of a Fort Wayne high school last week. He wielded a handgun and AR-15 while keeping watch near the premises, per local outlet WPTA-21.
On Monday evening, the Oath Keepers will be holding a webinar on this type of vigilante protection, titled "The Florida School Shooting and How to Counter Renewed Efforts to Disarm Us." According to the event description, members will be urged to "standby for a formal call to action for all Oath Keepers across the nation to do the same" as Cowan in Indiana.
"The recent school shooting in Florida is now being used by the leftist 'blood dancers' to push for more infringements on our right to keep and bear arms," reads the webinar description. "We will discuss the false choice that has been intentionally set up by turning America's schools into disarmed victim killing zones."
The event description says politicians who are interested in infringing on the Second Amendment will cause a cycle of "repeated murder of children and raping of the Bill of Rights."
"We're just hoping that we can be a little added security."
Bryan Humes, a leader in the Oath Keepers chapter in Indiana, said he's not sure how many Oath Keepers are currently stationed outside of local schools, although he believes there are several. He said he also knows of other Oath Keepers keeping watch of schools outside of Indiana, but could not provide specific numbers.
"We're just hoping that we can be a little added security. If the schools already have a resource officer, then the local sheriff, city and state police have another set of eyes and ears keeping an eye on things," said Humes.
However, not all Oath Keepers agree with the strategy. The head of the Oath Keepers chapter in New York, Dan Devlin, said he will not be calling on chapter members to spend their time policing schools.
"There's some discussion about whether or not that's a good idea. Not all Oath Keepers are bound to do the same thing. I know that people's intentions are good, but some of us are ex- or retired policeman and military people and sometimes you have to work with the police agencies. If they want you there, that's one thing, but sometimes it's a case of, they already have it covered," Devlin said.
Krista Stockman, spokeswoman for Fort Wayne Community Schools in Indiana, said she does not believe having an Oath Keeper guard a school "adds to the safety of our students."
"At all of our schools, we have security procedures in place, including armed police officers at most buildings. We do not endorse this kind of activity."
Parents complained to the district about the Oath Keeper's presence outside the school last week, Stockman said.
Oath Keepers are part of "right wing anti-government extremist movement," Mark Pitcavage, senior research fellow at the Anti-Defamation League, told HuffPost.
"None of these kids need those armed paramilitaries in front of their high schools or middle schools or what have you. That in itself is simply going to make the kids fearful," he said.
The Oath Keepers have previously mobilized around other events, like protests in Ferguson, Missouri, a year after a police officer fatally shot black teenager Michael Brown. At the time, armed Oath Keepers said they were seeking to protect an employee of the conspiracy theorist website Infowars.
Support HuffPost
The Stakes Have Never Been Higher
Popular in the Community