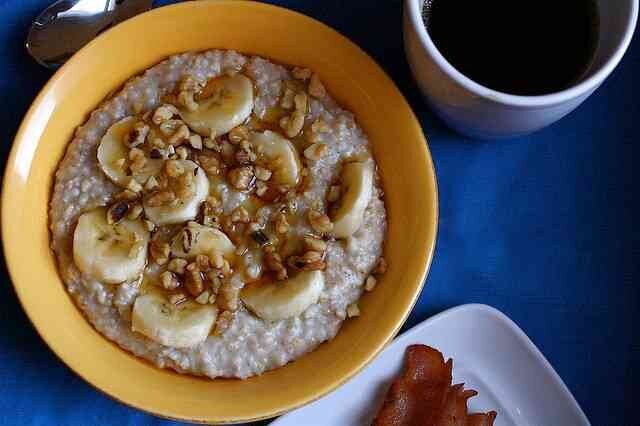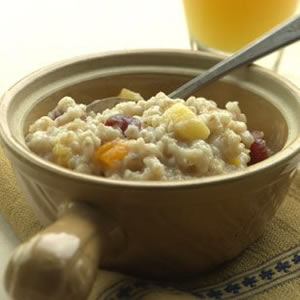 What did you have for breakfast this morning? At 7:30, I had a cup of cereal with skim milk. Sounds pretty healthy. In the scheme of things I could have done a lot worse, except by the time I got into work at 9:30, I was starving.
Then came what I call my "second breakfast," when I'm suddenly stuffing my face full of whatever I can get my hands on to curb my hunger. Since it's a new year, and I'd like to get things off to a good start, I think it's time for a new breakfast.
But what to eat? Oatmeal is as close to perfect as you can get for a breakfast food.
It's got 4 grams of fiber per cup and research suggests that increasing your intake of soluble fiber (a type of fiber found in oatmeal) by 5 to 10 grams each day could result in a 5 percent drop in "bad" LDL cholesterol. If I top it with fruit, like 1/4 cup of raspberries for example,
it's not only delicious, but I also tack on an additional 2 grams of fiber. That means I'm well on my way to that extra 5 to 10 grams of fiber with just my breakfast. (More Recipes to Try: Grab & Go High-Fiber Breakfasts)
AND it could help you lose weight in two ways. One, all that wonderful fiber makes you feel fuller longer, so sorry, second breakfast, you are no longer necessary. (More Recipes to Try: Breakfasts to Beat Weight Gain)
Two, according to a recent study in the Journal of Nutrition, eating a breakfast made with "slow-release" carbohydrates, such as oatmeal, 3 hours before you exercise may help you burn more fat. Here's why: in the study, eating "slow-release" carbohydrates didn't spike blood sugar as high as eating refined carbohydrates, such as white toast. In turn, insulin levels didn't spike as high, and because insulin plays a role in signaling your body to store fat, having lower levels may help you burn fat. (More Recipes to Try: Breakfasts That Fight Fat)
So oatmeal will be tough to beat for breakfast this year. Convinced it should be your breakfast go-to? Quick, tasty and helping me to stay slim? I'm sold.
Here's a simple way to make a bowl of oatmeal, and some topping suggestions to make it tasty:
Bring 1 cup of water (or nonfat or low-fat milk) and a pinch of salt to a boil in a small saucepan. Stir in 1/2 cup quick-cooking oats and reduce the heat to medium; cook for 1 minute. Remove from the heat, cover and let stand for 2 to 3 minutes.
Here are some topping suggestions:
Dried fruit
Cinnamon
Toasted nuts
Fresh fruit
Plain yogurt
Jam
Applesauce
Ground flaxseed
What do you like to add to your oatmeal?
By Hilary Meyer

Hilary Meyer is assistant editor for EatingWell Media Group. Hilary spends much of her time in the EatingWell Test Kitchen, testing and developing healthy recipes. She is a graduate of New England Culinary Institute.