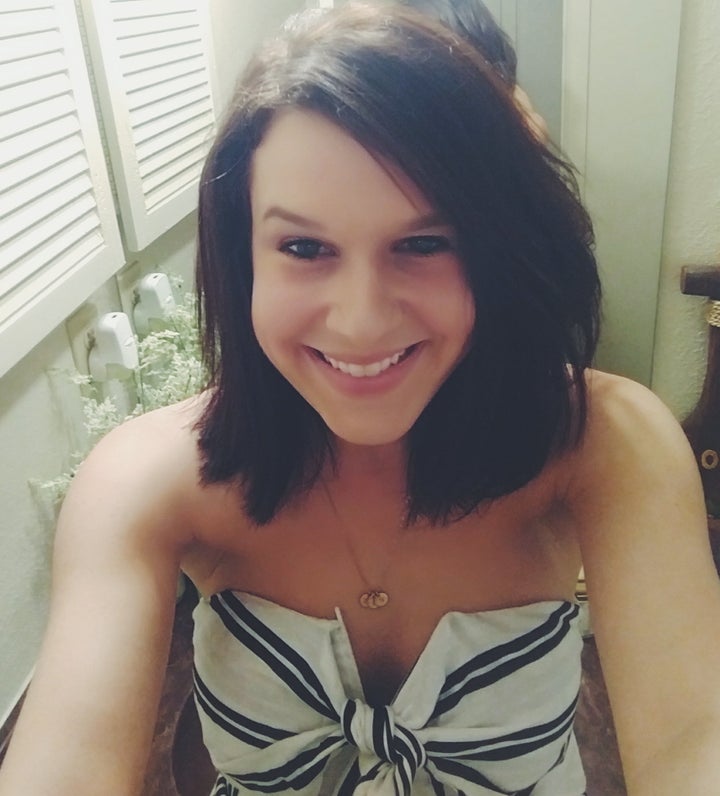 My relationships with my OB-GYNs had always been positive. While the initial exam was uncomfortable, I've been able to talk about my health and body with a trusted medical professional since I was 16. When I was 18, entering the complexities of sexual relationships, my OB was someone who helped me to understand what my personal choices looked like.
About a year ago, I moved from Houston to Austin, Texas, and needed to find a new OB. A quick search on Yelp showed me a provider who was close to my office and had a decent rating. I didn't dig any deeper. Convenient and above three stars worked for me.
On the day of my first appointment, I filled out all the basic paperwork. I was content with my oral birth control but still wanted to explore the possibility of an intrauterine device, or IUD.
As a 29-year-old married woman, I expected this exam to follow the routine of my previous exams: questions about my current relationship, whether kids were in my future, what my current birth control method was and anything I wanted to discuss further. That's how it unfolded in my mind before we started.
The doctor opened the conversation as anticipated, asking about birth control and any issues with my menstrual cycle. I brought up the option of getting an IUD and said I was interested in learning more. She rushed through what that process consists of but clearly tried to discourage my curiosity.
I allowed the conversation to end. I wasn't winning this one and was put off that I was arguing, even slightly, with a doctor I'd known for less than five minutes. Her bedside manner was intense, almost sharp, so I figured to keep the talk minimal and just research my options later.
After going over my general profile ― married, female, 29 and same sexual partner for the past nine years ― the doctor didn't dig deep into any of my personal health history, which I figured was part of her style. Maybe if I didn't bring it up myself, the matter wasn't worth delving into. She's the doctor, after all.
As she instructed me to lie down on the table to begin the pelvic exam, she asked me if I wanted to have children.
I pride myself on being as transparent as possible with friends and family regarding this issue. My partner and I are undecided about kids at this point in our marriage. Babies do not fit into our immediate future and are not part of our plan for the next five years.
Obviously, this is important for my OB to know, so I repeated the same script: "No, we don't want kids. Right now, it's a no."
She immediately replied, "Well, you should."
Flat on my back, completely exposed, I was being challenged about my choice to not want children. Shocked and confused, I wasn't sure what response she wanted, so I gave an uncomfortable laugh.
She continued: "You're educated, you're pretty, you really should. It's up to you to populate society with good people. My generation is counting on it."
She didn't inquire into my concerns about having children or my family history ― I'd noted mental health issues and ovarian cancer on the new-patient paperwork ― or how those factors led to a real conversation with my husband regarding procreation. She tossed aside my opinion and told me populating society with good-looking, smart people outweighed whatever my reasons were.
Flat on my back, completely exposed, I was being challenged about my choice to not want children.
We are asked as patients to be honest and upfront about our medical history and personal habits. We fill out detailed paperwork but also hope our provider will read between the lines. I'm not a medical professional. I'm a marketer who researches how to speak to an audience in a way that connects and makes sense to them. And she failed on every count.
We live in a time where the narrative around having kids is no longer "you must," for which I'm grateful. Now, it's become a fluid conversation, in which plenty of women speak candidly about the choice of being "childfree." Choice is the key word.
So then why was my OB disrespecting my personal choice, disrespecting the idea that I'd made a careful choice, and at such a vulnerable moment? Should I have entered the exam room waving a flag that read "Doesn't Want Kids" in large block letters? 
Many people ― even strangers ― feel free to ask deeply personal questions: "When do you plan on getting married? When are you having kids?" And if we respond that this step isn't part of our immediate future, they try to rebut us by saying, "Well, you will" or "Well, you should." They somehow know better. Your mind will change. Society will make sure of it.
That moment in the OB's office wasn't the first time I'd been asked about kids during my few years of marriage. I initially feel strong in my stance, stating firmly, "We don't want kids right now, we don't know if we ever will. Right now we are focused on being married."
I also remind myself that these nudges into my personal life are probably not coming from a malicious place. There's a societal construct: Here is the adulthood timeline. Why haven't you reached the next expected milestone?  
When people push back about having kids, I worry that maybe I appear selfish, so sometimes I respond with a smile, a shrug, silence and an effort to steer the conversation elsewhere. Other times, I defend my stance and am met with frowns or disappointment. 
But I just didn't expect this from my doctor, in a setting where we need to feel safe having vulnerable conversations.
After she flatly disagreed with my choice, I remained silent. I didn't trust the setting. And I didn't have it in me to repeat the conversation I've had so many times before.
When people push back about having kids, I worry that maybe I appear selfish, so sometimes I respond with a smile, a shrug, silence and an effort to steer the conversation elsewhere.
So I closed my eyes, focused on the pain of the exam and let her continue talking. Let her tell me what my future should look like. I lay there and took it, frozen by my own shock and settling into a sadness fueled by shame.
I wished I had the courage at least to push the question back into her court, but lying there, I didn't feel curious or want to know more. I knew basically where she was coming from. I had heard the same commentary for years. Her own disappointment in seeing a healthy young woman say no to something she believed in was fueling her monologue.
I didn't want to argue with my doctor, someone who was supposed to be guiding a supportive conversation regarding my reproductive questions and my future health. Since my early adulthood, I'd had three previous OBs and I had never felt unsafe in their presence. Here, I didn't see a win in the battle.
She didn't deserve my rebuttal. I didn't have the energy to try to convince another outsider that, yes, this was the right decision for me. Perhaps she wasn't even interested in my story, given the way she glanced over my paperwork and dismissed my inclination to use an IUD. Possibly she had an agenda. And maybe I didn't fit into the mold of her ideal patient.
The rest of the exam proceeded as normal. Our conversation turned to Austin, how I was liking it, and superficial comments about the weather and what part of town I lived in. We kept it polite.
It's been 10 months since that exam. At first, I tried to shake it off but found myself crying in the office parking lot. I confided in my husband, friends and mom. "How could she?" they said. "How terrible. You were in a bad situation."
Yes, I was, but not at a random dinner party or with a nosey neighbor. A line was crossed between doctor and patient.
I've replayed that conversation in my mind, recognizing all the ways she was in the wrong. Pulled myself out of the shame and positioned myself, again, as a woman who can be comfortable with her own decision.
But that didn't happen overnight and sometimes, at a birthday party or lunch with a co-worker, I'll feel that disapproving judgment again. And like every other small demon, I confront it and beat it back.
To the OB-GYN who left me feeling exposed, I hope you listen next time before you casually dismiss a patient's choice. I hope you recognize the validity of each woman who walks through your door. No one's story is the same.
Have a compelling first-person story you want to share? Send your story description to pitch@huffpost.com.
REAL LIFE. REAL NEWS. REAL VOICES.
Help us tell more of the stories that matter from voices that too often remain unheard.