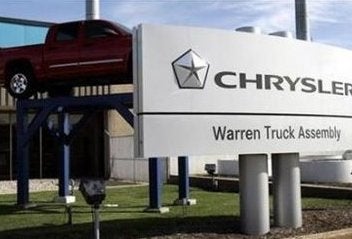 And so it begins: Making bankruptcy sound like a fun thing to do on a slow spring afternoon, Barack Obama today "congratulated" Chrysler on the "opportunity" of Chapter 11 and if I were GM, I wouldn't be getting too friendly with this guy and his staff at the next White House cocktail party. I mean, look at what happens to companies he likes.
Chrysler filed for bankruptcy protection Thursday in New York under Section 363(b) of Chapter 11 of the bankruptcy code -- and officials hope Chrysler will stay in bankruptcy for just 30- to-60 days.
The company's merger with Italian giant Fiat has also been approved by the White House, and former Chrysler owner Daimler is giving-up their 20% stake in the Highland Park, MI, car-maker. Fiat will shut-down their Euro car-making operations for as long as two months over the summer to prepare for the Chrysler deal; the first Fiat-Chrysler made-in-USA cars might not appear for at least two years.
In a 15-minute speech announcing these moves this morning at the White House, President Barack Obama praised those who have made shared sacrifice to try and save the iconic American company, including Chrysler management, the UAW, creditors which agreed to accept as little as 33% on the dollar for their securitized Chrysler debt holdings, new Chrysler partner Fiat and old partner Daimler.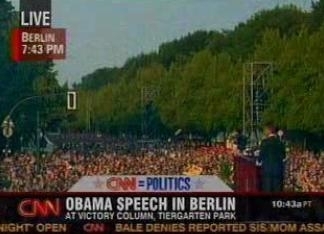 Obama speaks before the 2008 US elections in Berlin in front of an estimated 300,000; the speech was reminiscent of JFK's famous June, 1963 "Ich bin ein Berliner" ("I am a Berliner") speech. Today, Obama told us, like it or not, that we are all Chrysler, with important stakes in the company, from our shared national and institutional memories of it to the US middle-class which the company helped in great part to create
He also blasted in plain and no uncertain terms "hedge funds," "speculators" and other investors and creditors who refused to support the government's efforts to have them cut the amount of Chrysler debt they hold.
"I stand with the Chrysler employees and their families, dealers and communities. I do not stand with those who won't help out when everyone else is supporting," Obama said.
Chrysler will also idle most of its plants during its time in bankruptcy.
The shutdown begins Monday and will stretch through the 30 to 60 days it is expected to take to restructure in Chapter 11 bankruptcy, the company said in a statement today, according to industry journal Automotive News.
Chrysler has 12 assembly plants, including eight in the United States. It also owns and operates five North American engine plants, six stamping plants and seven transmission and parts plants.
Chrysler has 26,000 UAW workers and 10,000 represented by the Canadian Auto Workers.
Obama said Fiat is planning to bring "billions" in technology and car-making ability to the US quickly, and that the Canadian government and the Canadian Auto Workers have also approved the deal (Chrysler has extensive facilities in Canada).
Apparently, Chrysler CEO Robert Nardelli was among those who didn't wholly support the White House's plan.
"We would have preferred not to use this 'surgical bankruptcy,' Nardelli was quoted as saying by CNBC, "An inordinate amount of time went into creating this plan. This is a bittersweet moment for me."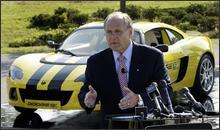 Incumbent Chrysler CEO Robert Nardelli introduces some Chrysler EV concepts at a 2008 press conference; the dream cars weren't enough to catch public -- or investor -- interest, and Nardelli will leave his Chrysler post, at the latest, when the company emerges from bankruptcy
As if he had some better idea. "Bittersweet?" He'll work his way through it while spending some of his pension with his buddies on country club golf courses like those at La Quinta or Doral, the natural and recommended habitat for failed US auto executives.
But the corporate fate of his second-in-command, Jim Press, who ran Toyota in this country for many years and was the first and still-only American on Toyota's board of directors in Japan, hasn't been announced as yet, and is frankly much more interesting than anything having to do with Nardelli.
Press brings the goods; he knows how to run a successful car company.
Chrysler should keep Press on as president, running day-to-day-operations and reporting only to Fiat CEO Sergio Marchionne.
Obama said that the US government will be backing all Chrysler warranties; that the "full force" of Washington is behind this entire plan.
The government also announced that it is loaning GMAC additional money so it can take over financing of Chrysler vehicles from Chrysler Financial. The government already has infused nearly $6 billion into GMAC.
The Treasury will provide Chrysler with $4.5 billion in exit financing. The company will not now cancel any of its retiree contracts (covering some 173,000 UAW members), reduce current benefits or lay-off any workers (Obama says today's plan "saves 30,000 Chrysler jobs").


But a question remains, as we've noted in this space before, concerning what Chrysler plans on doing with their 3,300-strong US dealer network. No doubt they want to cut it to some extent, though Fiat would like as many as possible to remain open so they can sell their Euro-made cars there, but whether the company will use their bankruptcy filing to avoid compensating lost dealers isn't yet known. Only a bankruptcy judge can break the powerful and protective state franchise laws which dealers use to establish their relationships with car-makers.
Chrysler will have a new board of directors and the government will take a role in helping to select the board.
A UAW health care trust will own 55 percent of Chrysler's stock, but won't have voting rights control. The trust will, however, appoint a member to the company's board of directors.
Fiat will start with a 20 percent stake in Chrysler and as it meets three different milestones -- including building a 40 mpg vehicle in the United States -- it will get a total of a 35 percent stake in the company.
Fiat will be allowed to increase that stake only after US taxpayers are fully paid back by Chrysler for the various loans and loan guarantees Chrysler has received since late last year.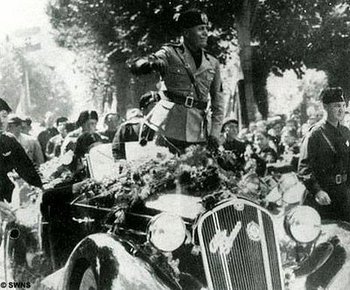 Italian fascist dictator Benito Mussolini in his custom-made Alfa-Romeo 6C 2300 Pescara; Fiat makes Alfa, Lancia, Ferrari and Maserati in addition to their own epynomous brand, and now Chrysler, too. Heady company, no?
The automaker -- which between 1936 and 1949 was the second-largest U.S. auto company -- narrowly avoided bankruptcy in 1980, when it won a $1.5 billion government loan guarantee, which it paid off in 1983, ahead of schedule, in part on the strength of the K-Car and the sale of its defense unit.
Even during its near-failure in 1979/1980, this company founded by an engineer who built locomotives and then cars and trucks, Walter P. Chrysler, was still the tenth largest corporation in America.
In 1998, it was sold for $some $40 billion to Daimler-Benz -- a troubled tie-up that ended in 2007, when the German automaker sold Chrysler to wall Street's Cerberus Capital Management in a $7 billion deal.
Cerberus will relinquish all equity and Daimler has agreed to give up their remaining 20% of Chrysler ownership and pay into the Chrysler health care fund.
The company hopes to auction its good assets -- likely purchased by the U.S. Treasury -- while the bad assets would be left behind in bankruptcy court to be liquidated.
Last night I finished re-reading Lee Iacocca's 1984 autobiography which details his march on congress in 1979 for $1.5 billion in loan guarantees to keep Chrysler alive.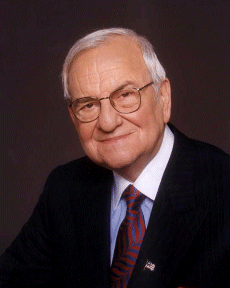 America's greatest-ever car salesman, Lido A. Iacocca. He saved Chrysler from the B-word the last time all this happened, in 1979
Iacocca was determined to do anything and everything to keep Chrysler from filing bankruptcy, believing the public would lose all confidence in the company and never again buy a Chrysler vehicle if they entered Chapter 11.
President Obama talked his usual great game of absolute confidence at the end of his announcement this morning, yet one has to wonder why (and if) the American public would be anymore or less worried today about a car-maker bankruptcy than they were 25 years ago.
But I have to admit it was exciting to hear the president tell the country, "If you're going to buy a new car, buy an American car."
Shades of Lee Iacocca's most-famous TV advertising spot for Chrysler; "If you can find a better car, buy one."
Popular in the Community