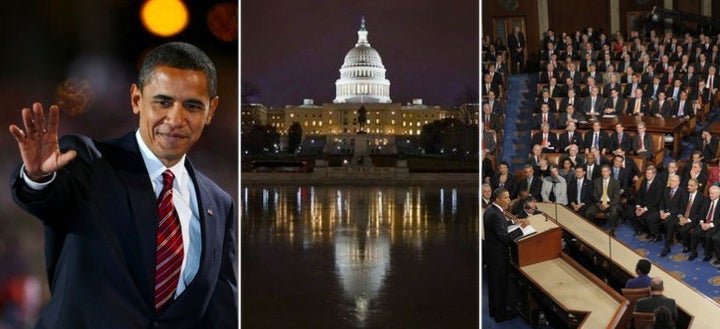 As President Barack Obama prepares to deliver his second formal State of the Union address Tuesday night, it is worth looking back at the ambitious policy promises he made a year ago.
According to a Huffington Post analysis of last year's speech, Obama made 18 broad pledges to the country, ranging from economic growth and financial reform to troop withdrawals in Afghanistan.
On many of those pledges, analysts say, he delivered. But the main thrust of Obama's speech turned on his vow to generate jobs and jolt the moribund economy back to life -- and there, he came up short.
Obama is not the first president to fall short of his State of the Union promises, which are generally broad blueprints for the chief executive's vision of governance. But the Obama administration's accomplishments and failures of the past year illustrate the daunting challenges facing the country and, to some extent, the overwhelming expectations this White House set for itself.
In 2010, after the end of a bruising yearlong health care fight, Obama followed through on promises to pass a sweeping law overhauling financial regulations and repeal "don't ask, don't tell," the military's ban on openly gay service members. In addition, he largely stuck to the script he set with respect to his foreign-policy agenda.
He will likely be defined, however, by his failure to deliver on the public's top concern -- jobs. Despite promises of bold action, 2010 saw the U.S. economy regain just a small fraction of the jobs lost to the Great Recession, and recovery continues to sputter.
Below is a virtual report card from last year's State of the Union address, which The Huffington Post pulled together from interviews with experts and reviews of government and independently-sourced data. Obama tallied 7.5 promises broadly kept, 7.5 failures and 3 "incompletes." The individual results, in order of when the promises were made during the speech, are as follows:
PROMISE: Tax on the biggest financial institutions to recoup the cost of the Troubled Asset Relief Program and incentivize them to shrink
GRADE: Fail
Obama proposed a levy on the nation's biggest banks to repay taxpayers for the cost of TARP and to induce the firms to shrink so that their potential failure would pose less risk to the entire financial system. After the industry objected, the White House dropped the issue.
PROMISE: Add 1.5 million jobs in 2010
GRADE: Fail
In discussing how many jobs his economic stimulus plan created, Obama said "we're on track to add another one-and-a-half million jobs to this total by the end of the year." Instead, the economy added 1.1 million jobs. Nearly one in ten American workers is jobless. At 9.4 percent, the unemployment rate has been stuck above 9 percent for 20 consecutive months, the longest such streak since records began in 1948, according to the Labor Department. When Obama took office, the nation's unemployment rate stood at 7.8 percent.
PROMISE: Stimulate lending to and cut taxes for small businesses
GRADE: Pass/Fail
Obama told Congress he would call for "a new jobs bill tonight." What he delivered was a bill that took $30 billion in TARP funds and redirected it to community banks -- in hopes that they'd lend to small business -- and an abundance of tax breaks. He added that "it is time to finally slash the tax breaks for companies that ship our jobs overseas, and give those tax breaks to companies that create jobs right here in the United States of America." The small-business bill was enacted in September, but credit remains tight and hiring is tepid. The tax overhaul for corporations never happened.
PROMISE: Overhaul financial regulation
GRADE: Pass
The Dodd-Frank Act passed in July. It created an agency solely dedicated to protecting borrowers from abusive lenders, among other reforms.
PROMISE: Passing "a comprehensive energy and climate bill with incentives that will finally make clean energy the profitable kind of energy in America."
GRADE: Fail

Like presidents before him, Obama called for "a new generation of safe, clean nuclear power plants in this country," the "opening new offshore areas for oil and gas development," investment in advanced "biofuels and clean coal technologies" and the passing of "a comprehensive energy and climate bill with incentives that will finally make clean energy the profitable kind of energy in America." On top of that, he urged for more "incentives for energy efficiency and clean energy." Obama opened up offshore areas for drilling -- right before the BP oil spill. And while the administration pushed for the Senate to follow the House's lead on energy legislation, that effort flamed out.
Paul Bledsoe of the National Commission on Energy Policy, a Washington-based research organization, gave the White House credit for spending stimulus money on clean-energy projects and for pursuing a "very ambitious" approach to promoting those projects on public lands. But on the big prize -- a comprehensive climate bill -- Obama failed. Worse, Bledsoe said, the administration "may have poisoned the well for a while in terms of how they failed."
PROMISE: Doubling exports in five years
GRADE: Incomplete
Obama said the U.S. will double its exports, leading to 2 million jobs. The rate of increase in exports last year, compared to 2009, is well above the pace to hit that target.
PROMISE: Reform federal aid for college students, increase tax breaks
GRADE: Pass
Congress overhauled the distribution of federal aid to college students, cutting off the flow of taxpayer money that went to subsidize lending firms taking on minimal risk. The move will save taxpayers tens of billions of dollars. In addition, Obama persuaded Congress to extend temporary tax breaks for families with kids in college, and instituted a debt-forgiveness program for students who pursue public service.
PROMISE: Improve home values and increase mortgage refinancings
GRADE: Fail
Obama said his administration was "working to lift the value of a family's single largest investment -- their home." Since then, home prices have dropped 1 percent nationally, according to the S&P/Case-Shiller Home Price Index. Fitch Ratings forecasts another 10 percent slide in home values. Noted credit analyst Joshua Rosner, a managing director who analyzes housing at Graham Fisher & Co., says home prices will drop 15 percent.
Obama added that "we will step up refinancing so that homeowners can move into more affordable mortgages." Refinancings, after skyrocketing in 2009, slowed in 2010. Refis were down about 20 percent through the first three quarters of last year compared to 2009, according to the Department of Housing and Urban Development.
Homeowners have less equity in their homes than they did when Obama delivered his address, according to Federal Reserve data through September.
PROMISE: Freeze non-military discretionary spending
GRADE: Incomplete
Obama said he was "prepared to freeze government spending for three years," not including the biggest parts of the federal budget: Medicare, Medicaid, Social Security and items "related to our national security." That was to begin with the fiscal 2011 budget.
But, there is no 2011 budget, nor is there likely to be one. The administration may reach its goal through alternative means, though. A White House official said that thanks to the Republican-controlled House of Representatives, spending will likely drop, as the likely failure to pass a budget will limit the White House's flexibility to apportion spending among departments as necessary.
PROMISE: Extend Bush-era tax cuts for the middle class but not for the wealthy
GRADE: Pass/Fail
"To help working families, we'll extend our middle-class tax cuts," Obama said. "But at a time of record deficits, we will not continue tax cuts for oil companies, for investment-fund managers, and for those making over $250,000 a year. We just can't afford it."
Obama struck a deal with Republicans to extend the tax cuts for the middle class, yet in doing so went back on his promise and also extended the lower tax rates for the wealthiest Americans.
PROMISE: Increased transparency on lobbying and campaign finance
GRADE: Pass/Fail
Obama pledged that the time had come "to require lobbyists to disclose each contact they make on behalf of a client with my administration or with Congress." He also wanted to "put strict limits on the contributions that lobbyists give to candidates for federal office" and for "Congress to publish all earmark requests on a single Web site." John Wonderlich of the Sunlight Foundation said the White House deserves praise for generally disclosing contacts with lobbyists, and for pushing for an overhaul of campaign finance rules. Ultimately, the administration failed to convince Congress to do the same.
PROMISE: Hold regular meetings with Republican members of Congress
GRADE: Fail
Obama promised to hold "monthly meetings with both Democratic and Republican leadership" in an effort to foster bipartisan cooperation. But while a White House official said Obama met with the group every month that Congress was in session, that amounted to just five meetings for the entire year, said Mark Knoller, CBS Radio's White House correspondent and a noted chronicler of presidential statistics.
"We didn't do enough of that," White House Press Secretary Robert Gibbs conceded during his Monday press briefing.
PROMISE: Secure Afghanistan so U.S. troops can begin to come home in 2011
GRADE: Incomplete
Obama said he was "increasing our troops and training Afghan security forces so they can begin to take the lead in July of 2011, and our troops can begin to come home."
Troop levels increased, and Afghan security forces are being trained. But Brian Katulis, a Middle East expert for the Center for American Progress, a research organization closely aligned with the Obama administration, said the 2011 withdrawal date doesn't amount to much in concrete terms. Katulis said that a meaningful withdrawal of U.S. troops would likely occur by 2014, rather than this year, as Obama vowed. A White House official disputed Katulis's assessment, and said the 2011 draw-down date was still in effect.
PROMISE: Bring home combat troops from Iraq
GRADE: Pass
Obama pledged that he would continue the process of ending the war as he had promised as a candidate. "We will have all of our combat troops out of Iraq by the end of this August," he said. "Make no mistake: This war is ending, and all of our troops are coming home."
Katulis said that "in general, he met those pledges." He added: "On balance, I think he has done what he said he was going to do in the State of the Union."
However, critics argue that the 50,000 remaining troops in Iraq see regular enough combat that they should be considered combat forces, and that the White House simply made a cosmetic change to what remains an ongoing war.
PROMISE: Cracking down on Iran and North Korea
GRADE: Pass

Obama promised to step up the pressure on these allegedly rogue states. Along with other nations, the U.S. led the push for tougher international sanctions. They succeeded, said Sharon Squassoni, director of proliferation and prevention program at the Center for Strategic International Studies, a Washington-based research organization. The additional sanctions "represent a tightening of the screws," Squassoni said.
PROMISE: Repeal "don't ask, don't tell"
GRADE: Pass
The president recently signed into law a bill repealing the discriminatory military practice. Once the policy is implemented in the coming months, gay Americans will be able to serve openly in the armed forces.
PROMISE: Increasing enforcement of equal-pay laws
GRADE: Pass
Obama said "we're going to crack down on violations of equal-pay laws -- so that women get equal pay for an equal day's work." Data from the Equal Employment Opportunity Commission, a federal law enforcement agency, shows an uptick in enforcement proceedings and settlements with employers for alleged violations.
PROMISE: Reforming immigration laws
GRADE: Fail
Obama pledged to continue working on "fixing our broken immigration system, to secure our borders and enforce our laws, and ensure that everyone who plays by the rules can contribute to our economy and enrich our nation."
Obama dispatched the National Guard to the U.S.-Mexico border, and the Department of Homeland Security increased deportations of undocumented workers. But Congress did not pass a comprehensive immigration bill, or even the watered-down version that passed the House and made it to the Senate. The system remains "broken."
*************************
Sam Stein is a senior political reporter for The Huffington Post.

Calling all HuffPost superfans!
Sign up for membership to become a founding member and help shape HuffPost's next chapter