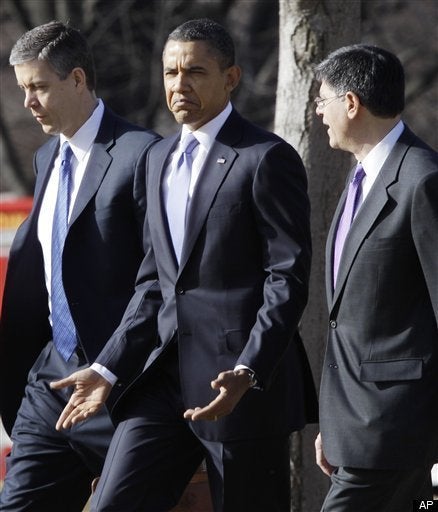 NEW YORK -- The Obama administration reversed course Monday in its proposed budget for fiscal 2012, forecasting slower growth and higher unemployment for the next two years in an implicit acknowledgment that the economy continues to suffer.
In prior budgets, the administration had projected robust growth and a lower unemployment rate for 2011 and 2012, giving the nation the impression of a rosy economic expansion and coloring its forecasts for tax revenue and government spending.
But in its latest spending plan, the White House revised those forecasts.
The administration now projects a growth rate of 2.7 percent this year, more than a full percentage point lower than its estimate in last year's budget, when it predicted 3.8 percent growth. For 2012, the administration forecasts 3.6 percent growth, considerably lower than its previous estimate of 4.3 percent.
The unemployment rate reflects the grim projections.
This year, the White House estimates that 9.3 percent of workers will be jobless. Last summer, in its midyear budget update, the administration forecast a 9.0 percent unemployment rate. Next year, when President Barack Obama runs for reelection, the administration forecasts an 8.6 percent unemployment rate, a half-percentage point increase from last summer's projection of 8.1 percent. The White House also raised its projection for the unemployment rate in 2013.
The unemployment rate has never averaged above 8 percent during a presidential election year, according to Labor Department data stretching back to 1948.
Further breakdown of the budget proposal here.
Related
Popular in the Community