 WASHINGTON -- President Barack Obama made a direct, personal appeal to 30,000 of his top campaign activists on Tuesday night, asking them to stay involved in politics and to continue pressuring Republicans during upcoming tax and budget negotiations.
"I'm so proud of what you guys accomplished and I will always be in awe and inspired by what you've done," the president said on the call, which the Huffington Post listened to. "So that's the good news. The bad news is our work can't stop now. Because as we learned in the first term, in some ways an election is just the beginning. It is not the end point. It is a means to a goal and that is to actually help families all across the country."
The president, speaking from a White House phone, cautioned listeners to expect disappointments during his second term. As he has in the past, Obama warned that he was prepared to swallow some bitter pills during the negotiations, including some that would agitate the base.
"As we move forward there are going to be new wrinkles and new frustrations, we can't predict them yet," he said. "We are going to have some triumphs and some successes, but there are going to be some tough days, starting with some of these negotiations around the fiscal cliff that you probably read about, making sure that our tax system is fair. So we are going to need you guys to stay active. We need you to stick with us and stay on this."
But with the sour, he promised some sweets. Obama said that his White House would be more effective at community engagement. He pledged to have his team give more "clear directions and talking points in terms of how we keep mobilizing across the country." He also said that he planned to spend more time outside of the nation's capital during the next four years.
"One of my pledges for a second term is to get out of Washington more often because it is just good for my soul," said Obama.
The president's comments -- the most explicit push yet for campaign volunteers to continue their election-type engagement -- came during a conference call organized by what remains of the Obama campaign. Mitch Stewart, one of Obama's top campaign aides, told listeners they would be outfitted with activist tools for the critical weeks of negotiations ahead. Stewart also revealed that some campaign staffers remained in Obama's Chicago reelection headquarters, crunching data to figure which community activist tools had worked during the election.
"As the president said, our work is not done," said Stewart. "We are never going to stop trying to be better. And there are important lessons to be learned from" the election. "There is an immediate need around the fiscal cliff that people can start to engage on," Stewart said.
The president's call to the cavalry will be welcome news to Democrats who complained Obama reverted to an inside game during his first term. Equipped with an email list of 13 million activists and more devoted followers, Obama spent much of his first four years trying to move legislation through backroom negotiations.
Tuesday night's conference call suggests more of a reliance on an outside game approach -- something that the campaign has hinted it would do. In an early November conference call with Democratic-leaning reporters, Jeremy Bird, the president's top grassroots organizer, explained that the campaign was specifically constructed to be "long-lasting."
Amanda Terkel contributed to this article.
Before You Go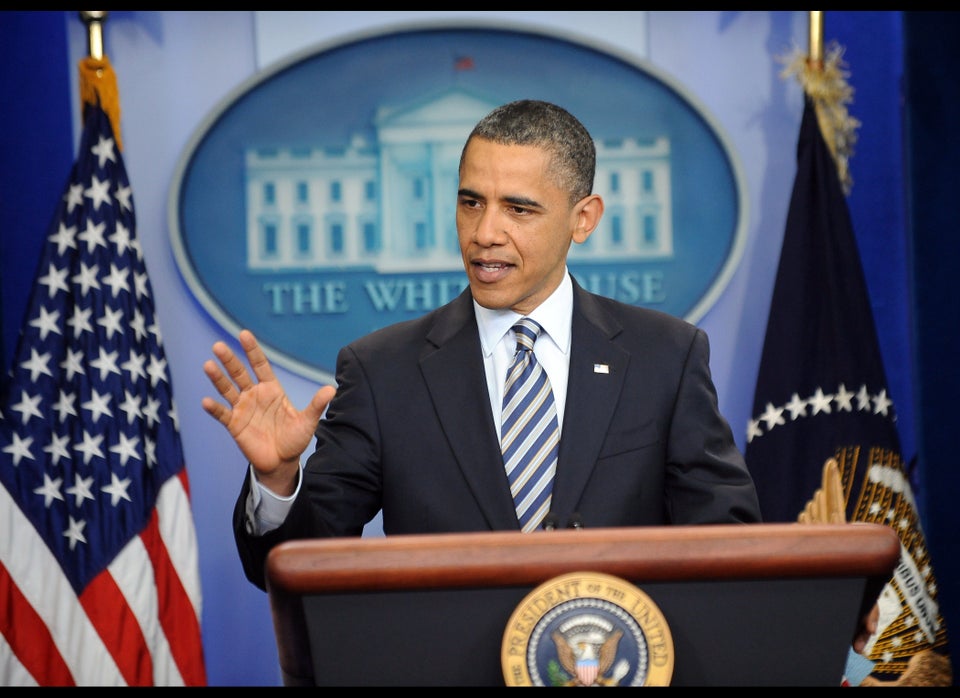 Barack Obama's Greatest Hits
Popular in the Community