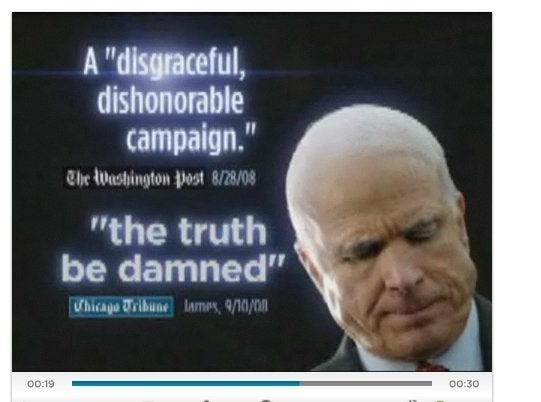 As promised by campaign manager David Plouffe last week, the Obama team is "taking the fight" to John McCain with a tough new ad entitled "Honor." With most of the spot's script coming from editorials blasting the Arizona Republican's recent distortions on the stump and on the air, the only live-action shot is a 2000-era clip of McCain, in which he says, "I will not take the low road to the highest office in this land."
"What's happened to John McCain?" the narrator asks, before diving into the recent media blurbs calling the Republican nominee's recent tactics "vile" and "dishonorable" -- and knowingly so, "truth be damned."
The ad follows through on a campaign narrative that emerged late last week, when Obama spokespeople began saying McCain would "rather lose his integrity than lose an election." Over the weekend, the Obama camp sent a stinging response to a McCain attack, with Bill Burton saying: "We will take no lectures from John McCain who is cynically running the sleaziest and least honorable campaign in modern Presidential campaign history. His discredited ads with disgusting lies are running all over the country today. He runs a campaign not worthy of the office he is seeking."
Unlike some recent McCain ads that have misleadingly quoted news sources, this Obama ad seems to have fairly represented the new conventional wisdom that McCain has gone too far with some attacks. With even Karl Rove admitting that McCain's ads have stretched the bounds of truth over the weekend, this is one counter-attack ad that's not likely to be challenged by FactCheck.org.
BARACK: I'm Barack Obama and I approved this message.
McCain: I will not take the low road to the highest office in this land.
ANNCR: What's happened to John McCain?
He's running "the sleaziest ads ever." "Truly vile."
That he repeats even after its been "exposed as a lie"
"truth be damned"
A "disgraceful, dishonorable campaign."
After voting with Bush 90% of the time...proposing the same disastrous economic policies...
It seems "deception" is all he has left.