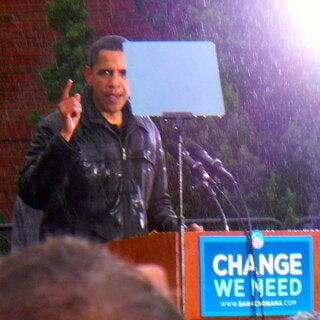 Tuesday was a tough day to be outside in Greater Philadelphia. The rain poured and the wind howled. The weather turned so nasty that the fifth (and possibly final) game of the World Series scheduled for the night was postponed.
John McCain canceled a Tuesday morning rally at Memorial Stadium in the Philly suburb Quakertown.
Back in the city meanwhile, in driving wind and rain on the campus of Widener University in Chester, Senator Obama was greeted by thousands of supporters who cheered Pennsylvania Governor Ed Rendell when he introduced the Democratic presidential nominee and kept right on cheering as Obama took the stage and addressed the crowd. The crowd was multi-racial, wildly enthusiastic and drenched. Attendee Charlene McGrady was impressed with the enthusiasm but not surprised by the crowd's tenacity. "Philadelphia Phillies fans waited hours in the rain for the third game of the World Series. McCain either doesn't know much about the people in this area or doesn't have much faith in his supporters."
In a photo taken of the event by Robert Ford, Obama appears determined and hatless in the open air, buffeted by the storm.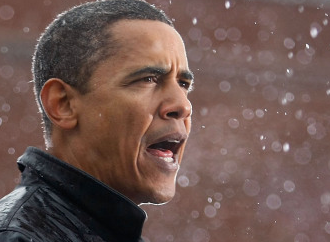 Click on the photo to see HuffPo's slide show of the event.
Among the crowd at the Obama rally were many children. Described as an "historic day in Chester," the local school district closed the schools and Superintendent Gregory Thornton encouraged parents to take their children to the rally. He said they should "take advantage of this educational opportunity."
"The passion and persistence of Obama and the crowd that turned out to hear and see him despite the weather speaks volumes," said McGrady. "It's a telling contrast to the fair-weather attitude of the McCain campaign, which threw in the towel at the first drop of rain." She went on to add that John McCain and Sarah Palin went ahead with an indoor rally today in Hershey, Pennsylvania, which caused McGrady to comment wryly: "$150,000 for clothes and they apparently didn't buy her a raincoat."
McGrady felt the Pennsylvania cancellation was indicative of the entire McCain campaign, adding: "What a washout his campaign has been, in more ways than one."
Popular in the Community