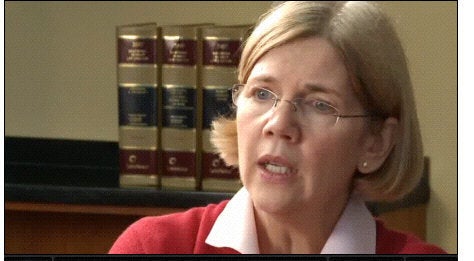 Top Obama administration officials rushed to praise leading consumer advocate and bailout watchdog Elizabeth Warren on Friday as being "exceptionally well-qualified" to lead a new consumer protection office. But a senior adviser to Obama left open the possibility that she would not be chosen while administration officials did not deny a report that Treasury Secretary Timothy Geithner opposes her nomination.
The Huffington Post reported Thursday that Geithner opposes Warren getting the nod to lead the new agency. Designed to protect borrowers from abusive lenders, the creation of the agency has typically been listed by the administration as the top accomplishment of the recently-passed financial reform bill, ahead of other more systemic issues like reforming the derivatives market, ending the perception that some firms are Too Big To Fail, and ensuring that banks keep adequate capital to protect against destabilizing losses.
Since March, Obama has highlighted the agency in four of his weekly Saturday addresses to the nation. In explaining on Thursday the kind of reforms the recently-passed legislation will lead to, the first thing Obama mentioned was how the bill "will protect consumers when they take out a mortgage or sign up for a credit card."
Key to that effort is picking the head of this new entity, which experts say will set the tone for the agency's approach to protecting consumers for at least the next several years. A weak chief will render it ineffective; a strong leader will ensure that lenders can no longer abuse consumers with impunity.
Now that the bill only awaits Obama's signature, the next fight will be over who will be nominated to lead this agency, which banks despise and fought viciously to kill as the bill made its way through Congress.
"Elizabeth Warren is a great, great champion for consumers and middle-class families across the country," White House senior adviser David Axelrod told reporters on a Friday conference call. "She has helped inform this effort greatly and what has been done here in many ways reflects something she's been advocating for years and years and years, so she's obviously a candidate to lead this effort."
"There are other candidates as well," Axelrod cautioned, "but Elizabeth is certainly a candidate to lead it and one thing I know for certain is however we move forward she's going to be a strong voice in helping shape this and make it the most effective voice for consumers that it possibly can be."
A consumer advocate intimately involved in the legislative efforts said Axelrod's comments could serve to lower expectations among Democrats that Warren would be the obvious choice, given that she conceived the agency in a 2007 journal article and has arguably served as the public face of the effort to get it enacted. The advocate added that Axelrod also opened the door to keeping Warren involved in consumer protection efforts even though she ultimately may not be picked.
"I think Elizabeth is absolutely terrific," Michael Barr, the Treasury Department's assistant secretary for financial institutions, told reporters Friday during a conference call. "She's been working closely with me and with Secretary [Timothy] Geithner now for a year and a half to get this financial reform passed, to push for a strong consumer financial protection agency.
"She's a leading figure in the field," Barr continued, "and Secretary Geithner believes and I believe she's extremely well-qualified to run the agency."
Given the opportunity to refute the HuffPost report that Geithner opposes her nomination, Barr reiterated that both he and Geithner believe she's "exceptionally well-qualified." He didn't deny the rift.
Barr is considered to be a top choice to head the new agency. He's close with Geithner and was among a small group of administration officials leading the charge to get a strong reform bill through Congress. Consumer advocates and liberal groups say Barr was instrumental in ensuring the proposed agency wasn't too watered down by Congress.
But, as one consumer advocate put it, Warren is a "rock star." House Financial Services Committee Chairman Barney Frank supports her nomination, as does virtually every consumer group and liberal organization across the country. On Friday, Rep. Carolyn Maloney (D-N.Y.) circulated a letter to colleagues, in order to get signatures of support, urging Obama to nominate Warren. The letter says Warren is the "best person" to lead the new bureau, adding that she's "simply the perfect choice." (Scroll down for the letter.)
Banks, however, oppose her. She very well could be their worst nightmare, some have speculated, due to her vociferous advocacy on behalf of consumers and middle-class families. The top Republican on the Senate Banking Committee, Alabaman Richard Shelby, told HuffPost he opposes her nomination. Senator Bob Corker, a Republican from Tennessee, declined to comment when asked.
Among some in the administration, there are concerns that her nomination could stoke the kind of fight that could delay her appointment for months. The administration wants someone to head the agency as soon as possible.
The head of a bank lobby told Bloomberg News that the nomination is "akin to a Supreme Court nominee for financial services."
"They're going to have a fight no matter what. It's going to be dragged out regardless," noted another consumer advocate.
"But they could force the issue," he added. "That's the lesson from CFPA (the consumer financial protection agency)."
The bill had been languishing in the Senate Banking Committee for months until Democrats, led by committee chairman Christopher Dodd of Connecticut, decided to hold a vote to send the bill to the floor, rather than allowing the bill to be amended in committee deliberations. It was a party-line vote. Republicans like Shelby and Corker voiced deep disappointment.
If the administration is worried that Warren's nomination would be problematic because it could stall, it could simply force the issue as it ended up doing with the legislation.
"Make them vote against this hard-as-nails woman from Oklahoma who grew up poor who's tough on big banks," the advocate noted. "Force the vote."
Warren has relationships with various Republicans in the Senate, which could help her nomination. But that may not be the issue, the advocate noted.
"If it's not about the votes," he warned. "It's about whether they want this [agency] to be front-and-center and visible, or if they want to give the banks more power."
READ the letter from Rep. Maloney:
Ryan Grim contributed reporting to this story.