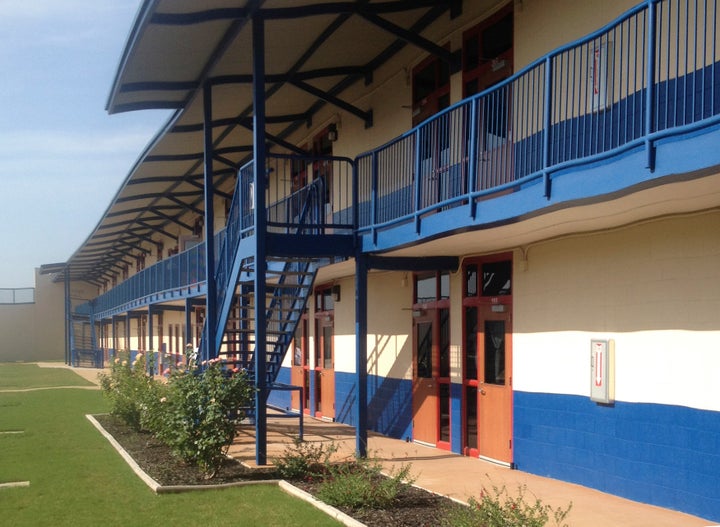 The Department of Homeland Security and private contractor Serco, Inc. are in talks with local authorities to create a family immigrant detention center in Southern Texas, even as state and federal authorities struggle with litigation over two similar institutions in the state.
Efforts to create another family detention center in Jim Wells County would likely spark backlash among immigrant rights groups and raises the possibility of more legal wrangling over the Obama administration's controversial policy of locking up predominantly Central American mothers and their children, many of whom arrive here seeking asylum or other humanitarian relief.
The Obama administration had largely abandoned family detention since 2009, but rapidly expanded it two years ago, as a rising influx of unaccompanied minors and families traveling together from Central America set off a national uproar over immigration.
Representatives of Serco presented their proposal for the family detention center Monday at the Jim Wells County Commissioners Court, the local elected governing body. The issue goes before an open hearing for public comment Thursday.
County Judge Pedro Treviño, Jr., who did not return a phone call seeking comment, received authorization on Monday from the county commissioners to negotiate a deal with DHS and Serco.
Two of the four Jim Wells County commissioners told The Huffington Post they hadn't heard of the proposal before Monday and were unaware that the family detention policy has been challenged in both federal and state lawsuits. Both commissioners said they hadn't decided whether they would ultimately support the efforts to create another family detention center in their county.
"I know that the economy could use some income, but I don't know if that's the kind of income we would want in the area," County Commissioner Emede Garcia, a Democrat, told HuffPost. "I have concerns about the liability part of it."
Commissioner Richard Miller, a Republican, said he wanted to learn more about the plans and the company before making a decision.
"We are going to look at different aspects of the situation and see if it would be advantageous to Jim Wells County to have that here," Miller told HuffPost.
Immigration and Customs Enforcement issued a Request for Information in April for a new detention center in South Texas -- an early step in the federal contracting process -- but hasn't yet committed to moving forward with plans, an ICE spokesman said in an emailed statement. The specifications attached to that RFI call for the creation of a "turnkey ready" center capable of holding 1,800 detainees of both sexes, with a surge capacity of 1,900.
The county commissioners, DHS and Serco or another contractor, however, would have to agree to move forward with a proposal before details become concrete.
"The decision to move forward with a Request for Proposal (RFP) is pending," the ICE statement says. "As part of prudent management, ICE routinely considers and plans for various operational options to accommodate the dynamic and frequently unpredictable detention needs and trends."
Alan Hill, a spokesman for Serco, said in an emailed statement that the company aimed to create a "residential center" rather than a "detention center."
"This includes providing safe, temporary housing with a complete array of needed services from a professional staff," the statement said. "Above all, Serco will treat families with dignity and respect."
But in practice, immigrant rights groups say getting locked in a family detention center differs little from getting jailed, despite the fact that many who land in one are seeking asylum or other humanitarian relief.
Facing the uptick in unauthorized migration from Central America, the Obama administration converted an adult detention center in Karnes County, Texas, into a facility for locking up undocumented children and their mothers in 2014. At the same time, the administration hastily ordered the construction of a 2,400-bed family detention center in Dilley, Texas. Both are operated by contractors as for-profit businesses.
U.S. District Judge Dolly Gee ruled last year that the family detention policy violated the 1997 Flores agreement, which says authorities must hold undocumented children in the least restrictive setting possible and should generally favor releasing them. Under that agreement, children aren't supposed to be detained for longer than five days. After that, they must be released to a guardian or transferred to a child care facility.
In an attempt to comply with the ruling, Texas authorities have tried to alter state rules to license the family detention centers as child care facilities -- a feat of bureaucratic acrobatics that to many advocates amounts to stamping a friendly sounding label on a prison for moms and kids.
The immigrant rights group Grassroots Leadership, along with two women who have been held in family detention, filed a lawsuit last month to block the changes. The Karnes facility retains a temporary child care license issued days before the lawsuit was filed, but a state judge issued an injunction to prohibit the Dilley family detention center from receiving one. The Texas lawsuit is scheduled for a hearing in September.
"It is very disappointing if the administration is actually considering expanding family detention, or even shifting family detention from the current facilities to new facilities," Bob Libal, the executive director of Grassroots Leadership, told HuffPost. "It would be incredibly disheartening if the Department of Homeland Security entered into any new contracts for new facilities."
Before You Go
Immigrants And Allies Rally Outside Supreme Court
Popular in the Community