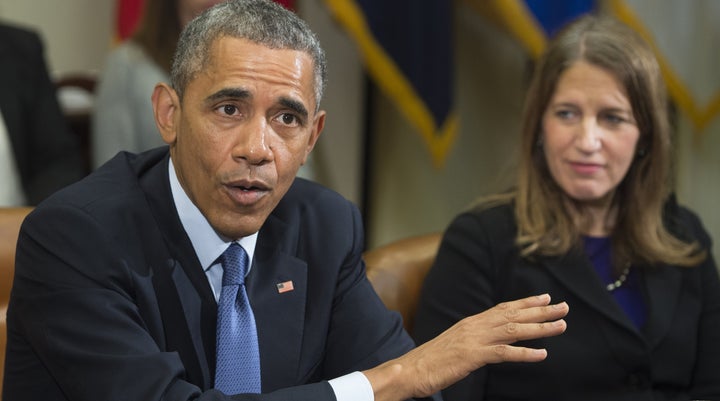 ARLINGTON, Va. -- The Obama administration announced a major policy shift Thursday in its efforts to combat the nation's opioid abuse epidemic. Speaking at a conference on opioid addiction in Northern Virginia, Health and Human Services Secretary Sylvia Burwell said her agency would rewrite regulations to remove some of the obstacles that have prevented greater involvement from doctors in treating those addicted to heroin or prescription painkillers.
In 2002, the Food and Drug Administration approved the use of buprenorphine to treat opioid addiction. But federal regulations stipulated that doctors first must be certified to prescribe the medication. They are then limited by how many patients they can treat with the drug: In their first year of prescribing, doctors can only treat 30 patients at any one time. In subsequent years, federal regulations permit them to go up to 100 patients. Those slots can fill up quickly in hard-hit areas.
Treating a few patients over the cap can bring on federal scrutiny from the Drug Enforcement Administration or a state licensing board. Doctors can also be made to feel like outcasts, especially in communities where an abstinence-only approach to treatment still dominates. The U.S. treatment system is still largely controlled by a belief that an addict is only truly sober once they've rejected buprenorphine (which is sold under the brand name Suboxone) and other medication-assisted therapies.
"We need to lift people out of opioid-use disorder through medication-assisted treatment," Burwell said, an assertion that may seem straightforward but will reverberate throughout the treatment world.
"This epidemic is multifaceted, and we need to respond with the best solutions that medicine and behavioral therapy can provide together," Burwell added. "So we need to increase the use of buprenorphine, which can help us treat opioid use disorder when combined with psycho-social support."
After Burwell announced the regulatory revision, the room of doctors, treatment experts and public health officials erupted in applause.
While buprenorphine has been shown to be effective, for cultural and legal reasons it is still out of reach for many. "We have heard from many stakeholders and leaders that the current capacity does not meet the current demand. So today I'm proud to announce that our department will revise the regulations related to buprenorphine to safely and effectively increase access," she said.
Burwell's policy change may spur more doctors to treat addicts and lessen the burden on the already certified professionals. It also represents a further endorsement of the medical establishment's view -- which includes the World Health Organization and the very federal agencies that Burwell oversees -- that medication-assisted treatments (MATs) such as buprenorphine and methadone, along with counseling, have shown the best results in getting addicts sober and preventing overdose deaths.
France, an early adopter of buprenorphine, reduced its overdose deaths by 79 percent between 1995 and 1999 by adopting MATs. Along with methadone treatment and needle exchange programs, the medication also spurred a 50 percent drop in the HIV rate of intravenous users. The Huffington Post found in a January investigation that a lack of access to these potentially life-saving medications has made the U.S. treatment system largely ineffective.
The immediate beneficiaries of today's announcement will be those struggling with opioid addiction in rural and suburban communities. It is in these areas where limited access to MAT has been most acute. The epidemic has decimated places like Scott County, Indiana, which experienced a huge spike in HIV rates and has zero doctors certified to prescribe the medication. It has also hit places like Northern Kentucky, where the few doctors who can prescribe Suboxone have long waiting lists.
Doctors report waiting lists in Ohio, Colorado, Minnesota, Wyoming and just about everywhere else. A University of Washington study released in January and based on 2012 data reported that 30 million Americans reside in counties without a single doctor certified to prescribe Suboxone.
In late July, drug czar Michael Botticelli lamented the lack of access to MAT in a speech before a House subcommittee. "Treatment programs are too often unable to provide this standard of care, and there is a significant need for medical professionals who can provide MAT in an integrated health care setting," he said. "Far too few providers elect to use any form of medication-assisted treatment for their patients."
This past spring, Sen. Edward Markey (D-Mass.) and Sen. Rand Paul (R-Ky.) introduced legislation that would raise the first-year cap from 30 patients to 100 and offer nurse practitioners and physician assistants the ability to prescribe the medication. After one year, doctors could seek to remove the cap entirely. With the new bill, doctors would have to be certified as "substance abuse treatment specialists" or go through an approved training before their patient caps could be lifted. Democratic frontrunner Hilary Clinton essentially adopted the legislation as part of a proposal to address the opioid epidemic.
When asked if the revised regulations would reflect the Markey or Clinton proposals, Burwell told The Huffington Post, "We are going to get a lot of good input from both the Hill and the public at large. ... We will get contributions from everyone." HHS hopes to have the proposed revisions ready by the end of the year, according to a spokesperson.
The HHS revisions will "provide a balance between expanding the supply of this important treatment, encouraging use of evidence-based MAT, and minimizing the risk of drug diversion," the agency said in a press release.
Burwell's decision to move on this issue shouldn't be a controversial one. The Centers for Disease Control and Prevention recently reported heroin-related overdose deaths nearly quadrupling between 2002 and 2013.
In August, the Substance Abuse and Mental Health Services Administration announced that it would encourage states to include medication-assisted treatment in their block grant applications. Botticelli has similarly insisted that drug courts allow access to MATs in exchange for federal funding.
Dr. Yngvild Olsen, an addiction medicine physician based in Baltimore, worked with the Clinton campaign on her proposal. She was there for Burwell's speech and welcomed the news. "I think it is an important positive step forward towards better addressing the opioid epidemic and will save lives," she said.
At the end of her speech, Burwell appeared close to tears. "We need good ideas to spread faster and farther than this epidemic," she said, before lamenting that "the numbers still aren't going the right way."
In statement released Thursday afternoon, Sens. Edward J. Markey (D-Mass.), Orrin Hatch (R-Utah), Sherrod Brown (D-Ohio), Kelly Ayotte (R-N.H.), Mark Kirk (R-Ill.) and Dick Durbin (D-Ill.) all announced support for the policy change.
"When effective medication-assisted treatment is made available, people's lives can be saved," said Markey. "Treatment for prescription drug and heroin addiction should not be harder to access than the actual drugs destroying lives and communities. I commend HHS for taking steps to address outdated limits on trained professionals providing this effective treatment so we can help more people who need it and for its commitment to ensure access is balanced with reducing the risk of diversion. I look forward to continuing to work with Secretary Burwell in efforts to address this terrible epidemic of prescription drug and heroin addiction."
Popular in the Community