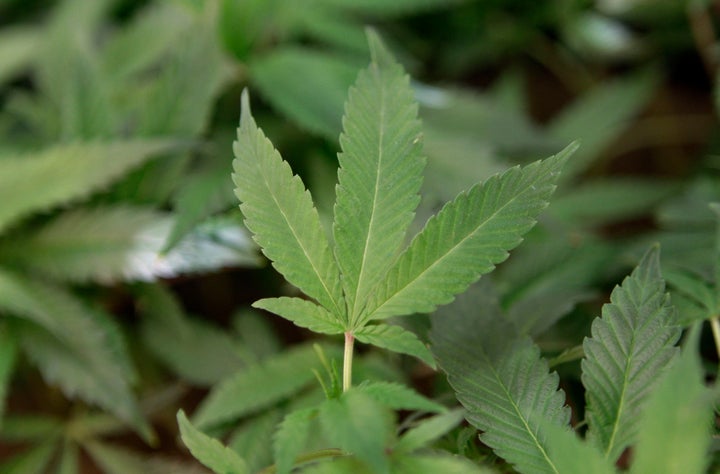 WASHINGTON -- U.S. attorneys have a message for California's medical marijuana advocates: Don't blame Barack Obama. After it was announced that the crackdown on medical pot establishments in the Golden State was a collective decision by the four U.S. attorneys in California and not the result of any directive from Washington, spokeswoman Lauren Horwood emphasized that the administration never even green-lighted the ramped-up enforcement actions.
The only D.C.-based official with whom California U.S. attorneys coordinated, Horwood said, was Deputy Attorney General James Cole, who was chosen by Attorney General Eric Holder, an Obama appointee.
"He's the one who provided the quote for our press release, and he's chosen by Eric Holder," Horwood told HuffPost in an interview. "But we didn't have direct talks with Eric Holder -- not that we wouldn't, he's been out and visited -- but just the way the Department of Justice works, he's not that hands-on on these kinds of details."
An article by Phoenix Times reporter Ray Stern claimed Horwood acknowledged that California's U.S. attorneys received "Obama's blessing" in implementing the crackdown. But in an interview with The Huffington Post, Horwood, a spokeswoman for U.S. Attorney Benjamin Wagner in California's Eastern District, distanced herself from that language.
"What I said, or at least meant to say, was that the U.S. Attorneys in California saw the need for coordinated enforcement actions and spoke with folks in Main Justice in D.C. (not the Obama Administration)," she told HuffPost in an email.
Cole declined to attend any California press conferences on the issue not, Horwood insisted, because he was distancing himself from the crackdown, but because California is a long way to travel.
California voters approved the use of medical marijuana in 1996 with the passage of Prop. 215, later named the Compassionate Use Act, which allows patients to possess and cultivate cannabis with a doctor's permission. The law has been interpreted many times since then. In City of Garden Grove v. Superior Court in 2007, the trial court sided with the patient, finding that it "is not the job of local police to enforce the federal drug law." A California Supreme Court ruling in 2010 found that residents may grow or possess "reasonable amounts" of marijuana with a doctor's permission.
But under federal law there are no such allowances.
Obama as a candidate promised to maintain a hands-off approach toward pot clinics that adhered to state law, with Attorney General Eric Holder publicly asserting that federal prosecutors would not initiate enforcement actions against any patients or providers in compliance with state law, deeming it an inefficient use of scarce government resources.
Such language didn't stop federal prosecutors from launching an attack on medical marijuana shop owners earlier this month, vowing to shutter state-licensed marijuana dispensaries regulated by local governments and threatening landlords with property seizures.
State Senator Mark Leno (D) has joined Assemblyman Tom Ammiano (D-San Francisco) in requesting meetings with the Department of Justice and the Internal Revenue Service to discuss the reasons behind the crackdown.
So far their requests have gone unanswered. "They're talking amongst themselves," said Ammiano of federal prosecutors, "and really causing tremendous, unnecessary chilling effects."
Steve DeAngelo of Oakland medical cannabis club Harborside Health Center said such effects may be the end goal.
"Federal prosecutors are not trying to clean up the regulated medical cannabis industry, they are trying to destroy it," he said at a Tuesday press conference in San Francisco. "Their real target is not criminal gangs, but rather the systems of licensing and regulation implemented by dozens of communities state-wide. This is destroying tens of thousands of jobs and hundreds of millions of tax dollars in local, state and federal tax revenue."
The crackdown comes even as 50 percent of Americans favor legalizing marijuana, according to a recently released Gallup poll, up from just 36 percent in 2006.
When asked to respond to the claim that the Obama administration isn't implicated in the decision, Ammiano was indignant.
"Somebody's going to have to fall on their sword about this," he said. "This is becoming more of a mainstream issue. I mean, this was really a mistake."
Related On The Huffington Post:
Popular in the Community