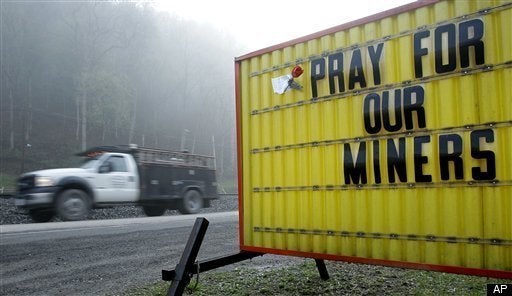 Long before the explosion that killed at least 25 coal miners inside Massey Energy's Upper Big Branch Mine on Monday, Obama administration mine safety officials were aware of a major loophole that allowed companies like Massey to avoid stricter enforcement despite alarming safety records.
Mining safety regulations were tightened in 2007, following an explosion the previous year that killed 12 miners at the Sago Mine, also in West Virginia. But mining companies immediately began gaming the new system.
Mines that are designated as having a "pattern of violations" are subject to a greater level of oversight. But Massey and others ducked that designation simply by lodging formal appeals against the major violations issued against them.
It turns out that, according to current rules, contested violations can't be taken into consideration when assessing whether a pattern of violations exists.
Contesting those violations also allowed Massey and other companies to delay paying the fines levied against them -- thwarting a key enforcement mechanism.
And all the appeals overwhelmed the commission charged with adjudicating them, creating a massive backlog that effectively allowed the companies to flaunt the rules indefinitely.
Joe Main, a former United Mine Worker of America official, took over the Mine Safety and Health Administration (MSHA, pronounced em-sha) in October. He told a congressional hearing in February that the backlog has effectively prevented MSHA from applying the stepped-up enforcement mechanisms to mines with a pattern of serious violations.
"And I think the consequence there is that mines have the ability to continue that pattern unabated," he said. His conclusion: "[W]e must diminish the incentives for operators who appear to be developing a pattern of significant and substantial safety violations to contest, simply to delay enforcement."
But that was in February -- at a hearing called by a concerned chairman of the House Education and Labor Committee, Rep. George Miller (D-Calif.).
And according to Celeste Monforton, a George Washington University public health professor and former MSHA official, Obama administration officials had known of the problem for more than a year by then.
"I feel very confident that when the presidential transition teams in December and January were meeting with the senior career people in the agency," she said, "they heard that, one, there's a huge backlog in the review commission and, two, this is neutering, or making impotent, the pattern of violations provision of the Mine Act."
So, Monforton told HuffPost, "The question is: 'What did you do, knowing on January 21st that they're gaming the system? What did you do?'
"It doesn't look like they did anything."
Actually, the Obama administration did add four administrative law judges to the panel of 10 charged with ruling on the contested violations, in an attempt to somewhat reduce the backlog. And they've now requested four more.
But the basic rule that the companies are exploiting remained unchanged.
Officials from MSHA and its parent agency, the Department of Labor, could not be reached for comment by HuffPost on Friday, but MSHA deputy Greg Wagner spoke at some length on Thursday to Ken Ward Jr., the award-winning mine reporter and blogger for the Charleston (W.Va.) Gazette.
Wagner told Ward that MSHA reviewed the Upper Big Branch Mine for a potential pattern of violations as recently as October, but concluded it did not meet the criteria, despite an astonishingly high number of serious safety violations.
Wagner, Ward wrote "was not able to explain that decision."
"I don't know the answer to that, but I will get that to you as soon as I can," Wagner told Ward.
Wagner said that the new leaders at MSHA under the Obama administration hope to rewrite the pattern-of-violations rules, which date back to 1990. But he conceded that MSHA did not include such a proposal on regulatory agendas issued in May or in December...

In describing MSHA's policing of the Upper Big Branch Mine, Wagner said, "I think we feel that we used the tools that we have available."

But Wagner said he did not know if MSHA ever sought increased fines from the Upper Big Branch Mine for "flagrant violations," as allowed under the 2006 MINER Act.

And he said MSHA did not use its long-standing legal authority to seek a federal court order against any condition at the mine that created "a continuing hazard to the health or safety of miners."

"We did not use that section of the act, no," Wagner said. "I'm really trying to get an opinion from our lawyers to explain to me really what constraints they felt really existed to keep us from going .... I don't think that's ever been used, and I think there's some reason that people haven't and I need to find that out."
The Upper Big Branch mine's abysmal safety record, and its passage through the mining bureaucracy has, by now, been extensively chronicled.
Ward wrote that parts or all of the mine "were ordered closed more than 60 times in 2009 and 2010, and the mine was repeatedly cited in recent months for allowing potentially explosive coal dust to accumulate, according to newly released government documents."
The New York Times reported Friday that the mine was warned in December 2007 that it had been issued 204 serious violations over the previous two years, a rate nearly twice the national average, and would soon be designated as having a pattern of violations. But in the ensuing three months, the mine was able to reduce its rate to just above the national average -- enough to avoid the designation.
MSHA in March 2008 praised Massey and six other violators for "successfully and dramatically" reducing their "significant and substantial (S&S) violation rates -- on average -- by 50 percent during the 90-day review period."
But according to the Washington Post, Massey's mine "met the legal criteria" to avoid the designation "in part because contested violations had not been resolved. Massey is still contesting 352 alleged violations at the Upper Big Branch mine, some dating to 2007."
USA Today reported on Friday that coal mine operators generally have used appeals to avoid paying all but $8 million of the $113 million in major penalties assessed against them since April 2007.
Upper Big Branch in particular "has paid just one major fine since 2007, which cost $10,750. It has appealed or is delinquent on 21 major fines worth $505,000, records show."
The Associated Press reported that the mine "was cited for violating two federal safety rules on the day of the blast."
United Mine Workers of America President Cecil E. Roberts said in a statement released on Thursday that 20 people had been killed at mines operated by Massey, its subsidiaries or subcontractors in the last decade -- prior to Monday's explosion.
"Every year, like clockwork, at least one person has been killed since 2000 on the property of Massey or one of its subsidiaries," Roberts said. "With those already known to be dead at Upper Big Branch, it's now up to 45 people in the past 11 years, and four more missing at this point. No other coal operator even comes close to that fatality rate during that time frame. This demands a serious and immediate investigation by MSHA and by Congress."
West Virginia's senior senator, Democrat Robert Byrd, released a statement on Friday:
Once we learn the cause of this disaster and investigations are completed whether it is wrongdoing by Massey, lack of enforcement by MSHA, or inadequacies with the mine health and safety laws, including the MINER Act of 2006, action will need to be taken...

[T]he more I learn about the extent of these violations by Massey at the Upper Big Branch Mine alone, the angrier I get. 57 citations in the month of March alone! Closed over 60 times during the past two years to correct problems!

To me, one thing is clear -- for a company that has had this number of violations at just one coal mine -- one must seriously begin to question the practices and procedures of this particular coal company and it needs the most serious scrutiny from the Congress and the federal regulators.
Meanwhile, Republican West Virginia Congresswoman Shelley Moore Capito made it clear in her statement that the Obama administration's conduct should also be in question:
In 2009, MSHA cited 515 violations and ordered the mine closed 29 times. Upper Big Branch Mine has had 124 violations in 2010 already. In fact, MSHA faulted the Upper Big Branch Mine on the day of the explosion for inadequate maps of escape routes and an improper splice of electrical cable on a piece of equipment. It falls on both the mining company and the regulatory agency to make sure that a mine is safe and in this instance both failed.

I ask that as we move forward, we take a long hard look at the relationship of mine operators and MSHA and how we could have prevented this disaster.
At the congressional hearing in February, Rep. George Miller angrily declared that "delays from growing appeals are undermining MSHA's ability to impose tougher sanctions on the repeat violators... If cases are stuck for months or years in the review commission, MSHA cannot impose stronger penalties on the worst mine operators. As a result, miners' lives are in the cross hairs."
But the committee's ranking Republican, Rep. Glenn Thompson of Pennsylvania, defended the companies, arguing that "it appears mine operators are simply adapting to a punitive new regulatory environment that favors litigation and conflict over collaboration."
He expressed his view that "legislation and regulation may actually be the cause rather than the solution to the problem."
Matt Madia, who focuses on federal regulatory policy at the good-government group OMB Watch, sees MSHA's limitations as the result of a systemic problem.
"What's happening is you've got a relatively small agency with too few dollars, with too few inspectors, responsible for policing a huge industry with a huge lobbying presence in Washington. So who do you think's going to win that battle?
"It's easy to blame the bureaucrats after the fact, but the public and Congress and the administration are often not paying attention to these issues before tragedy strikes," he said.
*************************

Do you know more about the circumstances that could have prevented this disaster? How about factors that may have contributed - or could lead to - such mining tragedies elsewhere? Are you aware of situations in which people have been harmed, or where unsafe conditions persist, despite reforms and regulation that should have made those situations safer?
*************************
Popular in the Community