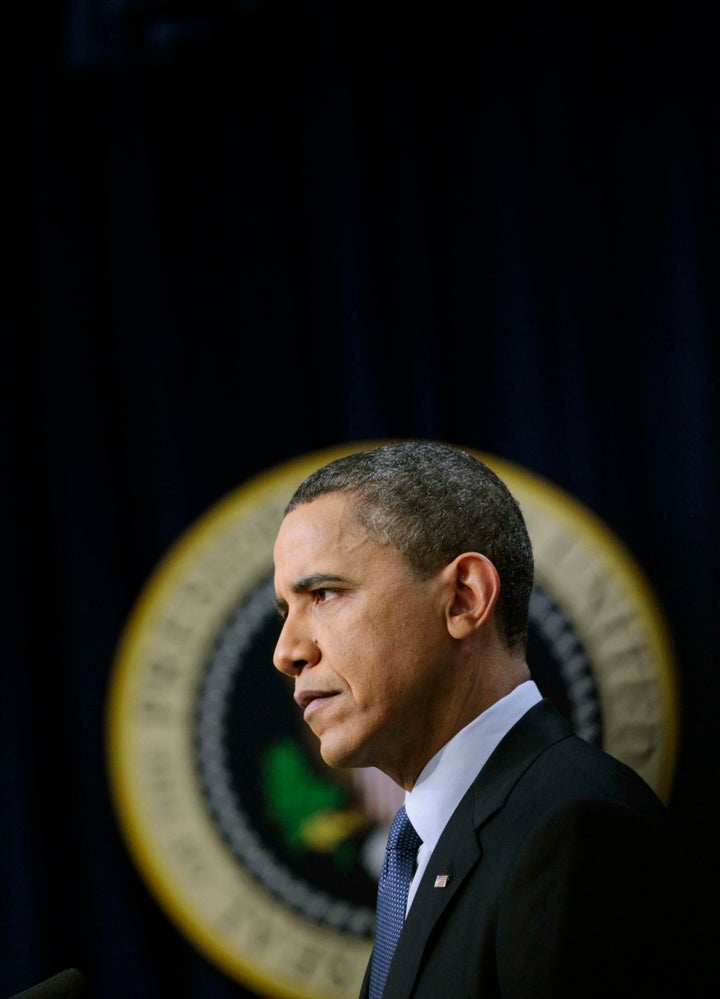 NEW YORK -- The Obama administration is seeking to force the nation's five largest mortgage firms to reduce monthly payments for as many as three million distressed homeowners in as little as six months as part of an agreement to settle accusations of improper foreclosures and violations of consumer protection laws, six people familiar with the matter said.
Described as a "shock and awe" approach, the deal would accomplish the four goals set out by state and federal policy makers and regulators as part of their multi-agency investigations into abusive mortgage practices by the nation's largest financial firms: punish banks for violations of state law and federal regulations; provide much-needed assistance to distressed borrowers; stabilize a deteriorating housing market; and dissuade firms from abusing homeowners in the future.
The modified mortgages could cost the five financial behemoths -- Bank of America, JPMorgan Chase, Citigroup, Wells Fargo and Ally Financial -- as much as $30 billion, according to sources. Combined, the five firms handle three out of every five home loans, according to newsletter and data provider Inside Mortgage Finance.
It also could lead to reduced mortgage payments or lowered loan balances for nearly two-thirds of the 4.7 million delinquent homeowners who have yet to fall into foreclosure, according to data provider Lender Processing Services.
The aim is to ensure the number of assisted borrowers is spread throughout the country, and that banks modify both expensive and inexpensive mortgages, people involved in the talks said. Banks also would likely forgive mortgage principal in situations where a pre-determined formula dictated that it was the best way to modify a home loan. Balances on second mortgages and home equity loans -- of which nearly half of all outstanding loans are owned by BofA, JPMorgan, Citi and Wells -- would also have to be written down.
That would then kick-start the healing process needed to clear the large overhang of repossessed and soon-to-be-foreclosed homes that's depressing house prices and sapping consumer confidence, people involved in the negotiations said.
But the deal is far from complete.
While most of the federal agencies involved in the probe are near agreement on the outlines of a settlement, a few holdouts remain -- most notably national bank regulator the Office of the Comptroller of the Currency, sources familiar with the internal deliberations said. The nascent Bureau of Consumer Financial Protection, a unit of the Treasury Department, is involved in the discussions, as is the Federal Deposit Insurance Corporation and the Department of Housing and Urban Development. The Justice Department is leading the talks. The OCC appears likely to not participate in a joint federal action, sources said.
Details like the target number of restructured home loans, the total fines to be levied, which mortgages would be modified and how so, have yet to be worked out among the federal agencies. And the 50 state attorneys general, who are pursuing a separate investigation but are working with federal authorities, have yet to even negotiate with the targeted lenders, let alone agree on a single strategy to penalize banks that broke state laws in pursuing improper foreclosures, officials said. They, too, have held limited discussions on the structure of a homeowner assistance program.
Meanwhile, banks, while eager to put the controversies over wrongful home repossessions and "robo-signing" behind them, do not want to be the only firms that pay for what could be a mass mortgage principal forgiveness scheme. They want government-owned mortgage giants Fannie Mae and Freddie Mac, which own or guarantee more than half of all home loans, to participate in any initiative that calls for lowering homeowners' loan balances. Fannie and Freddie's regulator has been reluctant to allow them to participate, citing his responsibility of minimizing the cost of the bailout to taxpayers, people involved in the talks said.
The OCC and Fannie and Freddie's regulator, the Federal Housing Finance Agency, have long declined to comment on the federal probe beyond what their leaders have said publicly.
The number of targeted modifications ranges from one to three million, and the time frame to restructure those loans ranges from six months to as many as 18 months, people familiar with the matter said. Stiff penalties would be assessed if banks failed to meet their quotas. The penalties would make noncompliance costlier than modifying troubled mortgages, these people said.
The Obama administration wants a quick resolution to the probes, and is putting pressure on the small group of state attorneys general leading their investigation to wrap it up, sources said. On Tuesday, Treasury Secretary Timothy Geithner told a Senate committee that "all parties have a stake in bringing this to resolution as quickly as possible."
"It's very important that we try to bring this to bed as quickly as we can," Geithner told the Senate Banking Committee.
Investors, homeowner advocates and law enforcement officials hoping for a deep investigation into allegedly widespread mortgage abuses by the nation's largest financial firms may ultimately be disappointed.
The state group has not yet filed a complaint detailing their findings and the violations of various states' laws. While some states individually have sent banks formal investigative requests for information -- and received reams of documents in return -- they haven't yet acted as a group.
People involved in the state discussions said they don't even know the full extent of the so-called robo-signing scandal or other possible violations of state law because they haven't conducted an in-depth investigation.
At least one attorney general, New York's Eric Schneiderman, has voiced concerns about signing on to any agreement that forces him to give up his right to pursue mortgage-related violations of his state's laws in order to participate in what is widely acknowledged to be a multi-billion dollar deal, sources said.
There's been little discussion among the state officials over what claims they'd release banks from in exchange for agreeing to penalties and a requirement they improve their dealings with homeowners, these people said.
Schneiderman wants to probe improper lending practices; failures to follow state laws when banks bundled home loans into securities; and allegations of deception by lenders who sold investors now-toxic mortgages.
If others join him, it's unclear how the 50 state attorneys general can reach a unified agreement.
But the banks won't sign any agreement that forces them to abide by new rules and pay substantial penalties that doesn't clear them of liability or at least significantly lessen the chance of a state-brought lawsuit, sources familiar with their position said.
This week, the state officials were supposed to be meeting with each of the five largest mortgage firms -- one a day -- to negotiate a possible resolution. The attorneys general cancelled the talks after it appeared the banks weren't going to take the discussions seriously, according to people familiar with the matter. The state officials then declined to follow through on their plan to subpoena the banks for information.
The banks are now crafting their own proposal, people familiar with the discussions said.
"It feels as if this is the last good opportunity consumers have to get some relief from the foreclosure crisis," Kevin Stein, associate director of the California Reinvestment Coalition and a member of the Federal Reserve's Consumer Advisory Council, told the Fed on March 10.
Iowa Attorney General Tom Miller, who's leading the 50-state probe, made a similar pitch to his fellow attorneys general last week during a closed-door meeting in Washington, according to state officials in the room. He also told the law enforcement officials about the administration's desire to push for as many as three million loan modifications in as few as six months.
Almost three million homes have been seized since the start of 2008, according to data provider RealtyTrac. More than 2.2 million homes were in foreclosure through January, according to Lender Processing Services. The Fed forecasts 4.9 million homes to receive foreclosure filings this year and next, Fed Governor Daniel Tarullo said Dec. 1.
The state and federal investigations began as a response to revelations that large banks employed workers who signed hundreds of foreclosure documents a day without reading them -- a violation of many states' laws. The probes then mushroomed into an acknowledgement among top officials that the mortgage servicing industry is deeply flawed and is likely abusing hundreds of thousands of homeowners a year.
Now, officials are hoping those probes can be used to finally heal a troubled housing market -- a task numerous Obama administration programs failed to accomplish.
Standing in their way are top Republicans in Congress, who argue that politics is trumping the rule of law. Sen. Richard Shelby of Alabama, the top Republican on the Senate Banking Committee, blasted government officials, likening their demands to a "shakedown."
Rep. Randy Neugebauer, a Texas Republican who serves on the House Financial Services Committee, said last week that it "verges on extortion."
Others have said the plan to use the scandal as a vehicle to modify delinquent mortgages is a reprise of the administration's primary homeowner assistance initiative, the Home Affordable Modification Program, better known as HAMP. HAMP has been widely panned for its poor results.
The House will vote this week to repeal HAMP. The Republican-controlled House will likely breeze towards repeal. The legislation will likely die in the Democratic-controlled Senate, however.
The sentiment fueling the GOP's resistance to helping troubled borrowers also is playing a role in the internal discussions among the state attorneys general.
The group is led by a committee of 13 attorneys general -- seven Democrats and six Republicans -- which in turn is captained by four of them -- three Democrats and one Republican.
In interviews last week, numerous Republican attorneys general said they're giving the committee a "long leash" to get a deal done with the banks.
Mark Shurtleff, the Republican attorney general of Utah, said the attorneys general that will not be on the negotiating committee will simply wait for them to come to a resolution with the banks, which the full group of 50 will discuss at the National Association of Attorneys General summer meeting in June.
But even that has limits.
A preliminary term sheet that was to be provided to the nation's five largest mortgage firms was leaked to the news media earlier this month. That document detailed how the banks should treat homeowners in the future.
Some Republicans have privately grumbled that the proposal may force lenders to reduce loan balances, or mortgage principal. People involved in the state discussions conceded that any deal that forces lenders to forgive mortgage principal would likely not be agreed to by all 50 states.
More than 11 million homeowners with a mortgage, or more than 23 percent, owe more on that debt than their home is worth, according to data provider CoreLogic. Nationwide, that deficit between what is owed and what the homes are worth equates to $751 billion.
"Negative equity holds millions of borrowers captive in their homes, unable to move or sell their properties," Mark Fleming, chief economist with CoreLogic, said in a statement last week. Until that recedes, the housing market will remain "very sluggish," he added.
Congress twice tried to pass legislation during the first two years of the Obama administration that would have allowed judges to forgive principal on primary mortgages in bankruptcy proceedings. One effort was voted down in the Senate; the second one was defeated in the House. Banks vehemently oppose such measures.
Reducing loan balances will likely be the sticking point in internal discussions between states, officials involved in the negotiations said.
The attorneys general from Texas, Nebraska, Oklahoma and Virginia are concerned with such an approach, officials said. All either declined comment or did not respond to requests for comment.
To mollify those concerns, officials are considering alternative proposals that would both penalize firms that have broken state laws and provide a boost to the housing market.
For example, short sales may be counted as part of the target of one to three million loan modifications. Also on the table are proposals that would force banks to subsidize home purchases by credit-worthy borrowers. This would be used to satisfy concerns that only delinquent borrowers are being helped by the settlement agreement.
Officials stressed that despite disagreements over the scope of assistance provided to homeowners, there's near-unanimity when it comes to going after financial firms for violations of state laws prohibiting unfair and deceptive practices, and cases in which firms' sloppy foreclosure practices amounted to fraud on local courts.
"Laws were not being followed by the servicers," Illinois Attorney General Lisa Madigan, a Democrat, said last week. "That absolutely has to change."
Republican Attorney General John Suthers of Colorado said the state officials "want to remedy losses that have occurred as a result of those problems."
Meanwhile, federal officials are looking at potential violations of rules governing their loan modification programs, as well as failures to comply with regulations surrounding taxpayer-backed loans through the Federal Housing Administration.
The banks declined to comment, citing the confidentiality that generally governs their dealings with regulators and law enforcement authorities.
*************************
Popular in the Community