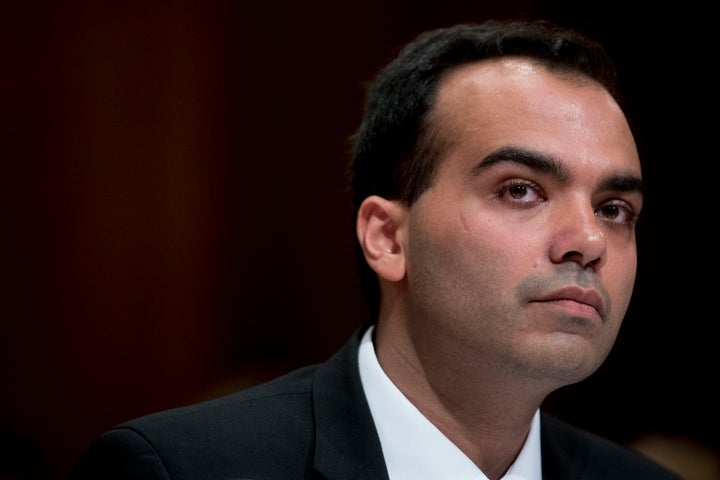 A former federal regulator and Elizabeth Warren acolyte who has repeatedly questioned the Obama administration's treatment of student loan borrowers just took a job with the Department of Education.
Rohit Chopra brawled with schools and banks while serving as the nation's student loan watchdog at the Consumer Financial Protection Bureau, an agency launched by Warren, now a U.S. senator from Massachusetts. He began work Monday as a senior official at the Education Department, officials said Wednesday.
Chopra, 33, will work for an Education Department that student advocates and some regulators say has shirked one of its basic duties: Policing the nation's colleges and universities, which annually receive more than $100 billion in federal loans and grants, and its loan contractors, which guide borrowers on their options and collect their monthly payments on the department's behalf.
Chopra often contradicted the Obama administration, especially its senior officials at the Education Department, on student loan issues while at the CFPB. He has admonished the administration's loan contractors, questioned the reliability and quality of government data on student debt, and challenged the value of going to college:
Chopra also has slammed the colleges themselves. His attitude toward misbehaving schools is one of the reasons why consumer groups have cheered nearly his every move.
For example, Chopra's team at the CFPB publicly shamed schools and banks they thought should be voluntarily disclosing to students the lucrative deals they struck that allowed banks to peddle accounts and debit cards to a potentially captive audience on campus. By contrast, the Education Department has fought efforts to publicly disclose the identities of colleges that either pose a risk to taxpayers or may not be in compliance with federal rules.
Shortly after leaving the consumer bureau last year, Chopra sent a blistering letter to investors in ITT Educational Services Inc., an Indiana-based for-profit college operator. Chopra said that he had "serious concerns" that the company wasn't properly managed and questioned whether it could survive. He said the company's schools, which the CFPB sued in 2014, had harmed its own students -- a charge the company vigorously disputes.
In a 2013 speech, Chopra unfavorably compared colleges -- particularly for-profit schools -- to pre-financial crisis mortgage lenders that got paid based on the number of loans they made regardless of whether borrowers could repay.
Colleges' revenue from taxpayers, Chopra noted, isn't influenced by students' graduation or drop-out rates. He said that gives schools an incentive to focus on enrolling students rather than helping them succeed.
Last year, when the Education Department was facing a growing revolt by allegedly defrauded Americans over its 2014 bailout of for-profit schools owned by Corinthian Colleges Inc., Chopra organized a meeting between the group and federal officials. The group has since expanded to hundreds of former college students who are publicly refusing to repay federal loans they took on to attend for-profit schools.
Chopra is "as capable as they come, and as resolutely pro-consumer as possible," tweeted Barmak Nassirian, who works on federal policy issues for the American Association of State Colleges and Universities. But at the Education Department, Nassirian noted, the "question is whether they'll let him do the job."
Borrower advocates hope Chopra's appointment signals a more borrower-friendly Education Department as its senior leaders prepare for their final year in office under Obama, whose eight-year term has included the end of the bank-based student loan program but also a doubling of total student debt, record levels of loan defaults, and a negligible increase in college graduation rates.
"Rohit's experience in protecting borrowers and his expertise in financial services policy will advance and deepen" the Education Department's "ongoing work to strengthen our student aid programs," Education Undersecretary Ted Mitchell said in an email.
The Huffington Post on Wednesday requested an interview with Chopra, but Dorie Nolt, an Education Department spokeswoman, declined to make him available. "It will be some weeks before we put him on the phone with media," Nolt said.
This article has been updated to note Chopra's unavailability for an interview.
Popular in the Community